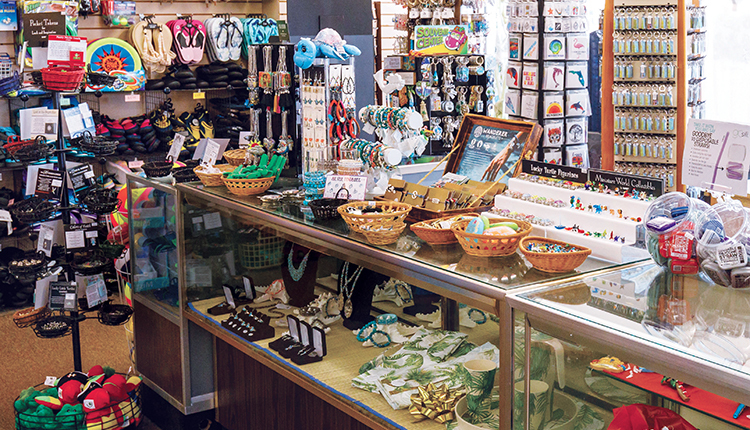 Shoppers can't resist the temptation of the candy, gum and magazines that call their name at the grocery store checkout line, even though they only stopped in for bread and milk.
You, too, can harness the awesome power of the impulse buy in your seaside store. It just means having a few fun extra items, small in both stature and price, that a shopper can easily justify adding to the main purchase at checkout. For the seaside shop owner, these little things can bring big profits, adding thousands of dollars to the plus column of their yearly balance sheet.
According to retail scientist Jeanel Alvarado, CEO and founder of consulting firm Retailboss, Edmonton, Alberta, having these easy-to-buy items is more important than ever in this COVID-19 moment.
"The sales associate's role isn't as prevalent as it was prior to this crisis," says Alvarado. Many seaside shop owners that reopened after the quarantine shutdown have had to reduce staff "so it's vital for retailers to have good point-of-sale areas where consumers can make decisions on their own."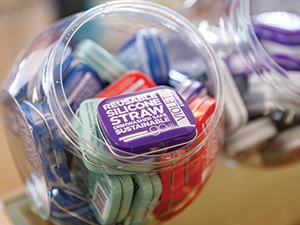 Rene Wolf, owner of The Little Pelican Gift Shop in North Redington Beach, Florida, relies on impulse buys to give her sales an extra boost.
"Impulse buying is very important, and integral to the growth of your business," she says. "It adds to your bottom line, and that is so important when you're a small business."
If you don't have those little things that grab the eye, she says you're working twice as hard for the same amount of money.
Selling Factors
In the world of impulse buys, small is beautiful — in size as well as price. As Wolf puts it, "It should be something people can grab in one hand."
"Impulse buys should be items that can fit in your hand, are easy to pick up, nothing bulky or that would be considered a high-investment product," agrees Alvarado.
Mistakes to Avoid

No Strategy. The number-one mistake small retailers make is not having a strategy in place as to what it is they want the customer to do. An impulse item has to sell itself, without a sales associate there tapping them on the shoulder.Poor placement. You can create a great display, but if you put it in the wrong area it's not going to be effective. If it's a cross-sell item like a beach cover-up or sandals, you want to have it right next to the bikinis.
Poor signage. Customers need to know what to do without you or an associate guiding them. The lettering of the signs should be red to convey urgency, and the sign should use words like BOGO that push the buyer to buy now.

Stacy Pomeroy, owner of Sur La Mer Coastal Goods, Newport Beach, California, keeps size and price in mind when choosing fast-grab goodies to offer her customers.
"Most of them run under $10," she says. "We make sure that it's something is not exorbitantly priced."
For just $7 customers can pick up a specially packaged box of gummy bears that are made in Los Angeles or purse-sized bottles of surfer-themed hand sanitizer.
"Right now, hand sanitizer is huge, as you might imagine," says Pomeroy. "We have testers on the counter. People use it when they come into the store and end up picking up a few bottles."
Her most popular impulse goodies are pocket tokens from Ganz that sell for $5.99.
"They're little charms that come in shapes like an anchor or a sailboat, and each one has a little card with a nice sentiment," says Pomeroy. "It's an easy thing to pick up when people are checking out and sometimes they might buy five or six."

The tokens are so popular she reorders them monthly.
The size of an impulse item should be compact, agrees Pomeroy. "The smaller sized items do well, as people love things that they can just tuck into their purse or that they can put with another gift."
For Tricia Kerr, owner of The Sand Box, Dauphin Island, Alabama, it all comes down to price where impulse buys are concerned.
"You can't expect them to spend a lot of money on it. People say, 'Oh, this would be a nice present for the gal who's taking care of my dog and it's only $2. I can afford that.'"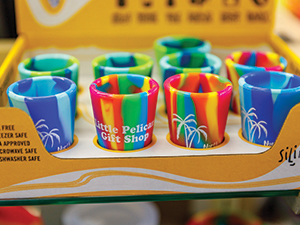 She keeps her price range for these items between $1 and $7.
The Sand Box's best-selling impulse items include pens with computer styli, magnetic bookmarks and mini wooden stickers that convey "what Dauphin Island is all about — anchors and seashells and mermaids, things like that. I also have saltwater taffy sitting right on the counter."
Size and price aren't the only factors of a good impulse product. One that appeals to a customer's conscience can overcome that last bit of resistance and clinch a sale. For example, colorful, eco-friendly silicon straws from GoSili are The Little Pelican Gift Shop's best-selling impulse item.
"Plastic straws are forbidden at the beach restaurants and bars here," she explains. The straws pair nicely with another impulse item, colorful silicon drinkware from SiliPint.
Items that donate a portion of proceeds to charity do well at Sur La Mer Coastal Goods.
At Beachlove Cape May on the New Jersey Shore, a shopper can pick up a trio of emery boards that sells for $3.75. This item is one of the store's hottest-selling impulse buys.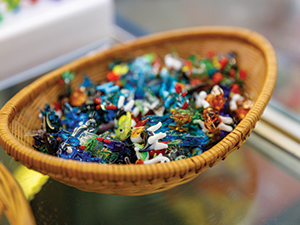 "They're in cute of-the-season patterns like leopard camo and blue with polka dots and stripes," says co-owner Michele Konopka. "People say, 'I need these for me and I'm also getting a gift.'"
Pandemic Pivot
The most popular impulse items at the store currently are face masks printed with vintage 1960s nautical chart maps of Cape May and other Jersey beach towns. The $20 masks are a result of owners Michele and Tom Konopka's "pandemic pivot."
"Back in March, we asked ourselves 'what are the things that people need and want now?'" explains Michele Konopka. "So we went to our T-shirt supplier and said, 'Let's make masks.' The masks fill an of-the-moment need while doing double duty as a souvenir."
The Konopkas lean toward impulse items that spark conversation. "Customers notice the masks and say, 'Oh, look, they have masks with maps of Wildwood too,' and that starts a discussion," says Michele Konopka. "Then we say, 'if you like that, follow me and I'll show you where we have Christmas stockings, bow ties, pillows and hand towels that also have those maps."
Display strategy ideasFreestanding. These displays, which tend to be on the larger side, can be placed anywhere in your store. They're great for when you have a promotion going on and you want people to notice that merchandise.By the queue. People waiting in line to check out are a bored, captive audience. Big retailers like T.J. Maxx exploit that fact to keep selling to them in line. As people snake their way to the register, they pass by an array of tantalizing low-priced eye candy like phone chargers and covers, coffee mugs, socks, masks and hand sanitizers.Counters. Even high-end luxury boutiques like Louis Vuitton and Chanel use their counters to push impulse items. You've got a captive audience of customers already in buying mode, why not add to the final sale?

Wolf can also attest to the power of conversation. "We carry Wanderer bracelets that are designed specifically for North Redington Beach. Even though it's a $20 price point, it's still an impulse buy because when we tell them what it is they say, "Oh, this is a great gift item and a memento of where we went.'"
By far, the biggest conversation (and giggle) starters at Beachlove Cape May are the Ballsy brand toiletries for men with some off-color names, says Tom Konopka. "They're around $15. Couples come in, see this stuff, start laughing and buy it."
Proper Placement
You might have some terrific impulse items in your seaside store, but there's no guarantee they'll sell if they aren't being shown properly.
A display that is inviting and interactive with an element of fun can really boost sales. The checkout area is the most common site for impulse items. It's the customer's last chance to grab an extra goodie.
Wolf's best-selling multicolor silicon straws are displayed in a fishbowl on the checkout counter. "Customers can just reach in and grab the color that they want," she says.
Pomeroy says that when she first opened Sur La Mer Coastal Goods three years ago, she didn't quite understand the importance of having impulse items at or near the cash register. Now, she does. "We tend to sell more that way," says Pomeroy.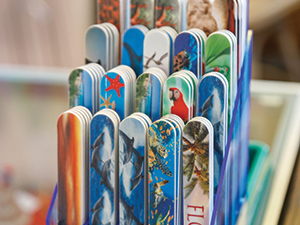 Kerr has found this to be true too. "Most of my impulse things are right on the counter. As people are waiting to check out they're looking at them and they usually end up buying something."
An exception to that are the lollipops with finger puppets on them. They come in swiveling acrylic stands, and Kerr has several of them in different spots around her store.
Wolf keeps The Little Pelican's impulse items at the front of the store. "We have a long glass case, and as people are moving through the line, they can see our jewelry and the little handblown glass beach animal figurines — fish, sharks, whales and turtles — that are only $2.99. They sell well."
Seasonal Variations
As the seasons change, many seaside retailers change their impulse items accordingly.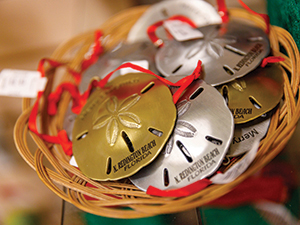 "During spring break we highlight 4Ocean bracelets," says Pomeroy. "For fall, we had some cute little metal pumpkins in a basket, and we sold out of those."
The store is selling Christmas-themed Ganz tokens for Christmas, which she expects to "fly out of here."
The Little Pelican recently expanded its Christmas line. "We have ornaments with North Redington Beach on them, and others that are hand-painted by artists but that are still at the price point we need them to be — the most expensive one is only $16.99."
At The Sand Box it's Christmas every day. "I have Christmas ornaments year-round," Kerr says. "They all say Dauphin Island."
It's been said that the little things in life are often the most important. Your merchandise is no different. Why not add some little things to your inventory and find out?