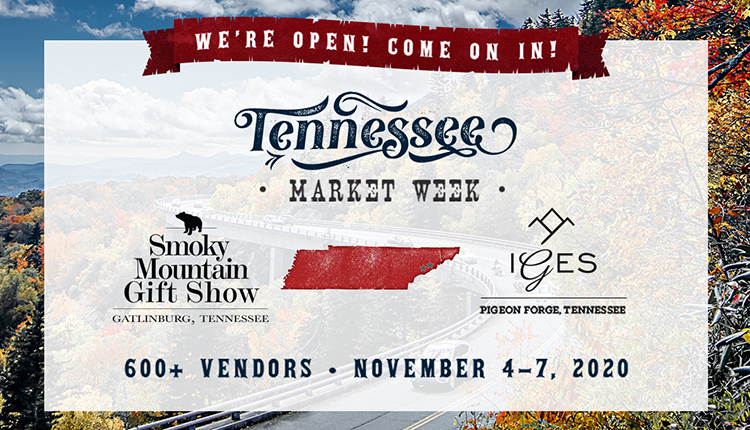 Emerald Exhibitions, owner of the International Gift Expo of the Smokies (IGES), along with Clarion Events, owner of the Smoky Mountain Gift Show, have announced that these two comprehensive buying events for the gift, resort and souvenir industry will come together to host Tennessee Market Week, Nov. 4-7, 2020.
The Smoky Mountain Gift Show will be located at the Gatlinburg Convention Center while IGES will be located at the Pigeon Forge Leconte Center. Both in-person events are expected to feature top brands and new products from hundreds of leading companies.
"We know that this year has been different and difficult for many in our gift and souvenir family, and we want to take every step to help support their businesses," says Lisa Glosson, vice president, Clarion Events. "The overwhelming feedback we have gotten is that they are ready to get back together, see and feel new products in person and network with the gift and souvenir community."
As some of the first live events in the second half of 2020, the top priority is ensuring the health and safety of everyone involved, according to the two organizations. Both event teams and management are working closely with the convention centers, service providers and state and local authorities to implement control measures to assure strict adherence to all health and safety standards. Each event has a comprehensive health and safety plan detailed on its website. Smoky Mountain Gift Show and IGES say they will create a Tennessee Market Week that meets every customer expectation from safety and convenience to the hospitality both IGES and the Smoky Mountain Gift Show are known for.
"Having conducted more than 20 years of business in the Smoky Mountains, IGES is excited to return to Pigeon Forge and connect with the gift and souvenir community," says Karalynn Spouse, Emerald executive vice president. "Our team is working tirelessly to stage a safe and effective live show for IGES' loyal vendors and buyers."
The focus of both shows this year will be on generating connections and business. On the show floors, attendees can expect to find apparel, accessories, souvenirs, décor, gourmet foods, jewelry and more, in a variety of in-demand options including custom name-drop, Made in America, sustainable and others. The combined exhibitor lists feature more than 600 leading companies with thousands of product lines.
"Given the uncertain times we are all facing, attending the IGES show in November is as critical as ever to the future success of our business," says IGES attendee Don Henk, of Massanutten Resort. "There is nothing like seeing new items, designs and colors in person. Not to mention talking with new vendors to see what they have to offer, which goes well beyond just products in a catalog."
Finding new vendors is a key reason Bill Hyland, CEO, The Summer Hut, attends IGES. "All their products are on display and you can compare between several choices."
Amber Williams of U.S. Space & Rocket Center looks forward to reconnecting with industry peers, vendors, and show staff at the Smoky Mountain Gift Show. "There is always so much to learn from other buyers across all different institutions. Every year after connecting with my peers I discover something that they are doing that can be beneficial for my business. Also, I firmly believe that as things return to a semi-normal state, we all need to be prepared for incredible business."
She says her goal at the Smoky Mountain Gift Show is product development "so that I am ready to place orders when the museum begins to see an increase in attendance. I do not want to be behind the curve and just beginning product development."
Exhibitors are also excited to meet face-to-face with buyers. Smoky Mountain Gift Show exhibitor Beth Long with Beth Long Sales says, "I am very excited as are all of my customers to go to the beautiful fall Gatlinburg Show. There are wonderful exhibitors and customers, and everyone is ready to have the world start moving again - and love that we feel comfortable coming to the 'small town feel' [found in] Tennessee Valley."
Complimentary transportation is provided with shuttles running to and from the Gatlinburg Convention Center and the Pigeon Forge Leconte Center every 30 minutes. Both teams also offer budget saving travel incentives.
More information is available at the events' websites: Smoky Mountain Gift Show: www.smokymtngiftshow.com and IGES: www.iges.us. Registration is free for qualified buyers and must be done separately for each event.