Photos: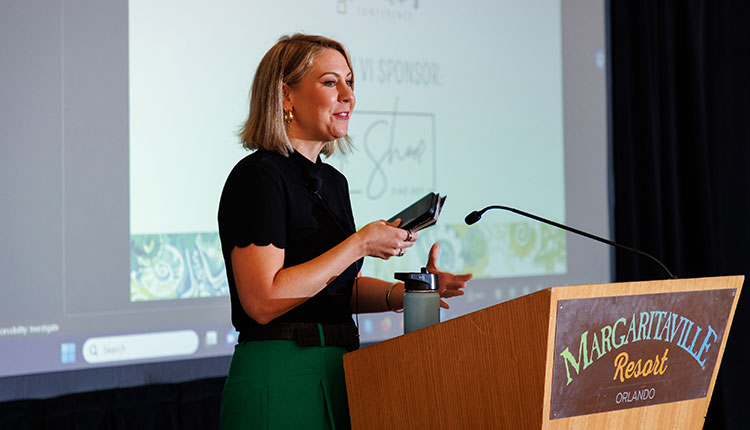 In 2023, almost everyone owns a smartphone and people check social media frequently. According to data from Cross River Therapy, the average person picks up their phone more than 1,500 times a week — that's once every five to six minutes! The phone also takes up, on average, three hours and 16 minutes of a person's day.
These are just a few statistics Crystal Vilkaitis, owner of Crystal Media, shared during a session titled, "It's Your Time to Shine Online" at the Coastal Connections Conference on Oct. 23 at Margaritaville Resort Orlando.
"As business owners and as marketers, we have the opportunity to be in front of our customers every single day, multiple times a day," she shared. "A lot of us think about it like, 'I have to be on social media.' I really encourage you to think about that you 'get' to be on social media. You 'get' the opportunity to connect with your customers every day."
Vilkaitis noted that independent retailers will sometimes share excuses as to why they can't or don't want to prioritize social media, including limited resources, lack of expertise on social media platforms and fear of failure. She stressed that social media can be simple.
"We can overcomplicate it," she shared. "It feels like there is so much out here and you have to be on so many platforms, you have to learn so much technology and you have to have all these fancy videos and transitions."
Vilkaitis explained that oftentimes the posts that perform best are simple, such as a business owner talking in front of a camera for a minute, giving followers a behind-the-scenes look at the store.
"I really do believe that social media can be simple," she said.
It also doesn't have to take long. Vilkaitis suggested seaside retailers make a habit of what she calls, "The Daily 5," which means getting social media work done in five minutes every single day. She listed five tips for helping retailers get the "Daily 5" done.
Think about your favorite customer: When creating content for social media, Vilkaitis suggested that seaside retailers think about their favorite customers and make content they would like.
Be you: Vilkaitis said seaside retailers don't need to be perfectionists on social media. In fact, she noted that people tend to prefer content that is relatable to content that appears super polished on social media. "We feel like we have to be perfect and polished and professional. That's not relatable," she explained. "We want you to be you."
Jump right in: When posting videos, Vilkaitis advised seaside retailers to dive right into the focus to hook followers. Short and simple works best.
S.H.A.R.E.: Vilkaitis listed five types of content that performs well on social media, including stories, humanized content, arrivals, relevant content to followers and events.
Engage: In addition to posting content, Vilkaitis said seaside retailers need to find ways to engage with followers as well. She explained that if a follower posts about getting a new puppy, comment on that post to wish the person luck with the new puppy. "Just spend a little bit of time engaging," she said. "The apps really like when you actually engage; they don't like when you just post and ghost. You need to post and engage."
Vilkaitis concluded that seaside retailers have plenty of opportunities to shine on social media and that small business owners can develop unique connections with potential customers through social media.
"People want to connect with people; people want connection now more than ever," she said. "You have that ability to do that [on social media], which is incredible. The consumer has so many choices, and they are going to want to buy from somebody that they get to know, that they trust."
The Coastal Connections Conference was Oct. 22-24 at the Margaritaville Resort Orlando. For more information, visit www.coastalconnectionsconference.com.