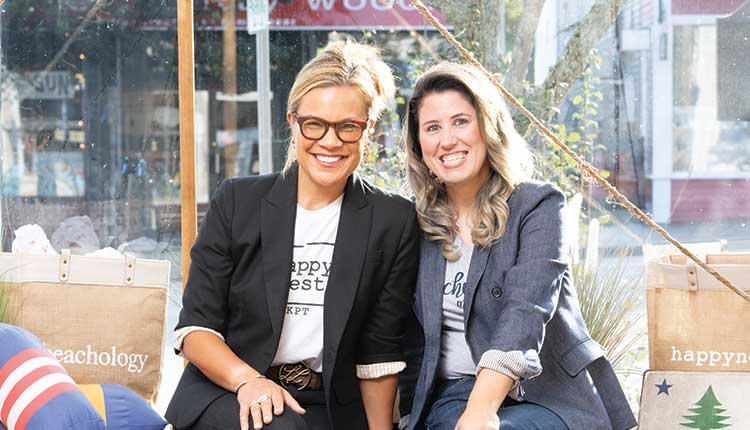 The vibe of Old Orchard Beach, Maine, often reminds people of simpler times. The coastal town features a small amusement park, arcades and candy shops. Visitors can enjoy fireworks shows from the pier every Thursday night in the summer. And while most of Maine's beaches are rocky, Old Orchard Beach offers seven miles of soft, sandy beaches.
"It's like a throwback in time. Old Orchard Beach offers old-fashioned, timeless fun," says Maili Lafayette, owner of Beachology, a seaside retailer a few minutes-walk away from the beach.
Beachology strives to offer a little something for everyone who walks in its doors.
A "first impression" table greets customers walking in to make them feel at home. As customers explore the store, they can browse several sections that might pique their interests. There's a home section filled with nautically themed decor, mugs and jams. Avid readers might enjoy the store's book section. Pop culture enthusiasts may get a kick out of the store's quirky apparel. There are a variety of plush and small toys to entertain kids. The store also has an apothecary section as well as a camping-themed section.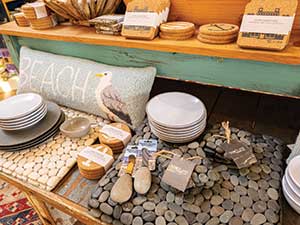 Photos: David Bates Photo
Beachology doesn't have a target audience — everyone is invited and welcome. "Our doors are opened to anyone who might be interested or looking for that one-of-a-kind gift in our store," says Lafayette.
Offering something to a wide range of people can be challenging. Fortunately, Lafayette's manager and right hand, Kara Poulin, provides a fresh set of eyes with merchandising decisions. Poulin says she and Lafayette have different interests when it comes to merchandise; it's a great balance.
"I love all things kids — toys, pop culture, sitcoms — so, I do a lot of that," Poulin says, adding that her 19-year-old son gives her input on what's trending with kids and teens.
Lafayette, on the other hand, enjoys finding spiritual and purposeful merchandise, books, home decor, accessories and unique jewelry.
Lafayette says the different interests ensure that the seaside retailer can offer gifts for just about anyone visiting Old Orchard Beach.
"We want to create an enlightening experience for people coming to shop," she says. "We're very much of an inclusive, you're always invited and feeling welcomed kind of shop culture."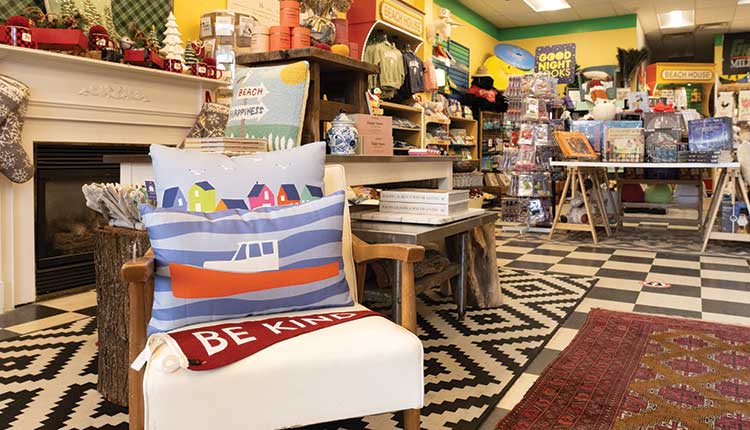 Beginning Beachology
Maine has been Lafayette's home for the past 16 years. She and her family had lived in Los Angeles prior to relocating to the East Coast. Her husband, Ken Lafayette, had decided to join his brother's company, Lafayette Hotels, which owns and manages about 30 hotels across New England.
Two years later, Lafayette says she was asked to open a retail space under the Lafayette Hotels brand. The company had a building in the center of Old Orchard Beach and wanted to create a business and diversify the company's customer experience.
"I hadn't lived here very long, but opening a shop gave me the incredible opportunity to integrate within the community, get to know Maine culture and connect with customers from around the world," says Lafayette.
Under the Lafayette Hotels umbrella, she developed a business plan for the store. But before finalizing a business plan or merchandising strategy, Lafayette says she wanted to figure out the store's name and brand mission.
The idea for the store's name came to her while she was at home with her two young kids who were watching Nickelodeon. A television program mentioned the term "wish-ology" at some point, and it clicked with Lafayette: Beachology.
"It seemed playful yet ambiguous and [provided] room to grow the brand and beach lifestyle culture. I wanted to create an experiential shop for the beach and coastal lovers," she says.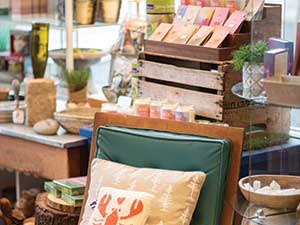 Lafayette wanted Beachology to be a place she would want to shop at frequently. Although she hadn't worked in retail on this level, she has had 30 years of experience working as a wardrobe stylist for the film and television industry. As a stylist, Lafayette says she has spent lot of time in various stores shopping for clients and companies.

"I was, and still am, a stylist for the film and television industry," she says. "When starting Beachology, I could only base my experience of opening a store off being a customer, a buyer, a shopper. I had to turn the tables around and wrap my head around what it would be like to be a customer in my own store and what experience I want people to feel."
What draws Lafayette in are beautiful home decor items, local artistry and books that inspire the coastal lifestyle.
When the store first opened, merchandise was mostly focused on everything for the beachgoer, such as men's bathing suits, towels, stylish hats, anything lobster, sunglasses, boogie boards and beach toys. After stocking up on products and setting up displays, Beachology opened in the summer of 2009, with a plan to stay open for the busy summer season of June, July and August.
As the store grew in popularity over the years, it stayed open later and later into the fall months. Today, Beachology is open May 1 until Christmas, with an online store available year-round.
Expanding the 'Nest'
In addition to being open for a longer season, Beachology has also expanded its footprint in Maine. In 2014, the space next to Beachology became available and it was the perfect time to expand the brand.
Lafayette says the business decided to create a space that would be a collection of Beachology called, "Happynest." She says, "We wanted to feature more products that shifted our focus on what is inspiring, positive, happy and rejuvenating."
The name Happynest was created based on the store's mission to spread more awareness of things that make you happy and tap into what brings you joy.
"I knew that 'happy' had to be in the name," she says. "I was thinking if we can feel happy in our hearts, our homes and within ourselves, we're pretty good. Happiness can't come from the outside. Wherever you are, you bring happiness with you."
After opening Happynest, the new collection of Beachology, the expansion had intrigue, interest and a whole new clientele reach.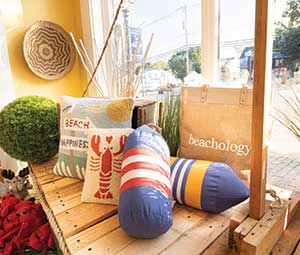 In 2019, Lafayette and Poulin had the opportunity to expand to another storefront in Kennebunkport, Maine. This charming seaside town serves as a vacation spot for former President George H.W. Bush's family.
Lafayette and Poulin curated the Kennebunkport storefront into a Happynest rather than a Beachology shop, hoping to share the Happynest mission in another town. "There are beaches in Kennebunkport, but it just didn't feel like it should be a Beachology," says Lafayette.
Products in Happynest are geared more toward the spiritual, including uplifting decor and inspiring gifts and books. Lafayette says she wanted people to feel the intentional good energy and vibes in the shop. "We were hopeful it would help shift their happiness to a higher level than when they entered. We carry crystals, pendulums, healing tools like sage and mindfulness home decor, like Buddhas and lotus flower candle holders."
At one point in time, there were four Beachology store locations and the Happynest boutique. In 2021, the seaside retailer consolidated to just one Beachology store in Old Orchard Beach and the Happynest boutique. They wanted to refocus on the brand, its staff, customer service and building the online shop.
The online store opened about a year ago to be available to customers any time of year since both Beachology and Happynest are seasonal and close for winter.
Although the website doesn't feature all the products stocked at Beachology and Happynest, Poulin says they try to focus on the products that sell well in the stores, such as name-dropped T-shirts, lotions and Maine-themed items.
"Our goals for the future are to be on everyone's must-go-to shop list and to be known for the best customer service," Lafayette adds. "Our main goal is to spread the mission of happiness and joy while in our store."
Backbone of Beachology
Beachology might have started as a one-person shop, but it has grown to almost 20 employees as well as a full-time manager. As a seasonal operation, the retailer only offers part-time jobs. Lafayette notes that the store's part-time employees come from various walks of life, including students, retirees and teachers looking to stay busy in the summer.
Lafayette says, "We've been blessed with a few of our staff members that have been with us year after year since the early days."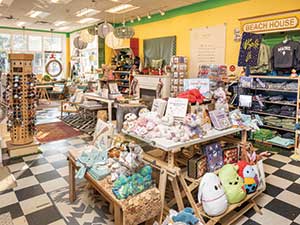 Poulin describes their employees as the "backbone" of the business. Between Beachology and Happynest, she makes sure to check in with employees at both locations every single day. She says each employee has a group text chat set up with her and Lafayette to quickly respond to any questions or issues.

"Kara is amazing at being a team leader and communicating to our staff. She helps them feel supported, empowered and can remotely figure out any solution, even if she's not at the store. She guides them on how to resolve issues with registers, customers, money discrepancy and more," says Lafayette. "Her energy and dedication to making the store the best experience for the customers and the staff from both stores is her superpower."
Poulin adds that she and Lafayette often host an end-of-the-year dinner with employees to celebrate them and to give them an opportunity to voice their opinions about what has been working well at the store.
Lafayette says, "Our priority is to make sure our employees feel comfortable with their flow and their approach to customers so they can thrive. I think it's important when you have people working with you that [they] actually feel supported, seen and heard."
Poulin stresses that retailers need dedicated employees who can go the extra mile to create a loyal customer base.
She says, "You could put the greatest product in your store, but if you don't have the people you trust to sell it or merchandise it, it's not going to work."
Lafayette says customers notice when employees connect with them.
"To me, that's so important," she says. "Give your human touch. [People] need and love connection."