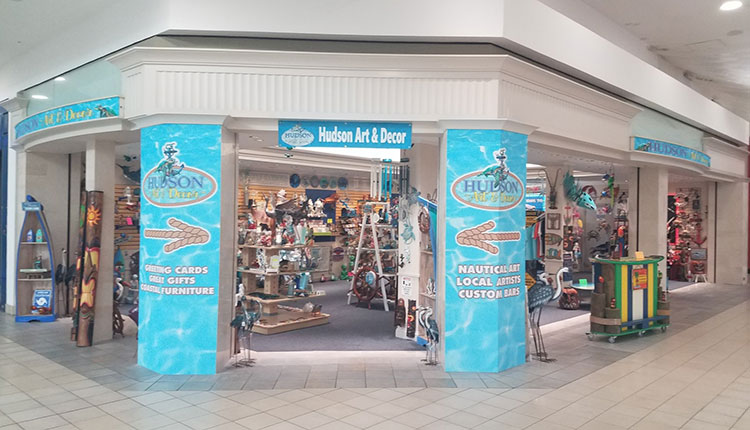 For the past three years, Owners Tom and Andrea Lawrence have grown Hudson Art & Decor as a nautical art and decor store in Hudson, Florida. The seaside retailer sells a variety of locally made decor, such as surfboard signs, coastal-themed furniture, heron statues and more. The retailer also has both wholesale and local gifts, such as candles, ornaments, greeting cards, coasters, magnets and socks.
"We have a good mix between local art and vendor merchandise," says Tom Lawrence. "The community we live in is on the gulf, it's coastal. But it's not touristy. It's a lot of local customers wanting to decorate their homes."
Lawrence says an opportunity became available for Hudson Art & Decor to expand and rent a second 1,500-square-foot storefront at Gulf View Square Mall in Port Richey, Florida, about five miles south of the Hudson storefront. He adds that he doesn't mind some of the construction happening near and around the new mall storefront, either.
"They ripped down Sears and are building condos, but I looked at now as an opportunity to get really good rent, knowing three years from now when the condos are done and people are living there, it's a smart business move," he says.
Hudson Art & Decor opened its Gulf View Square Mall storefront Oct. 1. Lawrence says his sister-in-law, Regina Hall, recently moved to the area and is managing the new store.
The new storefront features similar merchandise to the Hudson location with a few different name drops on products that are more specific to the communities surrounding Gulf View Square Mall. Since opening earlier this fall, Lawrence says business at the second location has gone smoothly.
"We always wanted to try a second location to see if we could do it," he explains, adding that he previously worked in a corporate retail environment for several decades. "[Hudson Art & Decor] is more for fun than economics. I think that's why we're doing well. It's less stressful."