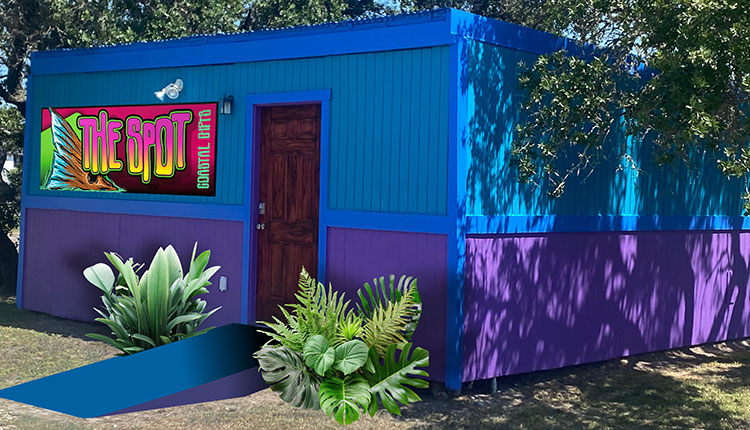 For the past 30 years, Jay Soule enjoyed driving to Port O'Connor, Texas, for fishing trips. Soule has worked as an artist at a print shop in Victoria, Texas, for 17 years, but he says it was always his dream to move to Port O'Connor someday.
About four years ago, Soule was diagnosed with throat cancer. He says, "I told my wife, 'When I get my final report from my doctor that I'm clean and the cancer is gone, we'll go buy a house in Port O'Connor.'"
Fortunately, Soule's cancer cleared, and he and his wife moved to Port O'Connor about a year and a half ago.
After moving to Port O'Connor, Soule says he noticed that the town did not have many gift shops or souvenir stores. When Soule saw a small art studio for rent in town earlier this year, he decided he could take the leap and turn it into a small coastal gift shop for Port O'Connor he has named The Spot Coastal Gifts & More. Soule plans to use the shop to sell coastal souvenirs such as T-shirts, beach hats and sunglasses as well as some of his artwork and crafted cornhole boards. Soule plans to stock What The Fin Apparel, Jason Mathias Studios shirts and some Truchador apparel.
"I don't know that there's such a thing as perfect timing, but I saw something I felt there was a need for," explains Soule.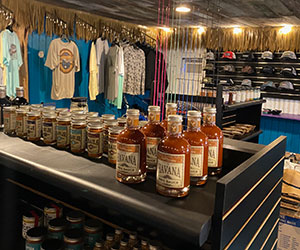 Over the past few months, Soule worked to refinish and paint the studio shop on the corner of 15th and Adams in Port O'Connor to give it a coastal vibe. He says he hung an old surfboard on one of the walls, lined palapa along the ceiling and added LED lights to make the location retail friendly. Soule also has been busy packing the 400-square-foot shop with coastal gifts and souvenirs.
Aside from waiting on some merchandise deliveries and putting up the sign at the front of the store, Soule says he is ready for a soft opening of The Spot Coastal Gifts & More this month.
"I'm opening in the off-season, which gives me the opportunity to prepare for the big season, for spring," says Soule. "Port O'Connor is very, very seasonal. Spring and summer [are] fantastic, while fall and winter [are] quiet. People stop coming for the weekend. But summertime, it's packed."
Soule says he hopes to use the quiet launch to see what products are most popular with customers to prep for the busier spring and summer seasons. He also plans to offer some Christmas specials for gifts shortly after he opens.
Although The Spot Coastal Gifts & More has a small storefront, Soule says he's not rushing to outgrow the place.
"Everybody has told me you'll outgrow this place really fast. My answer every time is I don't want to outgrow it," he says. "I want it to be fun. I want to turn stuff over and have new fresh stuff always come in. I may reorder some things, but I want to keep it fresh. I don't want a big retail location. That may change a year from now, but today, I don't want a big retail store. I want it fun, laid back, beach lights on and Jack Johnson playing in the background — a cool place to shop."