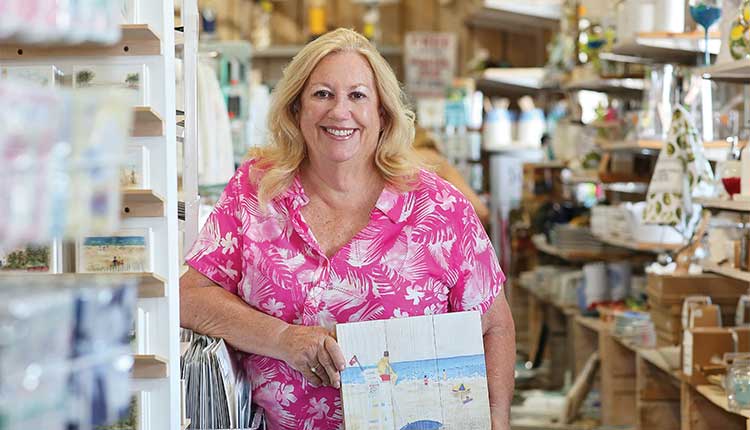 Photos: Laura Navarre
Growing up, Patty Derrick never imagined that she'd take over the beachside gift shops her parents started when she was a young girl. Even after working at them through the years, "it just didn't occur to me," she says. "I didn't even think about it." But it suddenly became reality when her husband announced that he'd rented a storefront in Delaware to open their very own Sea Shell Shop.
Patty had grown up around the business, which began in the early 1950s when her mother, Ginny, started making seashell jewelry that her father, Vince, sold wholesale on his record routes while updating the music selection on jukeboxes throughout Florida.
Ginny's work became so popular that he quit his job to sell her jewelry, eventually renting a storefront in Fort Lauderdale, Florida. Although it was originally a wholesale business, customers kept coming in to buy jewelry, "so mom finally set up a cardboard table and a cash box, and the first Sea Shell Shop was born," says Patty, who still has the original sign her mother made from a piece of wood back in 1956.
Patty started helping her mother in the store at a young age. "I used to get paid 5 cents for every 20 rhinestones I picked up that fell on the ground," she says. "We always wanted to be in the store because it made money, and we wanted to make money because 25 cents could buy a lot of candy."
Soon, salesmen started stopping by the store to sell other products, and the Sea Shell Shop expanded beyond its namesake to offer all sorts of beach-related gifts. Patty's father collected driftwood from the beach to make clocks, nightlights and other decor as the store continued to grow.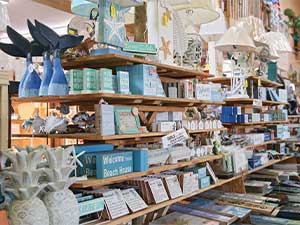 Vince and Ginny opened a second store in Ocean City, Maryland, which is where later, teenaged Patty met her future husband, Tom, on the boardwalk. The Ocean City store eventually closed a few years after Patty's father died. But, unbeknown to Patty, Ginny was already making plans to expand the Sea Shell empire.

"She took my husband to lunch and asked him if he wanted to go into the Sea Shell business," Patty says. "I didn't even know they were doing it, but they drove to Rehoboth and rented a store that day."
Patty supported his decision and agreed to help him run the business she'd grown up in. "My mother felt that if it wasn't my husband's decision, then it would never be his," she says. "Because of the way she handled it, he never felt like it was my family business; it became his, also."
Patty had gone to school to be a nutritionist, and her husband ran a pizza parlor. At the time, they were living in Salisbury, Maryland, but within three months of their decision, they moved to Rehoboth Beach, Delaware, about 50 miles away, and opened their first Sea Shell Shop in the summer of 1979.
The business continued to grow, peaking at five locations along the coast at one time. The retail business has since gradually consolidated into one location, while adding additional shell-centered attractions as Patty's sons lead the family legacy into the third generation.
Sea Shell empire
The Sea Shell Shop's current location on Coastal Highway was the fifth store that Tom and Patty opened in Rehoboth Beach and their largest, spanning 10,000 square feet. The new store was the first free-standing gift shop on Route One when it opened in 1996, about 2.5 miles away from the downtown boardwalk.
Patty recalls, "We thought, being the first free-standing gift shop, 'How are we going to attract people to that property?' We were a little scared. We had almost two acres of property, so my husband said, 'Why don't we build a miniature golf course to attract people to the Sea Shell Shop?' So, my husband designed it, and we hired a company to build it."
The mini golf course, called Shell We Golf, opened alongside the retail store in 1996, featuring holes named for different seashells. But the Derricks were shocked by what they saw after they opened the side-by-side businesses.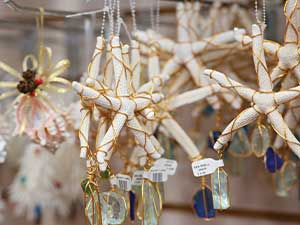 "We discovered that people were coming to the Sea Shell Shop to shop. They didn't come to golf; they came to the shop and then golfed," Patty says. "It turns out that golfing doesn't bring people to the shop. The shop name and reputation bring people."
After more than four decades in Rehoboth, with a history dating back even further, the Sea Shell Shop is well known for its huge selection of nautical and beach-themed products, home decor and gifts. The store features sections dedicated to Simply Southern and Salt Life T-shirts, wall hangings, rugs, lamps, candles, kitchenware, pirates, toys, jewelry, and of course, seashells.
Today, Patty's son, John, owns and operates the Sea Shell Shop and Shell We Golf, while she focuses on buying merchandise. Her other son, Jim, owns and operates a nearby trampoline park called Shell We Bounce with his wife, Julie. Named to coincide with the family's other businesses in Rehoboth, the park features an arcade, playground and cafe aptly named Shell We Eat.
Family-friendly focus
Patty buys from over 1,000 vendors, attending an average of 15 gift shows every winter. "I go everywhere: Atlanta, Florida, New York, Dallas, Washington and Oregon," Patty says, "and I never miss the Hawaii show. They have shells that nobody else has, like puka shells. I sell tons and tons of puka shell necklaces. They're very popular because kids on TikTok are wearing them."
"Being a successful coastal retailer requires one thing, and that's to actually put your heart in it and do the work." — Patty Derrick

TikTok trends have helped Patty select products that are popular with kids. In fact, her grandchildren — Harper, 12; Olivia, 10; and James, 8 — provide some of the best insights into what products kids want. "My grandchildren have been very helpful," she says. "They come in and say, 'Grammy, you gotta carry this!'"
For example, one of her granddaughters told her about a reversible octopus plush with happy and sad faces that went viral on TikTok. Patty bought 100, sold them all in one day, and proceeded to buy and sell thousands more — all thanks to her granddaughter's suggestion. Her other granddaughter encouraged her to buy Pop Its, a popular fidget toy. Patty ordered a gross of 144 — in nautical shapes like dolphins, octopus, mermaids and boats — and sold them all before noon.
One of her granddaughter's favorites, and one of the store's most popular items throughout the decades, is the selection of hermit crabs. In fact, Patty says, "My dad was the first person in the country to sell hermit crabs, so we believe."
She remembers collecting crabs with her dad on Peanut Island off of Florida's West Palm Beach in the early 1950s, before U.S. laws forbade collecting crabs. They quickly became such hot sellers that they couldn't collect enough. So, her dad asked a researcher from the University of Florida to collect hermit crabs while he was working along the coast. Her father bought so many hermit crabs through the years that the researcher eventually sold off the wholesale hermit crab business, Florida Marine Research, which still supplies Sea Shell Shop today.
"We still buy and sell thousands and thousands of hermit crabs every year," says Patty, adding that they recently started selling frogs, as well.
Creating a destination
When Tom and Patty first opened shop in Rehoboth Beach, they closed down between Labor Day and Memorial Day as the flood of summer tourists evaporated, leaving just over 1,000 year-round residents. "There was hardly anybody in town after Labor Day," Patty says.
That's why they got involved in the Downtown Business Association (now called Main Street), creating events to bring people into Rehoboth Beach all year long. Events like the Sea Witch Festival and Jazz Festival in October and the Chocolate Festival in spring — which are all still going strong today — helped draw visitors to the small beach town, eventually establishing Rehoboth as a vacation destination known as "The Nation's Summer Capital," attracting an estimated 9 million tourists every year.
"My grandchildren have been very helpful. They come in and say, 'Grammy, you gotta carry this!'" — Patty Derrick

Committed to investing in her community, Patty served as volunteer chair of Rehoboth's centennial celebration in 1991. She also volunteers for organizations like St. Vincent De Paul to help feed, clothe and care for people in need throughout the community. And, since 1991, she's been a member of the Women's Club Village Improvement Association, a local volunteer fundraising organization that raised the funds to install Rehoboth's signature boardwalk benches, library and other local landmarks.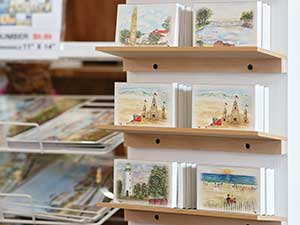 Although she's now semiretired, Patty says she'll "always have a hand in the business," although her sons co-own and operate the Shell family of companies today. Just as she never thought she'd end up owning her parents' business, she says, "I never would've thought that my kids were both going to be in the Shell business, too."

While her grandchildren have already played a role in recommending popular products, she says it's still too early to tell whether they'll become the fourth generation of "shell-preneurs" to carry on the family legacy.
In the meantime, Patty and her sons are building a team to support the Sea Shell Shop, ranging from 40 employees in peak season to about 10 or 20 during the winter. Their managers, in particular, tend to stick around for decades: Their current managers have been in place for 15 to 20 years, and her longest-tenured manager finally retired a few years ago at age 92 after 40 years of service.
Patty says the key to the store's enduring success through the generations is the work ethic passed down from her parents to her and her sons and to the Sea Shell Shop's team of dedicated employees.
"Being a successful coastal retailer requires one thing, and that's to actually put your heart in it and do the work," Patty says. "If you're not going to actually do the work, you're not going to be successful. And if you don't love what you're doing, it won't be successful. But if you make your living doing what you love, it's a joy to go to work, and your life is so much better."