Photos: Kellie Boston
Caring for community causes
If a nonprofit or organization is in need on Amelia Island, you can best bet, Twisted Sisters! is waiting in the wings ready to help out where needed. It could be a pop-up shop, a fashion show or a straight donation to a cause. "My staff and I love giving back to our community," says store owner Kim Holwell.
Located in downtown Fernandina Beach, Florida, Twisted Sisters! relocated to Amelia Island from Georgia in 2007. It didn't take long for Holwell and her staff to start supporting local causes. "We are fortunate enough to live in a community where many of the retailers here support our local nonprofits and churches and our school system. It is just a really giving community," she says.
Open for giving. Many local charities approach Holwell to donate in some capacity, including Women of Nassau County, Newcomers Club and the local women's club. Holwell will also donate funds several times a year to Fernandina Beach High School's art department for art supplies. For back to school, Twisted Sisters! also supports a local youth organization that takes donations of school supplies and clothing. Through that drive, the store donated 60 backpacks to kids in need.
And that's not all. "I also try really hard to partner with companies," says Holwell. For example, Twisted Sisters! carries a special shoe featuring butterflies on the side. Twenty percent of proceeds from sales of Penny's Flight Butterfly Wedges are donated to the Penny's Flight Foundation to find a cure for neurofibromatosis.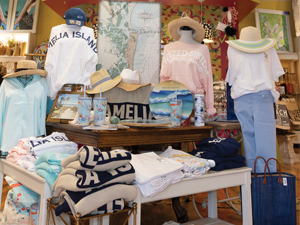 For the customers. Holwell became interested in doing something with Penny's Flight Foundation because one of her customers suffers from neurofibromatosis. The store also donates to Katie's Ride for Autism because one staff member is very involved with the cause. The women's boutique also hosted a Barbie party over the summer where it donated 10% of sales to the Nassau Humane Society.

Twisted Sisters! also recently sponsored a hole at a local golf tournament that benefited people with amytrophic lateral sclerosis (ALS). The store also sponsors a culinary student at Sonrisa School in Africa.
"A lot of times it is for my customers," says Holwell of the charities she supports. "My customers know that we give, and they'll say, 'We have this going on and this is what it is benefiting. Can you help?'"
Starfish Awards recognize companies in our industry that are making a difference through charitable donations and efforts. Know of a company that is deserving of an award? Submit a nomination at www.seasideretailer.com/starfish-award.