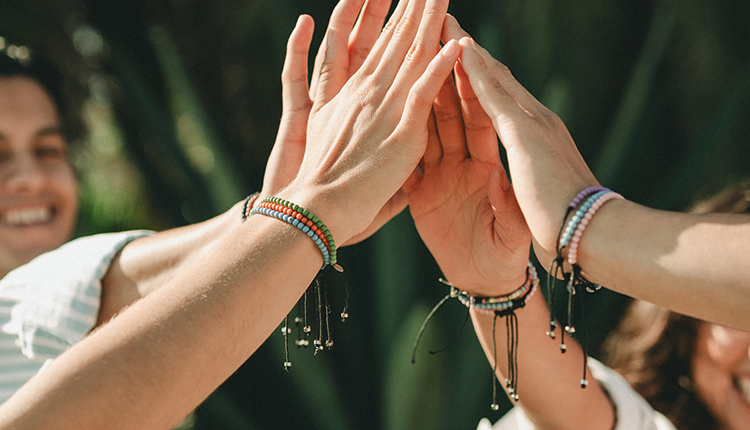 Virtu Made, a brand whose products symbolize the harmony between humankind and nature, is celebrating the launch of its new Beaded Collection, a new bracelet line made with recycled materials. The materials for this latest bracelet line were collected in collaboration with the TerraCycle Global Foundation, which began in 2019 and aims to address the complex challenge of collecting and recycling plastic waste in emerging countries and preventing it from entering and polluting global aquatic systems.
Brothers Eric and Ryan Dedola founded Virtu Made in the 2010s after traveling the world. During their travels, they met artists in Guatemala, Bali and Turks and Caicos, and they began working with those artists to promote their crafts. Ryan Dedola says Virtu Made launched its first product, its Classic Collection line of bracelets, in January of this year. Classic Collection bracelets are $8 MSRP per bracelet and come in 10 color options.
"We had a very significant response to our brand and to what we're doing," says Dedola. "We decided we needed a new product that complemented our existing line but also took that next step in the evolution of what we're doing."
Virtu Made launched its Beaded Collection this summer. Ethically made in Bali, the new Virtu Made bracelets support the company's commitment to keep the ocean clean and raise awareness about the impacts of plastic pollution on waterways. For every Virtu Made product sold, the brand pledges to remove 1 pound of trash from rivers, canals and oceans in partnership with the TerraCycle Global Foundation.
Each Beaded Collection bracelet from Virtu Made features 50% recycled ocean plastic collected in partnership with TerraCycle Global Foundation, which collects plastic waste from oceans, rivers and canals. The foundation then sorts the waste, and plastics are separated and recycled to be used in products like the new Beaded Collection bracelets. The Beaded Collection bracelets feature 10 color options and cost $16 MSRP each. Dedola says each bracelet also comes wrapped in 100% recycled paper packaging.
"The stacked [bead] look is in right now," says Dedola. "It's a good-looking product that is at an affordable price point. By joining hands with the TerraCycle Global Foundation, we're not just cleaning up waste; we're crafting a legacy of change, where conscious actions will ripple through generations and safeguard our planet's future."
Virtu Made has also supported the TerraCycle Global Foundation's river waste prevention, collection and recycling initiatives by supporting the removal of more than 100,000 pounds of waste from waterways so far in 2023.
"By capturing marine plastic waste and finding recycling solutions for the collected materials that are recyclable, the TerraCycle Global Foundation offers a holistic approach to reduce ocean plastic pollution and create meaningful, long-lasting change that can be replicated around the world," says James Scott, executive director of the TerraCycle Global Foundation. "It's through beneficial partnerships like the one we have with Virtu Made, which shares our mission and vision to steward our planet's waterways by mitigating the flow of waste into the ocean."
To date, Virtu Made products can be found in more than 400 retail locations. Dedola adds that Virtu Made plans to continue to contribute to TerraCycle Global Foundation's expansion of waste removal from waterways.
"We try to do everything in a sustainable manner," says Dedola. "One of the things we're going to start doing in the future is organizing beach cleanups in our area, creating a community of people to support our coastlines."