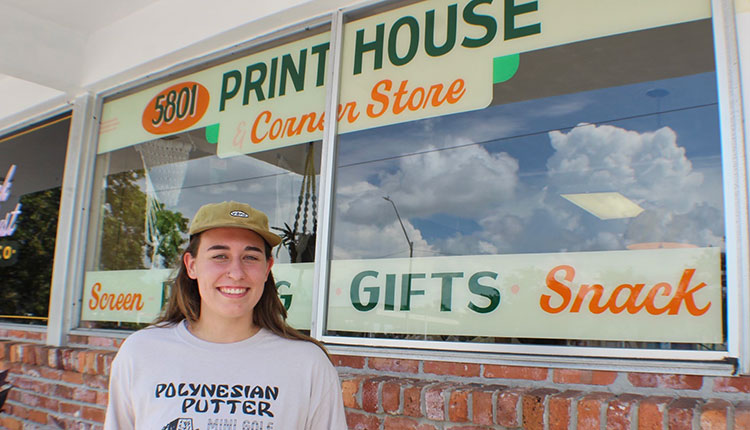 For the past few years, Alexa Schneider and Lauren Sampson managed a small screen printing business from their garage in St. Petersburg, Florida. Schneider says she got into screen printing in the middle of the pandemic when she took a job at a small screen-printing shop in Clearwater, Florida. She says she eventually left that job and began screen printing on her own in her garage, alongside Sampson, her girlfriend and roommate.
5801 Print House began as a small home-run business for Schneider and Sampson. Initially, the couple made T-shirts for local businesses in St. Petersburg. They later began making old Florida and St. Petersburg-themed T-shirts to sell at pop-up markets on weekends.
"Pretty quickly, we realized there was a market for what we were doing," says Schneider. "We expanded by selling our products in stores around the city and began vending in other cities around Florida."
Schneider recognized that 5801 Print House outgrew its garage workspace this year. So, she and Sampson leased a 700-square-foot storefront at 5725 Central Ave. in St. Petersburg in May for screen-printing work. But after moving equipment into the building, Schneider says she and Sampson recognized that they only needed half the space. So, the couple decided to turn the other half of the building into a retail gift shop.
"We thought if we have to pay for the space, we might as well see if retail works," says Sampson.
Schneider and Sampson collect vintage souvenirs as a hobby. They decided to line the wood-paneled walls of the store with some of their favorites from their collection, giving the shop a vintage feel. The gift shop sells primarily screen-printed souvenirs made in-house, including T-shirts, pennants, tote bags, pillowcases, postcards and hand towels. It also sells some wholesale gifts and locally made products. The gift shop officially opened its doors July 15.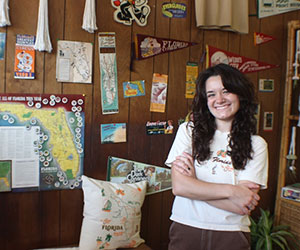 "On our opening day, we had a really good turnout," says Sampson. "I wasn't expecting that. Right now is slow season in Florida because it's so hot out. Knowing it's a slow season, we were fortunate to have good business."
Schneider adds that she and Sampson invited customers to check out the screen-printing side of the store on opening day and invite any customers who were interested to print their own shirt. She says, "We wanted to let people check out both parts of the shop and see what went into screen printing."
The screen-printing side of 5801 Print House's also provides wholesale gifts to five retail customers in Florida. In the near-term future, Schneider says she hopes to expand the wholesale side of the business to more accounts in the state. She adds that her long-term goal is to expand 5801 Print House's wholesale customer base outside of Florida to other destination retailers.
"We love making things for different cities, old roadside attractions, state parks — really anything that gives us a chance to take a dive into a destination's history," she says. "For the long term, we want to expand to other states, working with locations with a history and old tourism nostalgia that can be captured in a souvenir."