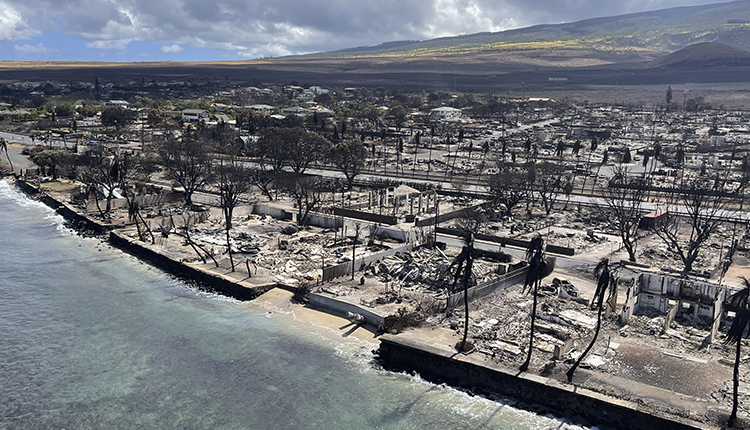 Catastrophic wildfires spread in Maui in early August, which were fueled in part by Hurricane Dora. The fires wiped out much of Lahaina, Hawaii. According to a report from the Associated Press, more than 100 people died because of the fires as of Aug. 17.
Some coastal retailers experienced serious damage and loss due to Hurricane Dora and the Maui wildfires. KaiAloha Supply, a coastal retailer with five locations in Hawaii, lost two of its stores on Front Street in Lahaina due to the hurricane.
Ellen Geary, owner of Lahaina-based Sunshine Market, says she lost her storefront, condo and car due to the fires.
"I was at the end of my second year [in business], working toward opening a second location," she says. "I was alone on Front Street at the shop when the evacuation notice came. The hardest part was that we had no cell service or internet to know what was happening for the community."
Geary says she evacuated the area at about 4 p.m. on Aug. 8. She estimates that the entire street caught fire by 5:10 p.m. and all shops were destroyed by the flames.
"Every single business is gone for blocks and blocks in Lahaina in every direction — all of Front Street," she says. "There's literally nothing to go back and see."
All five of Sunshine Market's employees are doing well in the aftermath of the fires, she adds. However, she says, she's unsure of next steps for her business and is focusing on helping people in need in the meantime. She notes that she built Sunshine Market in 2021 just as tourism and businesses were ramping back up in the middle of the COVID-19 pandemic.
"I built my shop very spontaneously after COVID," says Geary. "So, for myself coming out of my second year, I was looking at the next phase of growth. I keep thinking I lost a flower, but the tree is still intact. I'm going to be reconstructing everything at this point. But for now, everybody is focused on making sure people have housing, making sure people have access to basic needs."
KaiAloha Supply has used social media as a way to show support for the community and update followers.
"We stand in unity with our neighboring businesses who were also impacted by this disaster," KaiAloha Supply wrote in an Instagram post Aug. 10. "Most importantly, our hearts go out to our team on Maui and the rest of those who have lost their homes and loved ones. We want to extend our greatest Mahalo to family, friends and customers who have reached out to us, offered support and shared comforting words of encouragement. KaiAloha Supply is committed to our brand and mission. We will rebuild. And together with the rest of Maui, [we] will come out stronger from this."
KaiAloha Supply also has been selling Maui Strong shirts to help raise funds for its team in Maui as well.
A Lahaina surf shop called Goin Left was also destroyed by wildfires in August. According to an Instagram post from Goin Left Store Owner Jennifer Yi, a friend created a Go Fund Me page to support Yi and her business.
"My heart hurts for everyone who lost their home, business, family members and friends," Yi writes in an Instagram post. "So many people lost so much, and I'm sure it's going to be hard to decide where to send help. I will try to give what I can to help others. I'm not sure what my plans are yet, but I want to express that I will never forget all the incredible people I got to meet, and it's been the biggest pleasure expressing myself to you all these past eight years."
Many organizations as well as wholesalers have started to raise funds to help victims of the Maui wildfires.
Scott and Laura Phillipson, owners of Hawaii-based Sand People, set up a Go Fund Me page to support its Lahaina employees affected by the fire. The coastal retailer has locations in Hanalei and Lahaina, Hawaii.
"The fire's fury has left us reeling, and we now find ourselves grappling with the overwhelming challenge of rebuilding what has been lost," the Phillipsons write on the Go Fund Me page. "The Lahaina fire has stripped us of more than just our homes and belongings. It has shattered our sense of security and stability. Many 'Ohana members have lost their jobs, leaving them without a means to support themselves or their loved ones. The emotional toll is immeasurable as we mourn those who have tragically lost their lives in the blaze."
Paradise Now Hawaii, a coastal retailer based in Wailuku, Hawaii, began putting together a collection box of items for a shelter to help victims. According to a post from the store's Instagram page, all profit from items sold on its website will go to Lahaina relief funds as well as of Aug. 10.
Other wholesalers are also donating portions of sales proceeds toward Maui relief efforts, including Virginia-based Rambling Caravan and Honolulu, Hawaii-based Bamboo Wood Stickers.
Geary recommends people interested in donating to help wildfire victims make donations to verified donation funds, such as Maui Mutual Aid, Maui United Way or Maui Strong Fund. She says she has been trying to promote several reputable donation funds on Sunshine Market's social media pages.
"Err with caution and try to make sure what the organization does is as direct as possible," she says.
Maui's wildfires came on suddenly, and Geary says they reminded her of the importance of preparing for risks in business.
"Never in a million years, even 20 minutes before it happened, did I expect this to happen," she says. "But you want to be prepared for these risks. Make sure that your legal and financial risks are being addressed and managed, and make sure that you have an exit plan and that your employees are aware of it. Have the legal and financial aspects of your business evaluated so that you're not exposed."