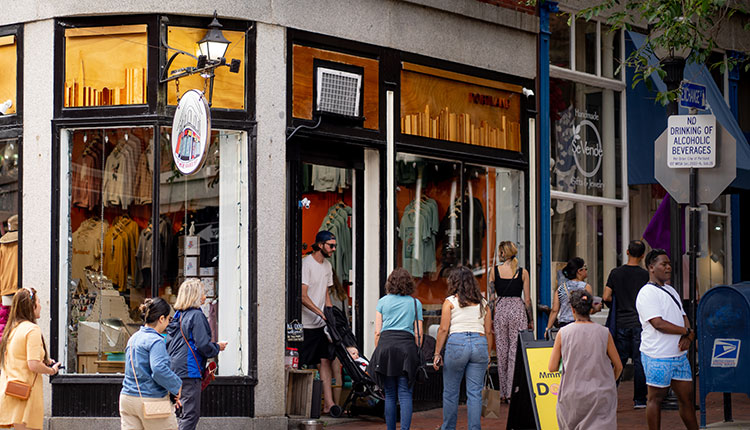 PortlandOldPort.com, an advertising services organization in Portland, Maine, has recognized The Maine Souvenir Shop as the best retail store in Portland. The retailer offers a wide range of products made or designed by someone from Maine.
Kevin Ouellette, owner of The Maine Souvenir Shop, worked as a wedding photographer prior to opening The Maine Souvenir Shop. With few wedding photography jobs available at the onset of the COVID-19 pandemic, Ouellette decided to try something different and open a store to help local artists sell their work out of a small, 85-square-foot office in Portland.
The business has since grown to a 500-square-foot storefront with a variety of souvenirs featuring Maine-themed artwork – T-shirts, tote bags, hats, stationery, jewelry as well as stickers to name some products sold in the store.
"Everything in the store is either made by or designed by someone from Maine. Everything you pick up we can tell you where your money is going and who you are supporting," Ouellette says.
He says the store supports over 70 local artists. He adds that The Maine Souvenir Shop also aims to help the local community, setting up donations to help local shelters in town.
The Best of 2023 Awards, organized by PortlandOldPort.com and presented by Bangor Savings Bank, recognizes "best of" award winners in the city. According to PortlandOldPort.com, it collected more than 10,000 nominations for the awards over a two-week period in June. Over 17,000 people cast 220,000 votes for this year's awards. PortlandOldPort.com announced winners at an event Aug. 8 at Portland House of Music & Events, hosted by WCYY Radio Host Joe "Joey Disco" Dionne.
This year's awards featured 147 categories. Ouellette notes that the 25 categories that received the most votes were announced on stage, including best retail store, with the other 122 categories honored in a slideshow presentation.
"I got to go up with almost my entire team," says Ouellette. "We're a souvenir shop, but we won best retail store in Portland, Maine. We have amazing, locally owned retail shops in Portland. To be recognized as best retail shop is insanity. We're so thankful. [The award] is just as earned by my workers as it is by my artist as it is by the community and manufacturers and customers. It truly is a crazy amount of people that make this one thing work."
Visit www.themainesouvenirshop.com to find out more about its store and offerings in Portland.