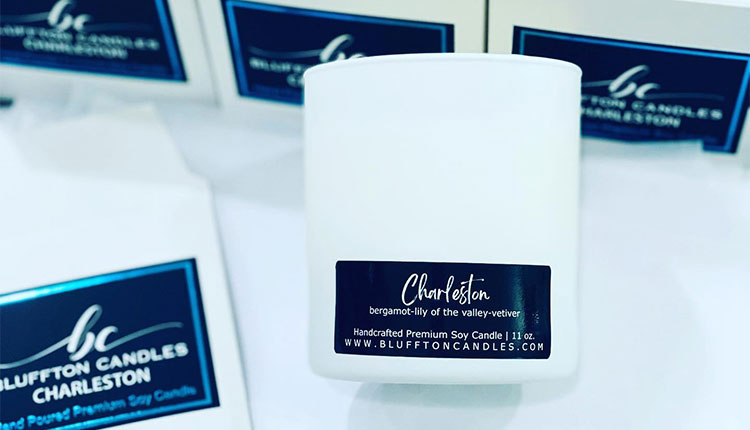 Bluffton Candles Gift Shop, a seaside retailer in Bluffton, South Carolina, has expanded and moved to a larger storefront in September at 54 Bridge Street Suite 101 in Bluffton.
The retailer opened its original storefront in 2019 at 3C Lawton Street in Bluffton. The retailer makes and sells its own line of candles as well as wholesale gifts, such as mugs, hats, magnets and greeting cards. Over the last four years, Bluffton Candles Owner Angie Evangelista says her business has outgrown its 500-square-foot Lawton Street location. She adds that she hopped on an opportunity to lease a 1,500-square-foot storefront in town.
Evangelista says the larger storefront will help her to expand the retail shop. She adds that she also wants to use part of the new storefront for hosting candle-making classes and private parties.
"We tested one class in December of last year, and we rented a space [for that event]," she says. "It was a good turnout. After that, everyone was calling, 'Can you do a candle-making event for this group?' There were so many inquiries."
In addition to growing in size, Bluffton Candles has also become a well-known gift shop in the community. The seaside retailer won the 2023 Best of Bluffton Community Choice Award as Best Gift Shop in August. The contest allows community members to nominate and vote for their favorite companies in more than 180 categories.
Bluffton Candles beat two finalists in the award's Gift Shop category. Evangelista says she accepted the award at a ceremony on Aug. 1 at the Savannah Convention Center in Savannah, Georgia.
"It was our very first time to attend that kind of an award ceremony," she says. "There were a lot of business owners there. We were so blessed to be there and, of course, to win that award."