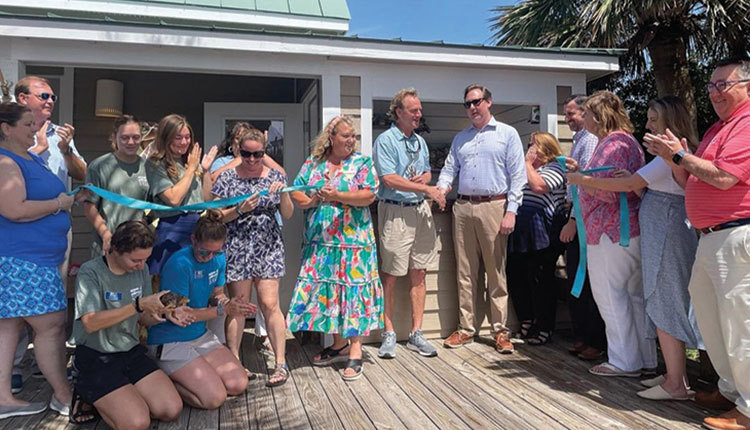 Bald Head Island Conservancy and its gift shop, Turtle Central are having a busy summer. Not only is leading organization in barrier island conservation located between the Cape Fear River and the Atlantic Ocean, is celebrating 40 years of operations in 2023, it recently opened the new Hatchling Hut right as guests and locals get off the ferry to the island.
"We started working last year on getting a presence on the harbor because we are so far down the island that a lot of people come over and they don't know anything about us," says Pam Smith, retail manager. "So we came up with a proposal and went to a real estate company that has a large deck and a big presence as you step off the boat and asked them about having a space on their porch."
"We ended up doing a build-out under their porch that turned out really nice." The new building is called the Hatchling Hut and it carries sea turtle merchandise, and commemorative merchandise featuring the 40th anniversary logo on it.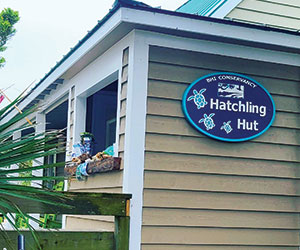 The Hatchling Hut also gives out stickers with a QR code that takes users to the BHIC website where they can sign up for programs, the annual Turtle Trot Race and learn about the wildlife on Bald Head Island. The Hatching Hut opened on Memorial Day and an official ribbon cutting was held June 21.
The Turtle Central gift shop at the conservancy also carries the 40th anniversary merchandise, but that's not all the customers go for, according to Smith. From its humble beginnings in 1983 selling T-shirts and turtle statues, the store is now a fully stocked gift shop with multiple categories that allows just about any visitor to find something to take home from their visit.
BHIC also celebrated World Sea Turtle Day June 16 with a big celebration that included visitors lining up for to get glittery strands called mermaid hair in their hair, and to have their pictures taken with an employee dressed up in a sea turtle costume. The festivities also featured an appearance by the mayor, and some hands-on educational opportunities for the kids.
For 40 years, BHIC's vision has been to live in harmony with nature and foster barrier island conservation, education and preservation. What started as a few locals looking to preserve a beautiful island environment and protect its nesting sea turtles has become an organization dedicated to protecting marine life, conducting impactful scientific research and providing environmental education to the island community and beyond.