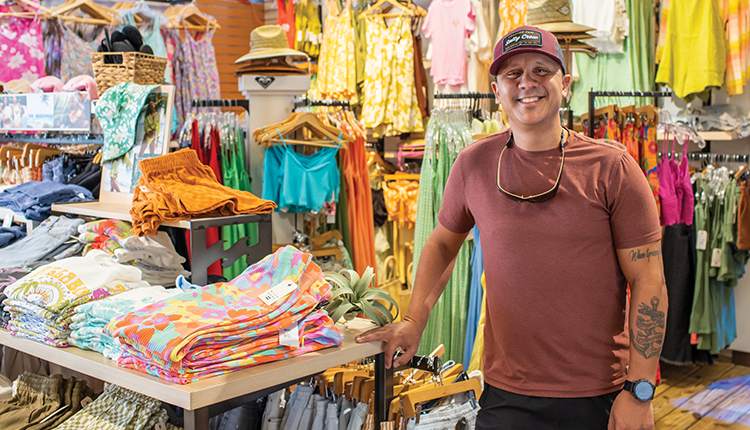 Photos: Robert Holland
Felipe "Flip" Oliveira has been in plenty of executive boardrooms throughout his 20-year career in corporate sales, but none of them quite as cool as the new "board room" inside Ocean Magic Surf Shop, in Jupiter, Florida.
More casual than corporate, this cozy hangout — which houses surf, skate and skim boards and other hard goods inside the beach-inspired store — showcases how Oliveira is bringing a fresh perspective to surf-centric retail.
Newcomers to the coastal retail industry, Oliveira and his business partner, Jason Brown, took over the 37-year-old surf shop three years ago in the midst of the pandemic when, after working at the same telecommunications company for several years, they decided to go into business together.
Drawn to the surf shop's long history and driven by their "mutual love for the beach and anything ocean-related," Ocean Magic seemed like the perfect fit for their entrepreneurial venture, Oliveira says — not to mention, "more fun than making sales calls all day."
With no previous retail experience, Oliveira immersed himself in surf retail — spending 10 to 12 hours in the store every day for the first 40 days after purchasing Ocean Magic from founder, Don French. Since then, the new owners have been making changes to expand the shop's longstanding legacy in Jupiter, Florida.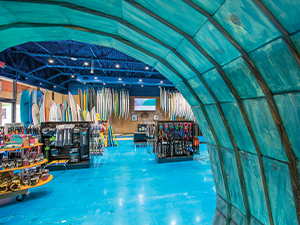 "As part of the process of buying [the store], I came here 10 or 15 different times as a shopper to scope it out and get a feel for it," Oliveira says. "I talked to the customers, and I kept hearing the same story over and over: 'I came here as a kid, and it's ingrained in my memories; and now I bring my kids here and they're going to bring their kids here.' I thought, that's just fantastic. I want to be a part of this, and I want to grow this."
Here's how he's built the business with consistent month-over-month growth since taking over Ocean Magic Surf Shop.
Retail Refresh
Oliveira and Brown took ownerswhip of Ocean Magic in November 2020, at the start of the Christmas rush. During that critical shopping period, Oliveira began observing opportunities to improve the operation.
"I noticed that the lines were literally wrapped around the building, wall to wall, because they only had one register," Oliveira says. "I thought, well, that's a problem. I found myself walking that line all day, talking to customers and handing out free gifts just to ease the tension of that long line."
Since then, Oliveira added two more registers to reduce long lines and wait times. He also introduced new point-of-sale software, replacing the store's antiquated pen-and-paper methods with a streamlined system that tracks sales and inventory management.
After analyzing customer's shopping patterns, Oliveira began rearranging the store to make the surfing and skating gear, apparel and accessories more shoppable. For example, he noticed that many customers came just to buy sandals, which were previously located at the front of the 5,000-square-foot store.
"We moved those to the back," he says, "so now they're walking through the store, a lot of them for the first time, and saying, 'Oh look, there's other things here that I like.' So, it's been a good move."
Oliveira also refreshed the displays throughout the store. Instead of merging all the product lines together on the racks, as the previous owner did, Oliveira saw an opportunity to highlight best-selling brands like Billabong, Roxy and Quiksilver. For the first time in Ocean Magic history, clothing brands received their own dedicated displays.
"After looking at the numbers, these brands have been so good to us and performing so well," he says. "It was a shame not to give them their own beautiful space on our wall with a beautiful buildout."
Meanwhile, Oliveira and his buyer are constantly freshening up the inventory by introducing new brands. For example, he added Vuori clothing lines for men and women after trying on a pair of shorts and falling in love with the brand's comfortable fit.
"It's almost all I wear now," he admits, noting that Vuori is "completely crushing" sales at his store. Customers similarly can't get enough of the handmade clothing from Mora Girls, a boutique brand that Oliveira recently began carrying. "We cannot keep it in stock," he says.
Flagship Expansion
When Oliveira realized that the tax prep business next door to Ocean Magic's flagship store wasn't renewing its lease, he jumped at the opportunity to expand into the adjacent unit. The goal, initially, was storage. "We needed a space for back stock in order to build a foundation for a thriving website," he says.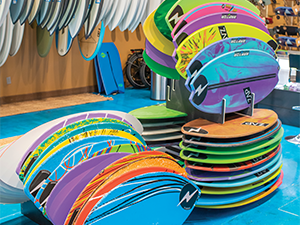 The expansion into the next-door suite doubled Ocean Magic's total square footage to nearly 10,000 square feet — providing even more storage space than Oliveira needed. What better way to use the extra space, he thought, than to create an experience beyond the products?

Oliveira says the general rule for retail is that every square foot of the store should have merchandise in order to justify that space, "and it makes logical sense to do it that way."
But, he says, "We thought, let's do something different. Let's create a huge, open space dedicated to hard goods — surf, skate and skim — and leave it very beautiful and open, complete with a couch, Xbox, food and drinks so people can just come and hang out, like surf shops used to be."
Oliveira dedicated roughly 3,500 square feet to this community "board room," as he calls it, to give customers an inviting space to hang out and connect with other surfers. He also makes the room available to local charities and nonprofit organizations as a meeting space.
Groups like Christian Surfers and Wahine Warriors, a nonprofit that supports veterans and foster kids, meet regularly in Ocean Magic's board room.
Devoting this much square footage to serve the community, without charging fees or expecting direct sales in return, helps set the shop apart.
"It was a risk, obviously, but the payoff has been huge," Oliveira says. "We've been able to do such great things for local charities, and it feels really, really good to be able to pour back into the community like that."
Service Beyond the Store
Although Ocean Magic caters to the local surfers and skaters, Oliveira says the store also serves beach-loving families and tourists outside of that "core" crowd.
"We welcome everybody here," he says. "The ages [of our customers] vary tremendously; we have little kids in here all the time, and even grandmas shopping for their families."
While building out the inventory with more of the surf-related brands and products these shoppers want, Oliveira is also looking for new ways to serve his customers beyond the typical transaction.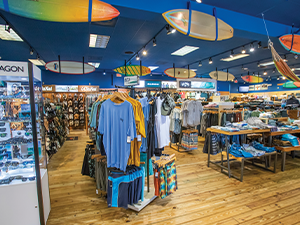 For example, Ocean Magic was already renting surfboards when he and Brown bought the business. Since then, they've been expanding that offering by adding skim boards, boogie boards and even electronic bikes to the rental options.

Now, they're starting to rent other items and experiences — going where traditional surf shops typically don't tread. Ocean Magic recently started offering a beach rental package that includes chairs, umbrellas, totes, coolers and practically anything else that people might need at the beach.
"We've structured it so at the end of the rental period, if you like any item that you've rented, you can use that [rental] money toward the purchase of a new one," he says.
For the second phase of this beach rental program, Ocean Magic will partner with local resorts to deliver these packages directly to consumers this summer — making a day at the beach even more carefree.
"One of the biggest struggles is having to lug all these things to the beach and then lug them all back to the car, so we want to eliminate that," Oliveira says. "What do you need? We'll bring it and set it up for you. You rent a cooler from us; we'll fill it with ice. What do you want to drink? We'll get that for you, too, and then come back and tear it down and take it off your hands, so we're going to simplify that process."
In this way, Ocean Magic is making itself indispensable for beach-goers.
Mall Magic
Growth has been part of Oliveira's vision for Ocean Magic from the beginning, as he brought big plans for growing the business beyond a single storefront. Last year, he found the perfect opportunity to expand into Gardens Mall in Palm Beach Gardens, about a 17-minute drive away from the flagship location.
"We thought the mall would be an interesting place, but it couldn't be just any mall," he says. Gardens Mall, an upscale shopping destination owned by the Forbes Company, was pristine enough to capture his attention, and close enough that he could quickly get from one store to another.
"Our people are the lifeblood of the organization, and we have to take care of those who take care of us. So, we've increased salaries — in some cases, more than doubled them — and brought in health and dental benefits." — Felipe "Flip" Oliveira
Located just a few doors down from luxury brands like Gucci, Louis Vuitton and Coach, Ocean Magic stands out to mall shoppers who wouldn't typically visit its other location, which sits four minutes away from the beach, surrounded by seafood restaurants and salons.
"In a mall with all these very high-end stores, being an ocean-themed store that's very affordable catches people's eyes," Oliveira says. "There are a lot of people walking into our store who would've never been captured otherwise at our flagship store, so it's been a good move in terms of brand awareness."
Spanning only 1,900 square feet, Ocean Magic's mall location covers a much smaller footprint, which requires careful product selection to make use of limited space. "We have to be judicious with the brands we decide to carry there," Oliveira says, "and that's in a continuous state of flux as we're learning about the customer base."
Since opening in Gardens Mall in August 2022, Oliveira has observed different product preferences at each location. The bestselling brand at the mall has been Vuori Men's followed by its Women's line, while the dominant brands at the flagship store have been Billabong Women's followed by Roxy and Quiksilver. "It's been surprising to us," Oliveira says. "We're always watching and making adjustments as needed."
Building the Future
Beyond physical changes, the key ingredient in Ocean Magic's growth is its people.
"The most important change we've made is with our personnel," Oliveira says. "Our people are the lifeblood of the organization, and we have to take care of those who take care of us. So, we've increased salaries — in some cases, more than doubled them — and brought in health and dental benefits."
Ocean Magic has shifted toward full-time employees as Oliveira tries to lay a stable foundation for long-term growth. He realized that the company was investing a lot of time training part-time workers with a high turnover.
"I thought, let's pay these guys more and get full-time committed employees who are going to stay and grow with the company," he says. "In order to do that, you have to lay the foundation for that growth."
Now, with 16 full-time employees and growing, Oliveira realizes that these investments in his team pay off in multiples as the company continues to set new sales records every month — marking consistent month-over-month growth since Oliveira took over.
"We're super thankful for that, and it's onward and upward from here," Oliveira says.