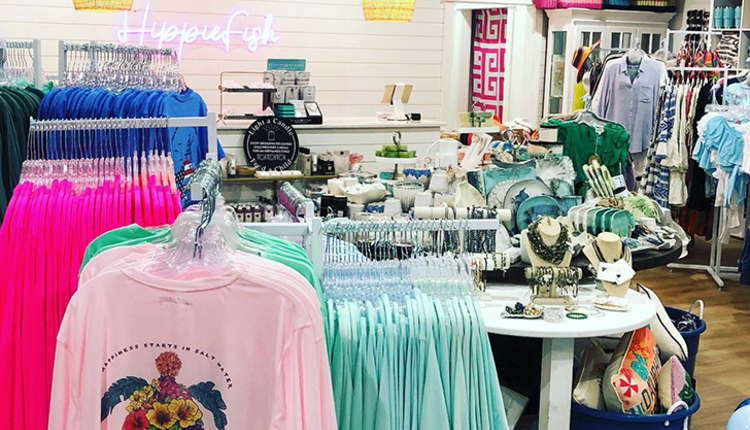 The Hippie Fish Boutique on Dauphin Island in Alabama has moved to a new location at 1814 Bienville Blvd., and building and store Owner Kim Stevens says the bigger, higher visibility store will be ready for the season.
With spectacular views of the Gulf of Mexico, the new, elevated building replaces a rented store on a side street that needed significant repair. Dauphin Island has aways had a special place in Stevens' heart, as she visited the island for the beach, boating and birding with her family, when she was a teen and with her own children. For as long as she could remember, Stevens wanted a little shop on the island. The first store was an abandoned, run down bait shop that she rented and renovated. "With all its flaws I saw the potential. I saw my shop," she says of her first store.
"Over the years we added a little here, rearranged a little there, and kept trying to make it a warm happy place for our team and our customers. Meeting and working with local artists and being a local allowed us to create a unique Dauphin Island feel, which made me happy, and I looked forward to passing this 'happy' along to our many visitors and friends," she says.
Stevens will continue passing on the good vibrations at the new location. The store is on a main thoroughfare with a much higher traffic count and is near several condos. "Our new layout has increased shopping square footage and additional storage. The floor space has allowed us to add several new product lines and the additional storage allows us to have more product on hand," she says.
Stevens says the store's customers are 6 to 80 and beyond. "We want each of our customers to take home 'a happy,'" she says. "By carrying custom Dauphin Island designs featuring local artists, and unique Dauphin Island pieces, we hope they find that special item and remember the time at the Hippie Fish and their time on the island."
Among the boutique's merchandise are custom island-design T-shirts offering unique Dauphin Island features including shirts for the Goat Tree Reserve, a Dauphin Island bird sanctuary, the Dauphin Island bridge, the Bird Houses, which are six colorful, tall homes that greet visitors to the island and many custom designed Hippie Fish shirts. The shop also offers original artwork from local artists, custom local pottery, mugs and handmade signs, all with an island flare that are favorites with many island vacationers, she says. Also in the inventory are candles, name-brand and original locally made jewelry, custom soaps and unique home decor items.
"We want the locals to wear our clothes and decorate their homes with The Hippie Fish Dauphin Island flare, and our out-of-town visitors to take home memories of the island and their time here," Stevens says. "We truly want our customers to leave our store with a smile on their face, a story to tell about the 'cutest little shop' to their friends and found memories of the island in their heart."