Several wholesale companies are making up for the lack of orders of their traditional products by making and distributing cloth face masks that are in high demand during the COVID-19 pandemic. The switch to making face masks is helping fill the gap in orders and helping to keep business operating.
Bruce Palmer, owner of The Incredible Sun Visor Inc. based in Orange City, Florida, has sold more than 9 million sun visors since the company was formed in 1997. These days, however, the company is all about the face masks.
The company began making the masks in early April when orders for visors stopped coming in. It was a good fit for the company, which has some 600 different designs for its visors. Those patters easily translated into face mask patterns. With many areas requiring people to wear them in public, being able to offer an exciting pattern makes wearing a face mask a little more fashionable, not just functional.
"Instead of just a plain-Jane pattern, they can have a little bit of fun with it," explains Palmer.
The Incredible Sun Visor patterns include many fish, flamingos and tie-dyes just to name a few.
"I have to have prints for my visors, so it kind of works hand-in-hand with this," Palmer says of the masks.
While orders for the masks are not nearly the volume the company was doing with its visors, it has allowed The Incredible Sun Visor to keep all five of its employees working and even bring on a couple of outside sales reps.
"I was able to bring everyone back, plus I have a couple of outside sellers, so I am basically at two more working for the company than I had before I started selling these," says Palmer.
The visors are still the company's main business, but the masks are definitely helping the business. "I want to be making visors but this venture has served its purpose for sure."
Sales have been direct to customers and as well as retail sales. Retailers will place orders for 200 to 300 at a time.
"I have a couple of local ACE hardware stores that I sell to and they are going through 75 to 100 masks a day in their stores," Palmer says. "It's really hard to keep up when you have consistency like that."
The masks are washable, 3-ply, and have a filter and an adjustable nose piece. "It's a good quality mask that can be used for a long period of time," said Palmer.
Initially the company started making the masks for family members, then it just spiraled from there. The Incredible Visor did donate some masks with nursing prints to local hospitals early on, but Palmer notes that many hospitals can't use the cloth masks.
Normally the visor business stays steady from March through August, but Palmer doesn't foresee it being a normal year. He says he would probably keep making the masks as long as it doesn't take away from his visor business.
"That has to be the priority because that is what it has been for the last 25 years, but you have to adjust with the times," he says. "The masks have kept all my employees employed and all my workers working, so it's kind of served its purpose."
Snazzy & Co.'s, sea-inspired jewelry business was put on hold because of the pandemic. While Deerfield, Florida-based had a busier than normal January and February, owner Artie Shaw estimates about 90 percent of the company's retailer orders from March and April have been postponed.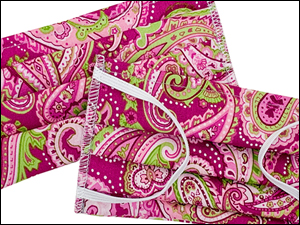 So when Shaw received a call from a friend whose family owns a company in the Midwest that private labels handbags and other goods wanting to find out if he would be interested in selling the new masks the company was making, Shaw decided to take him up on the offer.
"He called us to see if we would want to help out making some sales and you know with everything postponed, there's not much work for us right now so we decided to go for it." he says. Shaw adds that it was good way to stay busy, make up for some of the lost income and also help keep a small town's factory workers employed.
Available in a variety of colorful patterns, the American-made have also resonated well with customers who now more than ever want to support the U.S. economy. Trust issues with Chinese-based goods have also been exacerbated because of the pandemic, according to Shaw. The immediate delivery has also been appealing to retailers wanting to carry masks, he adds.
To inform existing customers of Snazzy & Co.'s new offering, Shaw sent an email blast to them. He also made calls to hardware stores and pharmacies that have remained open for business to generate sales for the masks.
Shaw doesn't see the demand for masks disappearing anytime soon. "I believe this is going to be going on for many months to come, and I believe masks are going to become like a fashion accessory. People are really going to want several masks because there's no way I can see this disappearing in the next two or three months."