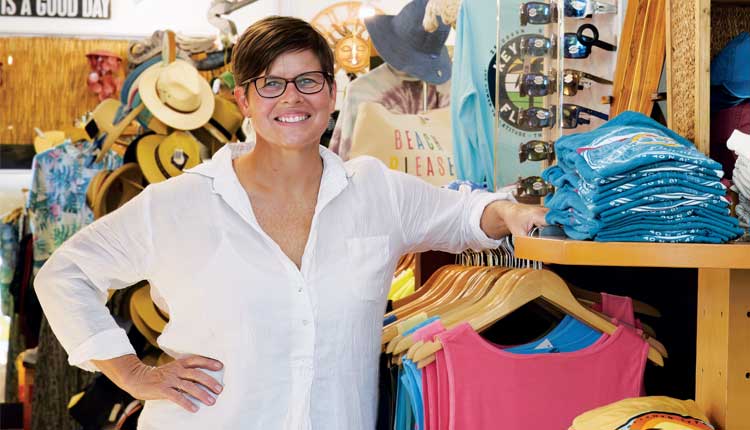 Photos: Michael Kanik
There's the Type 1 guy buyer who enters Randy's Florida Keys Gift Co. in Key Largo, Florida, to buy a hat or find gifts for the family back at home since he's been fishing with his buddies. "One is intentional," says Lisa Althouse, co-owner.
Then there's the Type 2 man who is with his wife shopping. "He stumbles across a cool Hawaiian shirt, and it's not something he needs but he can't leave without it," she says.
The mix of men's merchandise at the shop — widely known as Randy's — includes eclectic gourmet foods, fitted and relaxed T-shirts, cabana sets, versatile moisture-wicking volley shorts, the classic Hawaiian button-downs, body products and even ukuleles, steel drums and mandolins.
"We bring something fresh to the table," says Althouse. Randy Althouse opened the first Key Largo location in 1992, eventually moving to a new storefront. In 2013, he started Good Day on a Happy Planet in Key West.
Randy's is really a beach lifestyle store. The eclectic yet carefully selected products differentiate the shop from others selling souvenirs and namedrop tees. "We offer nicer designs," Althouse points out.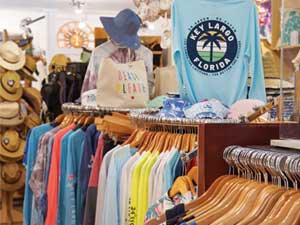 Plus, there's a relaxed, welcoming vibe. "We put a steel drum by the front door so many of the men can't resist playing it," she adds. "And we carry kitschy, funny stuff, too." She points to a popular T-shirt that says, "Your bait sucks and your boat is ugly." And speaking to The Keys, another reads, "Living the Dream."

As for the men, they can shop dedicated areas to find apparel, hats and extras but products that appeal to guys are all over the store. Men's wares consume about 25 percent of the inventory, and that has grown in the last several years.
From beach to boat to table
Originally when Randy's opened, the store carried a large selection of men's shirts priced in the $120 range — tops that transitioned from the golf course to dinner out. But a demographic shift in the male customer base over the years called for a different buying strategy.
"The newer generation moved away from that, and now we are carrying them for $40 and they are just as nice," Althouse says. "We really hunt the market to find the best brands and I don't cut on quality. I want to sell people their favorite shirt, their favorite hat."
Miami-based Wave Life "has a vibe for South Florida," so Randy's carries their shorts. Vintage Summer is a New Jersey line, "and they have an idea of what really sells on the beach, so their designs are awesome," says Althouse. They offer cabana sets for guys consisting of matching swim trunks and Hawaiian shirts.
Randy's also offers UPF Hawaiian shirts you can wear in the water because of the moisture-wicking fabric. "And it matches the volley shorts," which are versatile and go from beach to boat to bar. "They can wear them on the water to out to dinner," Althouse says.
Women shop the men's clothing section of the shop. "But, generally, men pick out their own hats," she quips.
The ladies also pick up gifts for their sons and other men in their life. "They know the T-shirts they want — the younger, slim-fit Euro styles."
Guy stuff that sells
Fun foods sell well to guys who cruise through Randy's. "The men like our local honey that has been harvested from Key West up to Ocean Reef during summer, fall and spring by Pirate Hat Apiary," says Althouse.
Then there's Buck's Naked low-sodium seasonings created by a local chef. "His seasonings use a freeze-dried vinegar to give them a punch," she describes. So if you've ever tried boring, low-salt flavors, Randy's offers a zesty alternative.
"We really hunt the market to find the best brands, and I don't cut on quality. I want to sell people their favorite shirt, their favorite hat." — Lisa Althouse
Men are drawn to the home decor section, too. Mainly, they dig the doormats made from repurposed lobster traps from a local artisan.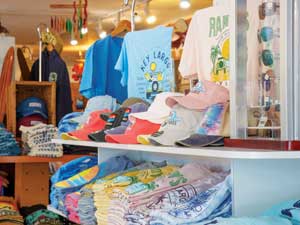 Unisex skincare products without the heavy floral notes, appeal to the guys. One is Naples Soap Co., which makes organic skin and body products geared toward sensitive skin. Another is Caribbean Sol. Randy's also carries men's and unisex fragrances by Inis, which makes clean and light scents reminiscent of the sea.

When sourcing brands for gifts, decor, bath and body or apparel, Althouse takes care to restock favorites and mix it up for repeat shoppers. "We carry classics that are on our racks all the time, but we're constantly bringing in something new for that customer who returns every year."
Hooking the men
Let's face it. The way women and men shop is like Venus and Mars. And the guys are much less likely to dig deep into racks and cover every square inch of the inventory. "We do not bury men's items in the back of the store," Althouse says. "Women will go hunt, but men won't. They get to a point where they'll do a turnaround if they don't see what they are looking for."
So, there's the steel drum or another instrument at the entrance toward the front of the shop. Next comes clusters of products: tank tops, SPF shirts "because it's all about being in the water," a bright splash of Hawaiian shirts with shorts, and then displays of gourmet goodies and body products. Then there are always the rack of hats that are easy sellers for the guys.
Because of the variety and selection of gifts, clothing and essentials you might forget when you pack — yes, we're talking about the swim trunks — Randy's is a place to be whether you're that Type 1 or Type 2 guy shopper. Don't forget to play the drum.