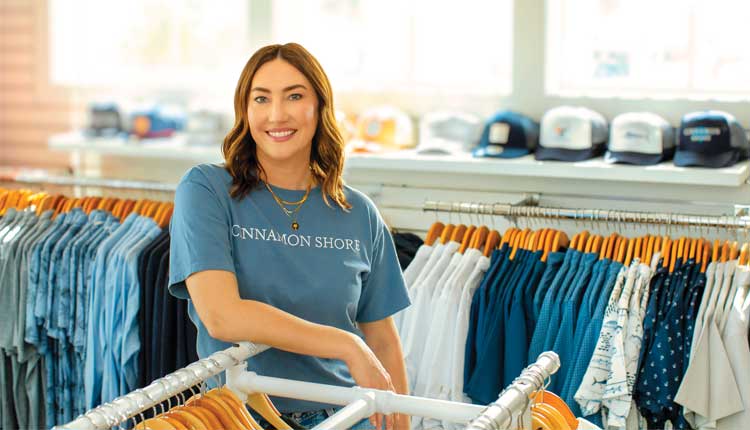 Photos: Mark Marquez
Not a hair out of place. From color scheme to design aesthetic, the Cinnamon Shore Gift Shop in Port Arkansas, Texas, aligns with the vacation community's thoughtful and understated vibe. It's about family, gathering, fishing, dining and coastal elegance. The shop does not stray far from the clean-and-crisp Cinnamon Shore brand and color palette.
The master-planned waterfront destination with 300 homes and 1,200 on the way opened in 2006. The shop traditionally offered namedrop shirts and hats, but store manager Tricia Tinnin took over two years ago and has expanded the inventory selection and store footprint so it is now twice the size. With that comes more for men.
"Men would come in and ask, 'Do you have a men's section?' and we just listened to our customers and what they wanted, adding more of an assortment. It has paid off," Tinnin says. Specifically, products for guys have increased from 10 percent of the inventory in 2021 to about 20 percent. "We definitely added a lot of SKUs, and we have more coming."
The Cinnamon Shore way
Tinnin's goal was to make Cinnamon Shore Gift Shop a destination for vacation renters. The quest began with a signature beachfront graphic in the community's four colors: navy, coral, mint and white. The umbrella logo with text is stamped on T-shirts, shorts, hats and visors along with drinkware and accessories like canvas bags.
"We tried to stick to mostly branded merchandise, but branched out into cover-ups and fishing shirts," Tinnin says.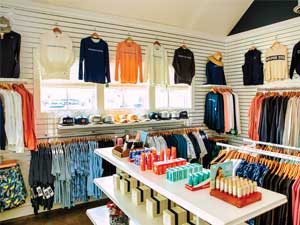 The shop added polo shirts, a request from men frequenting the shop. The same goes for button-down shirts in linen — long and short sleeve. "Occasionally, a man will come in and say, 'I have a Zoom call, do you have any collared shirts?' so we have a small selection that they can also wear to a nice restaurant," Tinnin says.

Another new addition for men is performance shirts and long-sleeve options, so they can wear a bit of Cinnamon Shore and stay comfortable year-round. Men also go for the shop's quarter-zip tops, puffer vests, hoodies and hats, mostly with the community logo.
"Men would come in and ask, 'Do you have men's section?' and we just listened to our customers and what they wanted, adding more of an assortment. It has paid off." — Tricia Tinnin

"Because we are such a big fishing community, they take their polarized sunglasses seriously," Tinnin adds of brands like Costa Del Mar.
While the shop has always carried a wide selection of caps, men were asking for flat-billed hats so they could easily wear sunglasses, too. "We listen to them and what they want," Tinnin says of buying for men — or any guest, for that matter.
An expanded swim trunk and tank top section gives men choices and is a quick fix when they realize they left an essential at home. (The same is true for the new collection of flip-flops.) Cinnamon Shore pushes the brand boundaries on swim trunks and carries playful repeat prints like a marlin, palm tree, anchor and nautical themed stripes.
Multi-performance shirts and shorts give men the option to wear them to the beach, golf course and out to dinner. "For prints, we stay within our coastal colors and prints," says Tinnin.
Room to grow
A larger space makes room for more merchandise, in general. "A lot of guests are repeat renters and owners so they will be excited about the new layout," Tinnin says.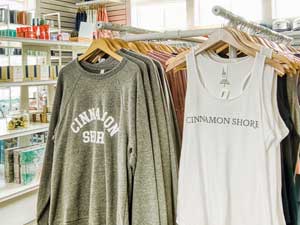 Of course, they know to expect a natural, coastal look with white and navy accents, jute rugs and displays of signature tees. "We slat-walled the entire place to make room for hang rails and shelves," says Tinnin. "It's like a game of Tetris trying to figure out where everything should go when you get something new, but that's the fun part."
Cinnamon Shore Gift Shop is basically arranged in departments with a men's area, kid's zone and women's space. Essentials and nice-to-haves from sunscreen and card sets are easy to pick up on counter and table displays.
"It's about sticking to your aesthetic and knowing what your guests will want." — Tricia Tinnin

It's not just the men cruising the growing selection of products for guys, Tinnin adds. Bringing in more men's items is a benefit for women, too. "Women come in and want to buy something for the whole family — the kids, dad, grandpa. They don't leave the men out of their purchasing."
As the shop evolves and becomes the destination Tinnin has in mind, she'll continue to buy with the beachy, muted look in mind. "There are many cool brands we'd like to buy, but they don't fit into our color palette or the needs of our customers, so we try to be real picky and stick to what we know will work for us," she says.
Looking ahead, Tinnin is excited about unveiling new apparel and products to all guests who seek solace and family time at Cinnamon Shore. The selection offered gives customers a way to take the tradition home. As she says, "It's about sticking to your aesthetic and knowing what your guests will want."