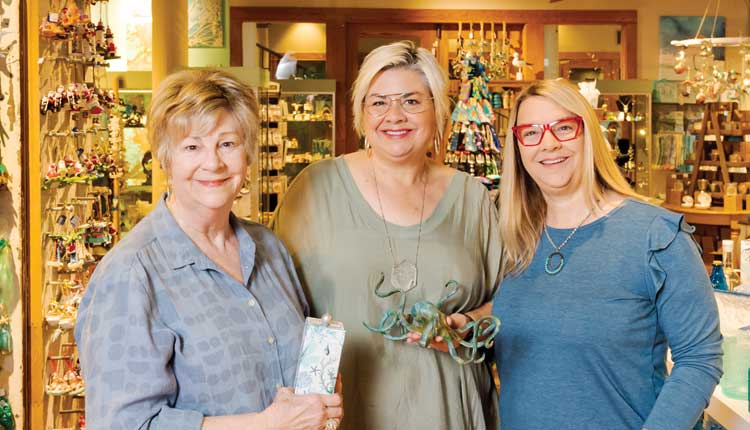 Photos: Jim Richard
Nearly 30 years ago, the well-known oil magnate and developer, George Mitchell, saw an impressive museum-quality ship model inside a bank in Houston. He tracked down the talented maker, a Navy veteran and master ship model builder named Allen LeCornu, and asked him to open a gallery in Mitchell's new Harbor House Hotel in Galveston, Texas. With Mitchell's support and space, Allen and his wife, Tina, opened The Admiralty Marine Model Gallery in 1993.
The nautical-themed art gallery soon expanded beyond Allen's scratch-built models to also feature marine sculptures, paintings, jewelry, crystal and pewter giftware. In 1998, the store relocated to Galveston's Strand Historic District — gaining more space and more walk-by traffic as it became known as The Admiralty on the Strand.
Since then, the beloved coastal store has continued to expand and evolve, offering an array of coastal-themed gifts, ocean-inspired art, jewelry and home decor. Through the decades, the store has survived destructive hurricanes and generational shifts to sustain Allen's legacy of creativity and craftsmanship. Now under the leadership of his wife, Tina, and their daughters, Leslie LeCornu and Wendy LeCornu Morgan, The Admiralty stands strong as a coastal treasure trove and shopping destination.
Surviving the storm
Nestled 50 miles southeast of Houston right on the Gulf of Mexico, Galveston has served as a major port city for centuries. For most of the year, its humid subtropical climate beckons tourists. Unfortunately, Galveston Island sits in the Coastal Windstorm Area, leaving the bay vulnerable to tropical storm surges during hurricane season.
In September 2008, Hurricane Ike struck Galveston Island as a category-2 storm with 110-mile-per-hour winds. More than 10 feet of storm surge flooded The Admiralty and many other stores near the bay, including Tina's on the Strand, the high-end women's boutique that the LeCornus had recently opened across the street — one block away from their flagship location.
"There were very few homes and businesses on the island that weren't touched by the floodwater," Wendy says. "It took nine months to recover and get back in business. We literally had to start from scratch. Everything — cases, inventory, point-of-sale systems — everything had to be replaced."
Although flood insurance helped cover the costs, the LeCornu family had to rebuild their inventories and displays. Needing help, Allen and Tina relinquished buying and merchandising to their daughter, Leslie, who had been working at The Admiralty since it opened.
"Years before Hurricane Ike, I begged my parents to go in a different direction, one that catered to everyone, but they felt the business was doing well as it was," Leslie says. "After Hurricane Ike, my mom threw her hands up and said, 'Do whatever.' So instead of buying a lighthouse lamp, I'd buy a blue glass lamp that appealed to more people."
Instead of focusing on overtly nautical merchandise, Leslie expanded the store's appeal with products that fit the coastal theme and color scheme but had the flexibility to blend with any style. As the city began rebuilding and redecorating, The Admiralty became a go-to source for ocean-inspired decor.
A family affair
After the storm, Galveston came back better than ever — bringing nearly 7 million visitors to the island each year.
"Galveston has grown exponentially since Hurricane Ike because everything came back fresh and new. We had a whole new injection of energy on the island," Wendy says. "Our store just kept growing and growing, and every year was busier than the last."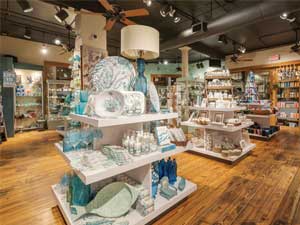 Sadly, the Admiralty lost its captain in 2012, when Allen passed away. Tina and Leslie kept running the store, but when Leslie had a baby, they needed all hands on deck. That's when Wendy joined the family business in 2015, after working in public relations for the music industry and the city of Austin.
"It took us a few years to get working together like a well-oiled machine," Wendy says. "But it's worked out really well, because we each have different strengths."
Wendy's role is operations and employee relations, while Leslie is primarily responsible for buying and merchandising. Tina focuses on the financial aspects of the business, while also managing her women's boutique.
"We fit together pretty well to keep things humming," Wendy says.
Beach-inspired merchandise
Both Leslie and Wendy inherited their father's creative spirit and pursued hobbies in art — Wendy as a potter and Leslie, a painter. While they don't typically sell their work at The Admiralty, their artistic inclinations help them select well-crafted merchandise that would meet their father's meticulous standards.
"We're significantly picky about what's going in the store," Wendy says. "Not everything has to have a seashell on it. That's not as important as whether it blends in with what someone might put in their home. A beautiful blue lamp can go anywhere, but when we merchandise it with other coastal products, it looks like it's meant to be there."
Rather than arranging products by category, Leslie designs displays by color. Vignettes throughout the store feature furniture, like an octopus or sea turtle table, staged with gifts and decor like lamps, candles, barware and glass figurines. Consistent palettes tie different items together, with sections grouped into vibrant aqua blues, ocean-hued teals and greens, and beachy neutrals.
When Wendy and Leslie attend the Dallas Total Home & Gift Market to scout for new products, it's easier to scan the showroom for coastal colors than to find specific seaside motifs. Recently, for example, they spotted a table tiled in aqua blue mosaics. "Is it ocean-specific? No," Wendy says. "But is somebody with a beach house going to love it? You bet."
"There isn't a day that goes by at The Admiralty that we don't hear: 'This is my favorite store. I've been coming here since I was a kid.'" — Wendy LeCornu Morgan

Although The Admiralty's inventory spans a wide price range from a few dollars to a few hundred, the store's carefully curated displays gave some shoppers the impression that it was "too fancy," Wendy says. To make the store more accessible, they added a children's section with ocean-themed toys, books, puzzles and stuffed animals to draw in families.
"It's not an exclusive store, and it's not fancy," Wendy says, "but our things are beautiful, and the way we merchandise makes everything look special."
Products for a cause
As important as it is for products to fit the store's colorful aesthetic, the LeCornu sisters also look for brands that stand for conservation. For example, they sell sunglasses made with sustainable materials like upcycled plastic, and jewelry from companies that donate potable water or clean the ocean with every purchase.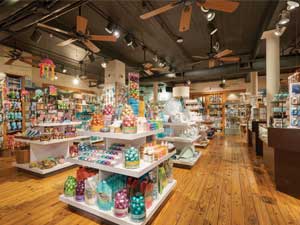 Last year, when hundreds of sea turtles were found stranded along Texas beaches, the LeCornu family sprang into action — asking vendors to donate products so the store could support rescue efforts by giving all the proceeds to the Gulf Center for Sea Turtle Research at nearby Texas A&M University. Thanks to the generosity of their vendors, The Admiralty donated more than $3,000 to sea turtle rehabilitation in November.
"We carry products that support conservation efforts because our customers like it and our employees love it," Wendy says. "They love to sell things that benefit someone or some creature."
Of course, it helps that many of the store's part-time employees are marine biology students at Texas A&M. Job postings in the university's career services office, combined with word-of-mouth referrals, have been The Admiralty's best recruiting tools in a tight labor market, staffing the store with 10 to 15 part-time workers throughout the year.
Naturally, these students love to promote products that support conservation. By encouraging staff to be enthusiastic about these programs and other product perks, Wendy fosters an energetic level of customer service that gives shoppers plenty of reasons to buy.
"We have an approach that we call 'proactive, no pressure selling,'" she says. "It's a way of informing people about what we have and getting them excited about the product and its benefits. That enthusiasm turns into a purchase and makes the shopping environment more fun."
Holiday attractions
The Strand Historic District, which spans five blocks of restaurants, shops, galleries, and museums, serves as Galveston's hub for shopping, entertainment and history. The bustling district brings plenty of passerby traffic to The Admiralty, situated one block from the bay and 1 mile from the beach. But, Wendy wondered, what if all the neighboring businesses worked together to bring in more repeat customers?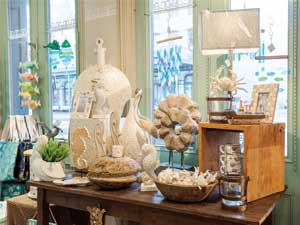 Several years ago, Wendy put her PR background to work and started collaborating with other stores along the Strand. She and Leslie set up a merchant group on Facebook, creating a forum to connect the local business owners and organize a series of street-wide "Sip and Shop" events. On the second Thursday of the month in October, November and December, about 10 businesses participate in a happy hour sales event, offering wine and "nibbles" along with giveaways and discounts.
"It was designed to give locals a chance to come in and shop after hours when the tourists aren't here," Wendy says. "We each promote the event to our own individual email list, so we're bringing down a good crowd."
One of Galveston's biggest draws is its annual holiday street festival, Dickens on the Strand. During the first weekend in December, the Strand Historic District transforms into a 19th century Victorian city. Festival goers don Victorian garb and enjoy grog and turkey legs with live entertainment from carolers, musicians, jugglers and parades, while vendors peddle their wares.
"Everybody's here to just shop like crazy," Wendy says. "There have been years where we've had lines down the stairs. Last year, we rang up a transaction about every 45 seconds. The Saturday during Dickens on the Strand is our single busiest day of the year."
This year's festival will be the ultimate celebration. Not only is it the 50th annual Dickens on the Strand, but it also marks The Admiralty's 30th anniversary since Allen opened his gallery during the festival in 1993.
The LeCornu Legacy
Galveston is a vibrant tourist attraction today, but that wasn't always the case. "In the 70s and 80s, it was a rundown old beach town," Wendy says. "George Mitchell is the one who got Galveston back on its feet as a travel destination. He came in and started restoring buildings and bringing in businesses."
Mitchell gradually developed the Strand and other parts of the island, establishing Galveston as a family-friendly vacation spot full of rich history and entertainment. He did so much for the island that, in the late 90s, Allen decided to name a street in his honor.
"My dad went out and raised money to get the street renamed. He got the signs made. He even got the A&M band to play at the unveiling ceremony," Wendy says. "He could single-handedly plan projects and get things done."
Similarly, Allen organized a group of volunteers from Texas A&M and the Seaborne Conservation Corps to restore many historic plaques around Galveston Island. He also raised money to beautify the entrance to City Hall and acquired grants to install park benches and gas lights along the Strand.
"He was really interested in preserving and embracing the historic nature of the island because it's part of our story," Wendy says.
The Admiralty on the Strand's story, now spanning three decades and two generations, is earning its spot in Galveston as a favorite among visitors and local Texans alike.
"We have 29 years of history and customers who seek us out when they visit," Wendy says. "There isn't a day that goes by at The Admiralty that we don't hear: 'This is my favorite store. I've been coming here since I was a kid.'"