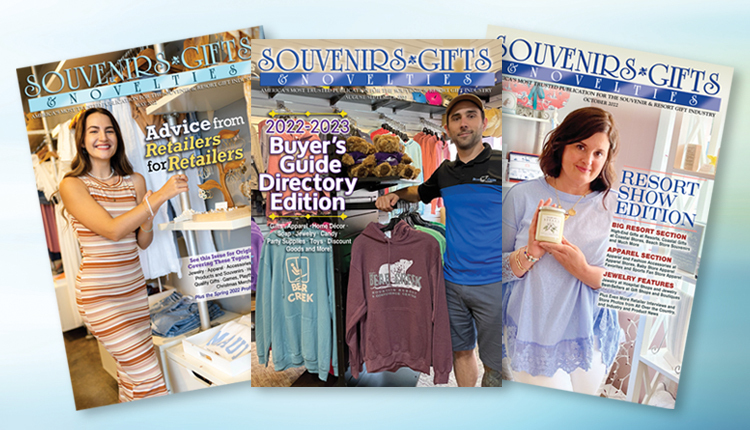 Breakwall Publishing, the Medina, Ohio-based publisher of Seaside Retailer magazine, has announced it has purchased the assets of Souvenirs, Gifts and Novelties (SGN) magazine from Kane Communications Inc., based in Bryn Mawr, Pennsylvania.
SGN was founded in 1962 and from 1977 to 2022 was led by Scott Borowsky, who served as SGN's president and executive editor.
"SGN has built a reputation for producing high-quality, original content that provides useful tips and advice for our strong retail readership base," says Borowsky. "In searching for a new owner, we wanted to make sure the foundation and values that we have prided ourselves on over the last four decades would be carried on. Breakwall Publishing has proven its ability to provide relevant and valuable information to its retailer audience, and I am confident that they will help us carry on our legacy for decades to follow."
Breakwall Publishing was founded in 2019 by Karen Carr and Kristin Ely, two award-winning business-to-business publishing veterans with over 45 years combined industry experience.
SGN has a strong readership of retail officials at tourist locations such as zoos, aquariums, caves and caverns, museums, amusement parks and more. The readership additionally consists of owners, buyers and managers at shops located in resorts and hospitals, and at apparel, jewelry, Hallmark and other types of gift stores and boutiques. Seaside Retailer reaches a robust audience of owners, buyers and managers of coastally located and inspired gift shops, boutiques, resort and souvenir stores.
In announcing the acquisition, Karen Carr, Breakwall Publishing president and Seaside Retailer publisher, says, "We've had our pulse on the gift and souvenir industry for the past several years through Seaside Retailer's coverage of the beach, coastal and nautical segment of the industry. We think expanding our offerings to include other gift and souvenir stores throughout the U.S. is a perfect fit, and we look forward to providing the same award-winning editorial content and design that readers have come to expect from our publications."
For 2023, SGN will publish five issues: March/April; May/June; July/August; September/October and November/December. Beginning in 2024, SGN will be published on a bimonthly basis. Seaside Retailer will continue to be published on a bimonthly basis.
Kristin Ely, Breakwall Publishing vice president and Seaside Retailer editorial director, says, "We are excited to expand our portfolio with the acquisition of SGN magazine. Connecting retailers with wholesalers who can help them expand their offerings and be successful in their businesses has always been our goal, and now we will be able to do the same for a wider community of gift and souvenir retailers across the country."
Caroline Risi will continue her role as managing editor of SGN, providing readers with quality coverage of the gift and souvenir retail industry.

Joining the Breakwall Publishing sales team is Larry White who has served as SGN's advertising director for the last 31 years. He brings his years of sales experience to the Breakwall Publishing team.
"I value the relationships I have built with advertisers over the years, and I am eager to continue to foster existing relationships and build new ones with Breakwall Publishing."
For questions, please call Karen Carr, publisher at karen@sgn.mag.com or call 330-591-2575
For advertising inquiries, please contact Larry White at sales@sgnmag.com or call 610-324-2100
For editorial inquiries, please contact Kristin Ely at kristin@sgnmag.com or call 858-684-7744