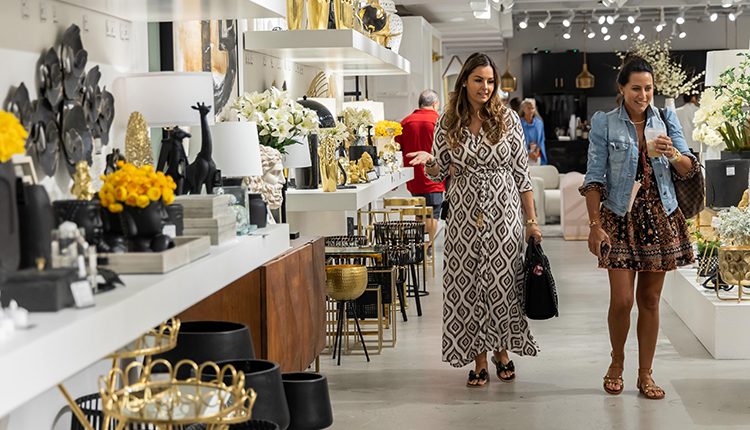 New resources in accent furnishings, one-of-a kind, vintage, textiles, pillows and more expand 350-plus design-driven whole-home showroom offerings at Atlanta Market in Winter 2023. A series of buyer tours focused on product discovery and trends will complement some six home decor showroom updates and nearly 50 casual furniture showroom openings at the Jan. 10-16, 2023, buying event.
"Exciting updates to the AmericasMart home decor offerings make Atlanta Market a top destination for designers and retailers this Winter," said Scott Eckman, International Market Centers executive vice president, chief revenue officer. "New, trend-driven product abounds with updates from home decor leaders adding to significant new resources in our all-new casual furniture and outdoor living collection."
Winter 2023 home decor updates bring new resources to the more than 300 showrooms presenting lighting, accent furniture, rugs, wall decor and linens and nearly 50 new showrooms presenting casual furniture on 12 floors in AmericasMart Building 1.
Three new showrooms are Avasa Home (home furnishings with a focus on natural, sustainable and organic fabrics), Bedford Collections (hand-knit and woven throws and textiles) and Square Feathers (luxury decorative pillows, furniture and home decor). Three expansions are Alicia Adams Alpaca (alpaca wool textiles and clothing), JDouglas (representing 17 fine home decor brands) and Square Feathers (luxury decorative pillows, furniture and home decor).
Also in Winter 2023, some eleven brands – representing accent furniture, art, bedding, decorative items, textiles and more – renew their commitments to Atlanta Market: Adaste Home, Allegria, America Arts Inc., Art and Frame Source, Auskin Sheepskin Company, Bojay Inc., CMA Home, Orchids Lux Home, Pendulux, UMA Home Decor and Yves Delorme.
Augmenting the showroom offerings are 200+ home decor temporary exhibitors open Jan. 11-15, 2023. The Home Accents & Home Furnishings and Fine Linens & Home Textiles categories are in a new location in Building 1, Floor 8 – directly below corresponding home decor showrooms – in Winter 2023. More home furnishings are in ANTIQUES (Building 2, Floor 1; closes Jan. 14, 2023), HIGH DESIGN (Building 2, Floor 1) and HIGH DESIGN LUXE (Building 2, Floor 1).
A full list of exhibitors is available at AtlantaMarket.com. Buyers sourcing in Atlanta Market's home and decor offerings have more to explore in Winter 2023 with the launch of a new casual furniture and outdoor living destination. The Casual/Outdoor Furnishings collection's location on Floors 2-5 of AmericasMart Building 1 encourages home buyers to discover new resources in the lucrative outdoor living sector.
The inaugural Casual/Outdoor Furnishings brands include Agio USA, Alfresco Home, Bambrella USA, Barlow Tyrie, Berlin Gardens, Brown Jordan, C. R. Plastics Products, Castelle, Casual Cushion Corp., Ebel Inc., Elaine Smith Inc, Foremost Home Inc., Frankford Umbrellas, Gensun, Hanamint Corporation, Homecrest Outdoor Living, Illuminated Trees Inc., Inspired Visions by Peak Season, Jensen Outdoor Furniture, Jordan Manufacturing, KETTLER International Inc., Kingsley Bate, Kingston Casual, Lane Venture, Les Jardins, Lloyd Flanders Industries, Mallin Furniture, MAMAGREEN, MoDe Patio Living, Northcape, O.W. Lee Company, Outdoor Interiors, Outdura by Sattler, Patio Renaissance, Plank & Hide Co., POLYWOOD, RATANA, Seaside Casual, Summer Classics, Summerset Casual, Sunvilla Corporation, Telescope Casual Furniture, Three Birds Casual, Treasure Garden, Tropitone, TUUCI, Winston and Woodard Furniture.
New buyers and veterans looking for new resources can explore Atlanta Market's home decor offerings in a series of guided tours at the Winter 2023 Market. The New Buyer Tour: CASUAL in Casual/Outdoor Furnishings collection is on Tuesday, Jan. 10 at 9 a.m. The home furnishings temporary exhibits are a stop on the New Buyer Tour: TEMPORARIES on Wednesday, Jan. 11 at 9 a.m. New Buyer Tour: HOME is an overview of AmericasMart's home furnishings resources on Thursday, Jan. 12 at 9 a.m. Trending home decor product is featured in the New Buyer Tour: TRENDS on Friday, Jan. 13 at 9 a.m. These tours are part of five days of designer-focused programming set for Atlanta Market. A full list of programming is forthcoming.