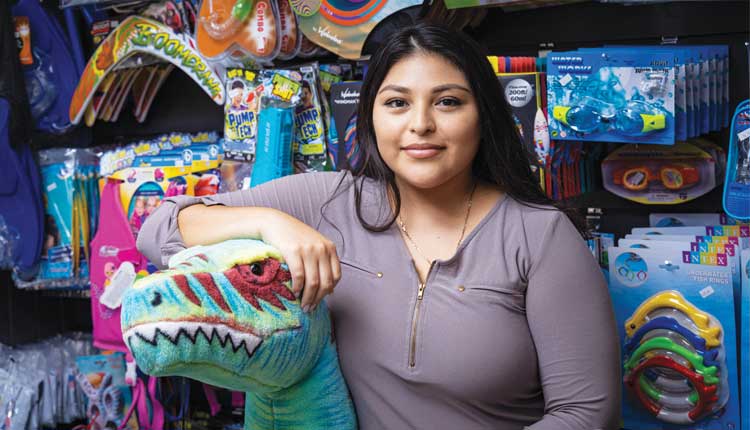 When kids walk into Hilton Head Toys bearing a Ziploc bag full of saved coins and folded up dollar bills, Lilia Mainer knows they have been anticipating a trip to the toy store. And they have the latest fidgets and goodies in mind. "Impulse toys bring them into the store, and that leads to more sales when the kids and their parents look around and shop the displays," says Lilia Mainer, store manager of the shop, which has locations on Hilton Head Island in Harbour Town and Coligny Plaza shopping centers.
Owner Scott Lee says, "Watching them wander around the store searching for and seeing different items and finding the toy they want to have for the vacation experience is really cool — especially when they've saved up their money from chores. They put a whole lot of thought into it and you can see the appreciation on their faces. You know they will take care of it and enjoy it."
Hilton Head Toys stocks the shop with lots of items in the $5 to $20 range that can cater to the young "allowance money" crowd. And the longtime shop — it opened 47 years ago and Lee is the fourth owner — carries trendy toys like Spikeballs and Neoballs, popular brands like LEGO and Playmobil, and classics like puzzles, plushies, books, dolls and trinkets.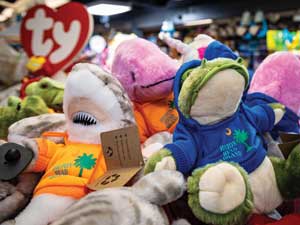 Photos: Caitlyn Ryan
Every year, Hilton Head Toys changes out 40% of its inventory to keep the shelves fresh and full of the latest items. And the shop's offerings span all age groups. "We keep puzzles and board games, and we have mugs and tumblers at the register for parents because when they're buying for their kids, they see those and it results in another sale," say Lee and Mainer.

They are literally in the fun business. And the two toy stores complement Lee's eight other shops, which include a candy store, coffee shop, casual apparel, surf shop and a jerky/popcorn store, all located in Beaufort, South Carolina.
A toy treasure trove
When selecting products to sell at Hilton Head Toys, store management considers all the variables. For instance, if vacationers' cars are jam-packed with luggage, there won't be room for super-sized stuffed animals. And if it's a rainy day on the beach, families are looking for a way to enjoy their time indoors until the weather breaks. "We have toys and games for long car rides that are appropriate for travel," Lee says.
Beach toys are popular for all ages — games like Surfer Dudes, Bucketball, Spincopter and Tiki Toss. Plus, there are plenty of sandcastle building supplies like buckets, shovels and molds. For younger kids, "the more gross it is, the more they like it," he says of slime and anything that has the word "poop" on the packaging. Fidget toys are fast sellers like Pop-its or squishy balls. "They love to squeeze them and there are different textures and colors," says Lee.
Mainer says the silicon and BPA-free Muggies that are nonbreakable are popular among parents, and so are fidget toys in the $6.99 to $12.99 range that can keep kids busy on flights, car rides and in restaurants. "They're looking for items to keep their kids busy," she says.
Fidget toys have been on a roll for the past couple of years, with 2022's hottest buys being pop fidgets and "anything squishy," Mainer adds. "We always reach out to vendors to see what is on trend."
Hilton Head Toys' wide selection of known brands like Mattel, Melissa & Doug, Calico Critter and Barbie have universal appeal. "Our movie-themed toys change out every year," Lee says. But staples that stay the same are items like beach frisbees, balls, goggles, rafts and other water toys.
Last-minute purchases are key, and a low price point with positioning by the cash register make "little things" an easy grab-and-go sale. "We have little rings, tattoos — small items, and we also stock soft drinks in that area that can focus on the teenager or an adult that is shopping with a child."
Carrying what's hot
Hilton Head Toys does 80% of its business during the summer months, so Lee plans and refreshes inventory accordingly. In January, he attends the International Toy Show in New York City with a goal to completely change out up to 40% of his kids' products to ramp up for the busy season.
Then in late July or early August, Lee stops ordering new toys to display. "We let it sell down through the fall and go down to a smaller inventory in the winter because there are not tons of children on Hilton Head at that time," he explains. "So, we put stuff on sale in the winter and move it out, which allows us to get the inventory down so we can refresh come springtime."

Lee consults with wholesalers to find out what's trending. "It's a big shopping spree and we go vendor by vendor, relying on them to know what the trends are going to be because they've done test trials on what will be hot so that helps us make decisions," he says.
"Our store managers have kids — one has a teenager, one has a 7-year-old daughter and one has a baby — so we cover the whole spectrum," Lee says.
The store is structured with themed displays. "We have an area where it's all about the water and sections for family games, stuffed animals, building like LEGOs or Playmobil, dolls and so on," says Lee. "By putting similar toys in a section, it's easy for kids to find what they are looking for and see the choices. For example, all of our Mattel cars and trucks are in the same zone."
Mainer adds, "The companies do a good job of offering colorful displays that promote their products."
Overall, toys round out the big-picture business mix for Lee, and he's always looking for ways to enhance the offering. For instance, Hilton Head Toys recently added the Lowcountry Balloon Boutique to its services, which includes balloon bouquets, table toppers and other arrangements. This gives island visitors a source for party decorations and is a reason for year-round residents to stop in the shop during the offseason.
For Lee and his family, the stores in their portfolio that cater to coastal visitors are a tradition the younger generation will continue.
"Our intention is, we are in it for the long-term, and our kids will take over when we get ready to retire and they are at the beginning of their careers," says Lee, adding that the toy stores bring a special kind of joy. "The best part is seeing kids here on vacation and you know they've been thinking about taking home a fun souvenir."