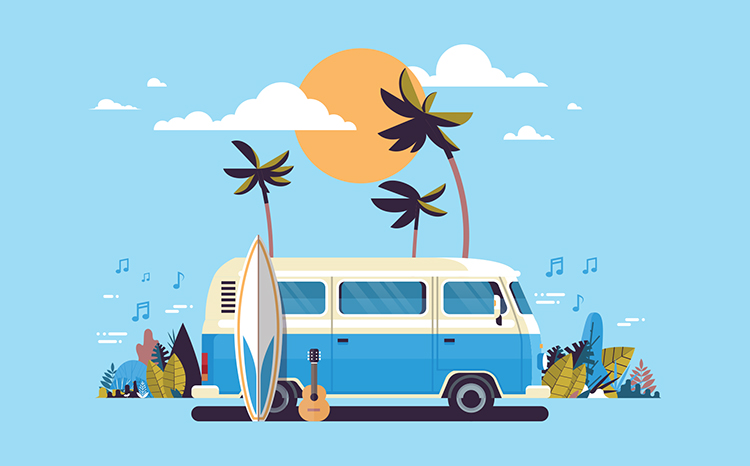 When Surf Expo opened its doors to thousands of exhibitors and attendees at the Orange County Convention Center in Orlando, Florida, Jan. 8-10, little did the world know what the second quarter of the year was going to bring.

A tough hurricane season last fall which wreaked havoc on some of Surf Expo's Caribbean buyers also led to the September 2019 show being canceled. But optimism appeared to return for the January show with 1,200 exhibitors covering 220,000 square feet of exhibit space for the 6,000 to 7,000 buyers daily in attendance.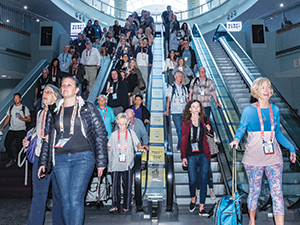 Daily Fashion shows with models featuring the latest beachwear, resortwear and accessories were packed to the hilt and orders for new merchandise for spring were aplenty.

"Things seem upbeat," Roy Turner, senior vice president of show organizer, Emerald Exhibition said during the show. "Weather back east and in the Caribbean since hurricane season has been really solid, so I think [retailers] saw some late season growth."
Turner was optimistic then that retail would continue to see growth through the first and second quarters of 2020, but that positive outlook has proven to be short-lived due to the unforeseen impact of the coronavirus pandemic.

Still, attendance at the show, was up about 5% over the previous January show. And certain product categories were all the rage.

Gaining interest
Health and wellness products were gaining momentum at the show, according to Turner. This included a greater interest in cannaboid oil (CBD) products.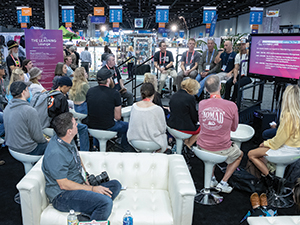 A session titled "How to Successfully Incorporate CBD into your Retail Environment" was well attended. The session's speaker, Ayrn Sieber, founder and CEO CannaCauses Foundation and Cannaiseur Brands advised attendees to make sure their local and state laws allow for the sale of CBD products, and he discussed the importance of staff training.
Sieber suggested retailers give demonstrations to allow customers a chance to sample and better understand the products.

Sustainable products were another area exploding at the January show with several apparel companies showcasing products made from recycled plastic resins or recycled cotton. Items ranged from T-shirts and swim trunks to kids' hats.

Lots of opportunity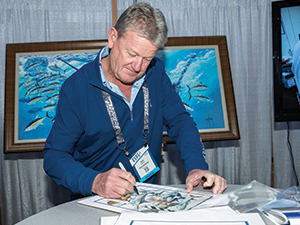 It was evident at Surf Expo that technology, including of radio frequency identification (RFID), social media direct to retail, and other online tools are being embraced by brick-and-mortar retailers.
"I think there is an opportunity right now if you are a retailer or even a manufacturer," Turner said of the new tech options available.

Though he did not foresee the impact the coronavirus was going to have on the economy, Turner's words could not ring truer in today's environment. Embracing technology today is an even wiser decision than it was during Surf Expo. ■

---
The shows will go on
As many of the spring shows and markets have screeched to a halt to help contain the coronavirus, many in the industry are unsure of what is ahead for the remainder of the year.
Surf Expo, considered one of the largest tradeshows for the beach/resort lifestyle and board sports industry, is assuring attendees and exhibitors that there are no plans to cancel.
On the show website (March 18) and in an email to past participants (March 24), show organizer Emerald Exhibitions states, "We are actively planning the show for Sept. 10 to 12, 2020 in Orlando, Florida."
The email from Ryan Nettleton, Surf Expo category manager, boutique and bluewater, writes, "With the summer show six months away, at this time, we do not foresee any changes."
He also shared some words of encouragement on behalf of Surf Expo. "Our thoughts are with everyone in our community and around the globe who are being affected. We are thankful for our strong family of retailers, manufacturers and partners, and will support one another to stay strong. We are in this together and together we can persevere."
Updates will be posted to the Surf Expo website as they become available.
Clarion Events' gift and souvenir group also sent an email to its past participants. "At this time, our events are not in jeopardy of cancellation or postponement, and we look forward to creating the same opportunities to showcase new resources and build connections that you have come to expect of our events," a March 19 email stated.
Clarion Events hosts several summer and fall shows, including the Philadelphia Gift Show, The Gathering, The Las Vegas Souvenir and Resort Gift Show, the Smoky Mountain Gift Show, Ocean City Resort Gift Expo and Grand Strand Gift & Resort Merchandising Show.
The email also included wishes of health to the email recipient, their families and teams.
"We will provide additional updates as necessary as we continue to monitor the situation closely and follow advice from the latest public health officials and governments from around the world. As always, our teams are working to continue to support you during this time," the email concludes.