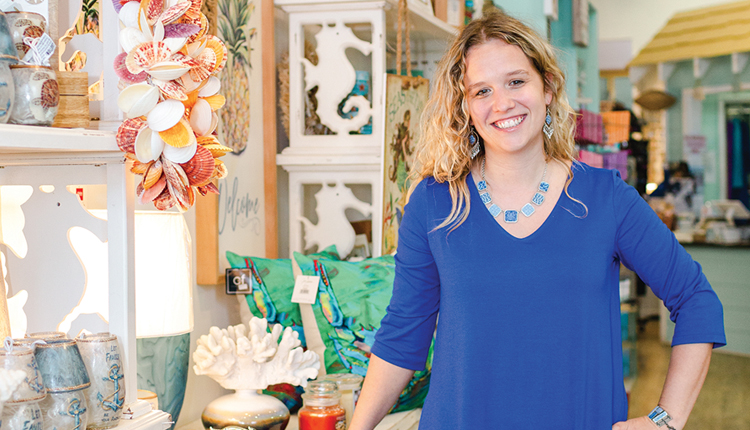 Virginia Beach, Virginia, has a few bragging rights. For one thing, its oceanfront was dubbed "the world's longest pleasure beach" by none other than the Guinness Book of World Records. As befitting such a place, it also has no shortage of beach-themed stores and souvenir spots. When a visitor is exploring its 40-some blocks full of shops, restaurants and hotels, everything can start to blur together after a while.
But Sea La Vie is one store that never gets lost. That's because owner Madeleine Philipp prides herself on offering merchandise that is a little out of the ordinary.

"I just try to be different," she says. "I don't want to have what every store next to me has."
Inside its walls, one will find plenty of beach, coastal and nautical items, from 99-cent seashells to $500 nautical cabinets and everything in between. Shoppers would be hard pressed to find anything with the name of the town on it, however. That's just not the vibe Philipp is going for.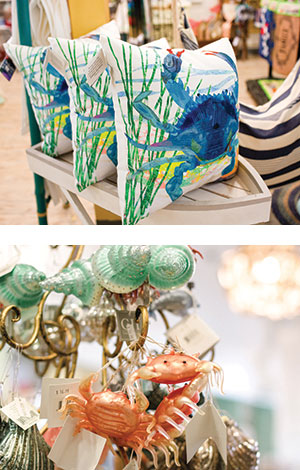 "I literally try not to sell items that say Virginia Beach on them," she says. "Everyone down here has a lot of souvenir items and they all sell the same ones. I don't really have any souvenirs in here; I wanted to open up a store that has something more original."
And customers take notice. When people walk into the store they often remark, "Finally, something different."
Philipp describes her store's offerings as being "more like if you have a beach house and you want to decorate it." That type of shopping experience was lacking in the resort town two years ago when she first opened Sea La Vie's doors. Now, people can't seem to get enough of it.

Falling into retail
Philipp came to Virginia Beach in 2004 from her native Germany, drawn by an au pair position. The 20-year-old fell in love with the area and when the job ended, she decided to stay. She enrolled in Old Dominion University where she studied international business with a minor in management.
To pay the bills while in school she got a part-time job at a souvenir store. She didn't know it then, but it was the beginning of a career path. Philipp spent over 10 years for that local retail company, eventually managing four of its stores — and putting in all the long hours a job like that entails.
"I basically lived at those stores, working from 7 or 8 in the morning 'til midnight in the summer," she recalls.
Philipp's husband at the time, Derek Veerkampt, a real estate developer she met in college, saw all the hours she was putting in at her job. He suggested she open her own store.
"He told me, 'You should open your own place because you work too much — but I'm not seeing it represented in [the pay] you're bringing home.'"
He kept pushing her, or as she jokingly puts it, "kept annoying me."

Finally, she decided to go for it. She found out from a friend that a prime spot on the main drag of Virginia Beach was available.

"I got lucky," she says of the location.

The primo spot is right across the street from the famous statue of King Neptune. The large bronze figure is a landmark where everyone who visits the beach town goes, even in the off-season.

Finding her calling

Sea La Vie keeps outgrowing its success. The L-shaped store currently takes up 3,500 square feet after having expanded into an additional retail space in the building.

Its 20-foot-high ceilings are perfect for hanging ocean-inspired chimes or seashell chandeliers. A bright color scheme — Philipp confesses that she's "obsessed with teal" — gives the store a warm and inviting feel.
Items are grouped by color and theme.

"I keep everything color coordinated," she says. "I'll have one display that has pink flamingos and another one that only has blue mermaid stuff."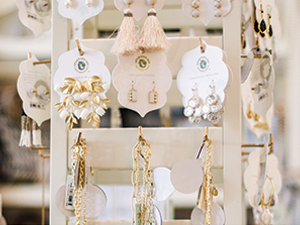 Locals sometimes call it "the mermaid store" because of the many mermaid figurines it features. "They think I'm obsessed with mermaids, but I'm not," Philipp insists.
The store's clothing, giftware and furniture are selected from over 100 different companies. Philipp does much of her buying for the year in January at the Atlanta Gift & Home Furnishings Market. "I try to find stuff that is more nautical," she says.

And she succeeds. Sea La Vie is the only store in Virginia Beach that sells the popular Spartina 449 brand of islands-inspired designer handbags, apparel and accessories.
Her bread-and-butter customers are not so much the younger crowd, but folks aged 30 to 65 who own condos in the area to get away for the weekend or a summer vacation. They come in looking for distinctive items to decorate their beach pads with. She gets a lot of repeat business from this core group.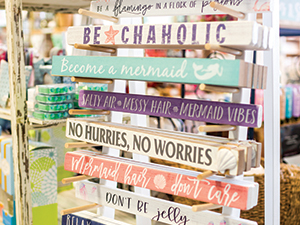 "They all say how unique the store is," says Philipp. "I have a lot of things that no one else has."
You'd think with all her retail experience that Philipp would want to be the person who stands behind the counter, greeting customers. But she doesn't consider that her biggest strength.
Philipp is more the organizer and decorator type, she leaves customer service to her six employees … and her dog A.J.
"I am really not a salesperson at all," she says. As a boss, she considers herself pretty casual. "I just try to be fair and on top of everything," she says.

More stores
Running a store in the hub of a major tourist town would be enough for most people, but not for Philipp.
In 2019 she opened up a second shop inside Virginia Beach's iconic Cavalier Hotel. This space has a much smaller footprint at just 400 square feet and is filled with high-end gifts, towels and hotel-branded items.
"The Cavalier is really known in this area; a lot of people really just want to buy a sweatshirt with the logo on it," Phillip says.

And she hasn't stopped there. Her third store is close to opening. It is being built inside a new Marriott boutique hotel in Virginia Beach and will cater to families and business travelers.
Unlike Sea La Vie, this venue will feature some Virginia Beach souvenir items along with drinks and snacks for hotel guests.
"It's going to have a little bit of everything," Philipp says.

That store was expected to open in April, but the date has been pushed back until at least May due to the coronavirus pandemic.

Though Philipp and Veerkampt are no longer married, he is still a business partner. Philipp runs the day-to-day operations in Virginia Beach.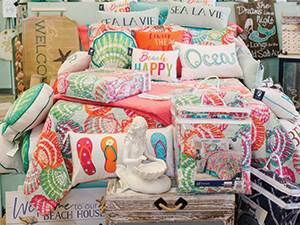 Opening three stores in three years would be considered an impressive fete for any team of entrepreneurs, but Philipp and her business partners may not be done yet.
Their initial goal was to open five stores in five years, though Philipp now realizes it might have been a tad too ambitious.

"It all makes me proud, but I sometimes feel like a crazy person," she admits.

In the future she may consider selling some of the stores or buying out her business partners. Opening up a location outside of Virginia Beach is not out of the question, either.

Store visitors from all over the country tell Philipp, "You need to open this kind of store in (fill in the city)."
"I don't mind packing up and moving somewhere else," she says, noting, "I really do love the West Coast."
Wherever the future ends up taking her, Philipp is well positioned to go far. ■
---
Must love dogs

Walmart may have greeters who hand out happy-face stickers. But the big-box store has nothing over the welcome you get at Sea La Vie. Customer entering the Virginia Beach, Virginia-based coastal-themed gift shop are greeted with kisses and tail wags. As you might have guessed, the greeter is a four-legged and furry adorable little corgi pooch.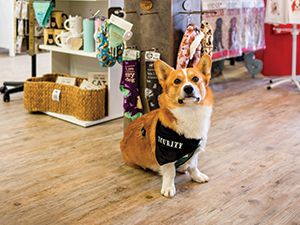 A.J., aka "Wiggle Butt," has been coming to work with store owner (and proud dog mama) Madeleine Philipp since he was just 10 weeks old.
Philipp describes this friendly fellow as "the perfect dog." He's a pretty good employee, too — extremely conscientious regarding his duties.
"I have two entrances," says Philipp, "A.J. will sit by the main door, and if he hears the other door opening, he runs over there. He has to greet every single customer that comes in."
A.J. has been known to lay his toys down in front of customers' feet to get them to play with him. He's also taken people's water bottles — he thinks they're toys.
Philipp would like to think that people come into Sea La Vie for the amazing merchandise she sells — but she admits that many times they come in just to see A.J. She gets it.
In the winter time, when the doors are kept closed, customers can see the gregarious doggie's nose smooshed up against the glass, waiting for his next new playmate to come inside.
"He's our little people pleaser," says Philipp. The employees kid that he is also their "security dog."
He's also a pretty good little marketer. Sea La Vie's Instagram page always gets the most likes when A.J. is in the photo. The pooch is so popular, in fact, that he has his own Instagram page, wiggle.butt.aj.
Philipp jokes that her dog should be on the payroll.
---
Down but not out

Sea La Vie, like other retail establishments, seaside or otherwise, has been dealing with the consequences of the coronavirus crisis. Though the doors to the Virginia Beach, Virginia, store were still open in late March, business was noticeably down.
"It is nothing like it usually is," says owner Madeleine Philipp.
Normally, March is when the town really starts hopping, with a big uptick in visitors marking the beginning of the busy season.
"We've heard news that some of the hotels down here are shutting down," said Philipp on March 18. "We're like, 'wow,' because this is the time that they would normally be all sold out."
Philipp herself has had to postpone an open house she had scheduled to commemorate her store's two-year anniversary. She was planning it to coincide with the Shamrock Marathon, which draws some 50,000 people to the area, but it, too, was canceled. This time of year is typically filled with festivals and races.
Nevertheless, Sea La Vie's owner is trying to stay optimistic in the face of this unprecedented situation. She's hoping that folks staying at home means that they're taking the warnings seriously and that it will help the situation resolve itself quickly.