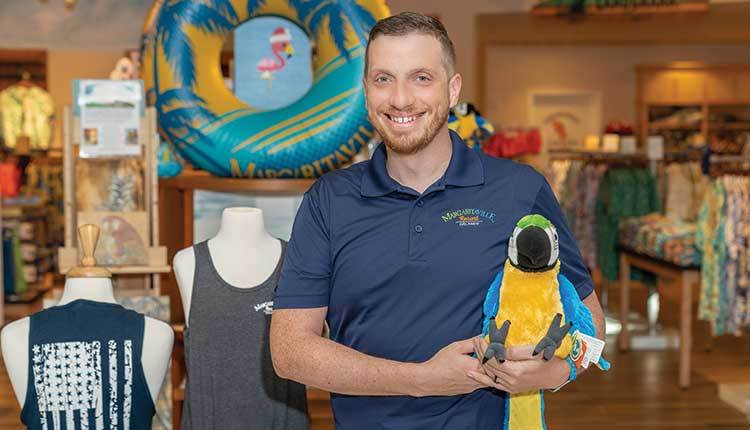 Photos: Tony Laiacona
When guests enter the retail store at Margaritaville Resort Orlando, they're not just walking into any coastal hotel gift shop; they're embarking on a vacation experience. The tropical Jimmy Buffet soundtrack, the growing selection of beach-themed merchandise and the memorable customer service on par with the surrounding theme parks take visitors to a tropical oasis.
"We like to be a fully immersive experience so as soon as you walk in, you're transported into vacation mode," says Elizabeth Brackman, director of rooms. She's been heavily invoved in the retail operations since the resort opened in 2019.
The iconic Margaritaville brand, named after Jimmy Buffett's famous song, embodies the laid-back island lifestyle that his fanbase of "Parrotheads" embrace, in the setting of a high-end luxury resort. The 300-acre property in Kissimmee, Florida, encompasses the 186-room Margaritaville Hotel, 12-acre Island H2O Live! Waterpark, 200,000-square foot Sunset Walk shopping center and hundreds of residential living units — with more accommodations and amenities currently being added.
From transactional to experiential
The Margaritaville Store, located right inside the hotel lobby, reflects the relaxing vibes of the resort with mementos to remind guests of their tropical getaway. Now under new management, the retail store is evolving to offer shoppers more of an experience than a mere transaction.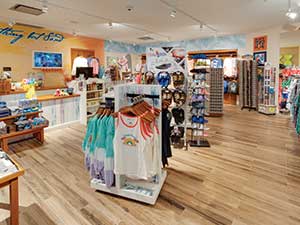 "I've started to see our store as less of a store and more as a performance space," says William Hill, retail store manager since June 2022. "The product is our scenery that has to look presentable and inviting. We are the actors so we're the ones engaging the audience and drawing them into our environment. That really generates a relationship with the guests, and that turns into sales."
By leveraging his sales success and performance background to infuse entertainment into Margaritaville's experience, Hill is taking the store to the next level of upscale resort retail. As the island-inspired resort grows, the retail store is shifting its mix to keep guests and residents in the "Five O'clock" spirit.
Setting the scene
As soon as Hill joined the team in June, he started making small changes to the store's layout and product selection to better reflect the Margaritaville vibes. "This store had been run like a gift shop," he says, "but now we're running it like a high-end retail environment."
The first step was updating the signage throughout the store to match the upscale brand of the resort.
"When I came in, barely anything was priced. There were little explosion signs throughout the store that had the prices. I took them all down and started pricing everything [individually]," Hill says. "Some of the display pieces were in acrylic stands, and I ordered wooden ones instead to make it look upscale. We have upscale clients here, so the way you present yourself and your store makes a big difference."


"I've started to see our store as less of a store and more as a performance space. The product is our scenery that has to look presentable and inviting. We are the actors so we're the ones engaging the audience and drawing them into our environment. That really generates a relationship with the guests, and that turns into sales." — William Hill
Hill completely rearranged the 1,700-square foot store — moving fixtures around to create a more natural flow of traffic and separating products into clearly defined sections for more convenient shopping. Now, guests can easily scan for island-inspired clothing, toys, decor, housewares, drinkware or gifts for fellow Buffett fans.
The most popular buys are apparel items — ranging from a huge selection of branded T-shirts from Margaritaville's primary licensed vendor, G-III Apparel Group Ltd., to upscale resortwear like button-down shirts, polos, dresses and cover-ups from Island Reserve. At least half of the items in the store are branded with the Margaritaville logo or other Parrothead mantras like, "It's Five O'clock Somewhere."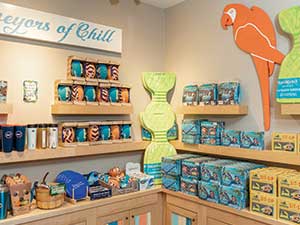 Hill also added a kid's section in the back corner of the store, where he's building a bigger selection of toys and games to keep the resort's youngest guests entertained. Previously, the store only carried a few kids' items like pool floats, goggles, plush and clothing, but Hill felt they were missing out on the full potential of the children's market.
"I've been ordering a lot more games and toys; I can't keep them in stock," he says. "The next big thing I want to bring in is family attire: matching pieces for dad, mom, son, daughter, and baby."
Since guests often bring their dogs along to the pet-friendly resort, Hill is introducing pet products too. He wants to make sure there's something there for every member of the family. "People want to have a one-stop shop," he says. "If they're here on vacation, they don't necessarily want to go to Target. Let's offer it so they can buy it here."
Building a high-performing team
Hill brings 15 years of retail management experience to his new role at the Margaritaville Store. Since moving to Florida in 2017, he'd been working for the hospitality group, Landry's Inc., starting at T-Rex Cafe as a sales associate and working his way up to retail manager at Rainforest Cafe. Prior to that, Hill lived in New York City, where he managed a GameStop location and a seasonal Halloween pop-up store.


"People want to have a one-stop shop. If they're here on vacation, they don't necessarily want to go to Target. Let's offer it so they can buy it here." — William Hill
Hill also spent several years hosting educational parties for kids through a company called Mad Science of Long Island, and even worked as a stand-up comedian — leveraging his acting degree to entertain crowds.
Wherever he has worked, Hill has tried to model his customer service after Disney. With this approach, he treats retail more like an immersive experience than a one-time transaction.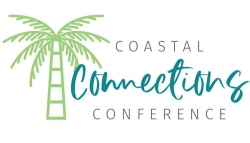 "I've always looked at how Disney runs their company," he says. "Disney is very successful for a reason, and that's because of their [customer service]. You have certain expectations of the cast members when you walk onto their property, and that's the same expectation I have of myself and my staff."
Hill says his staff's "performance" with guests is critical to the retail experience. He encourages employees to be perky, playful, and professional in their interactions — starting by greeting shoppers immediately when they walk into the store, and then engaging with them on the sales floor.
"We'll try to strike up a little conversation, and if possible, act like their personal shopper," he says. "Walk them around the store, introduce them to the sales, talk about all your new items, make suggestions of things around the area. They absolutely love that."
Hill's retail staff consists of three part-time and three full-time employees. When hiring new associates for the team, he looks for these friendly traits first. "I hire for a personality, not experience," he says. "Obviously, I'd like you to have both, but I can teach you how to ring out a register and fold a T-shirt. I can't teach you how to be personable, so it starts with that attitude."
Fostering local loyalty
When Hill started working at the Margaritaville Store, he didn't hesitate to strike up conversations with customers, especially full-time residents who live in cottages on the property. When cottage owners come in, Hill encourages his staff to ask them, "What are you looking for? What are some things you wish we had, or we've had in the past that we don't have anymore?"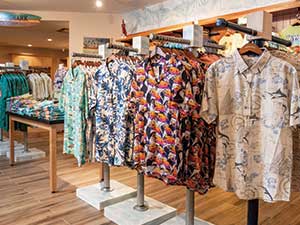 Firsthand feedback from residents at the resort prompted Hill to bring in new Margaritaville-branded products like furniture, bicycles, dartboards and cornhole games. By listening to his regular customers and experimenting with new merchandise at their request, Hill strategically tests out new ideas in the store.
"We've got to keep it fresh and introduce new stuff as regularly as we can," he says, "just to keep the regulars excited about new things coming in."
In addition to G-III and Island Reserve, which supply apparel to all Margaritaville Stores, Hill received a list of other vendors that the Orlando retail location worked with previously. But he was also given the freedom to introduce new products and suppliers to give the store a unique, upscale flair.
"Another Margaritaville Store might carry the same branded shirts, but then we have vendors that the other stores don't," he says. "It's really up to us individually what we want to carry."
Attracting tourists
Located practically next door to Walt Disney World Resort — with other popular Florida attractions like Universal Orlando Resort and SeaWorld Orlando nearby — Margaritaville Resort Orlando is a convenient epicenter for family vacations. The resort even offers guests complimentary shuttles to these neighboring theme parks.
However, the Margaritaville Resort is designed to offer a complete array of amenities on-site so guests don't have to leave the property to enjoy their stay. With the hotel's full-service spa, fitness center, playgrounds and multiple pools surrounded by sandy beaches, cabanas and tiki bars — along with Island H2O Live! Waterpark and Sunset Walk shopping center which features dining, special events, and live entertainment — the resort is a destination in itself.
"You can just enclose yourself in the paradise that is Margaritaville Resort without ever having to step out onto the streets of Orlando," Hill says.
Being located in a tourism hub has obvious advantages. "People are in vacation mode, and when people are in vacation mode, they're ready to spend," Hill says.
But this also presents a lot of competition for the customer's dollars — and competing against Mickey Mouse is a tough battle. Hill often sees kids gawk at plush or toys on his shelves, only to hear their parents say, "No, wait 'til we're at Disney World; you're going to want to buy something there."
"It's really about figuring out what people really want and then blowing their minds the best that we can." — William Hill
This competition makes it even more important to stock a wide variety of merchandise and Margaritaville-branded items that shoppers can't get anywhere else, while offering a memorable experience and a friendly environment that makes people want to come back.
"They don't just want to take home a souvenir; they want to take home a memory," he says, "which is why it's so important to have that interaction, because we are affecting these people's vacation."
Expanding accommodations
For the past year and a half, Margaritaville Resort Orlando has been running such consistently high occupancy rates that it barely seems like a seasonal business. On a random Wednesday in July, for example, 180 of the hotel's 186 rooms might be booked, with at least a two-week waitlist for the spa.
"Post-COVID, we have stayed busy year-round," Brackman says. "You'll see a dip in occupancy when school starts, but nothing like you'll see at other seasonal locations."
To keep up with this steady demand, Margaritaville Resort Orlando is undergoing a multi-phase expansion project. The addition of 79 more rooms at Margaritaville Hotel will bring the total room count to 265 in 2022.
Future expansion plans for the property include increasing the selection of long-term living options like the Margaritavillas, an apartment community and an Embassy Suites by Hilton Condo Hotel.
To keep up with this expansion, the Margaritaville Store is undergoing some renovations of its own. Hill plans to add additional wall and floor fixtures and other creative displays to present an evolving mix of products and branded merchandise.
After all, he says, the scenery of the store's layout and selection is just as important to the overall experience as the performance of the well-trained employees. (And, of course, the background music, which in this case, includes plenty of Buffett.) Orchestrating all of these components is the key to the Margaritaville Store's success.
"I see the store like a puzzle," Hill says, "and I love being able to move the pieces around and figure out what piece goes best where, whether it be a vendor, a product or a person I hired, and seeing the success that happens from those decisions. It's really about figuring out what people really want and then blowing their minds the best that we can."