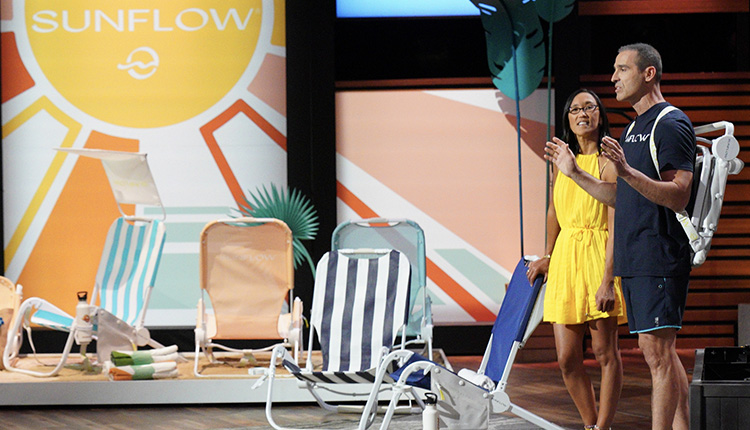 Lesi Hsu and her husband Greg Besner have accomplished a feat that many entrepreneurs and inventors only dream of – an investment from one of the "sharks" from ABC's Shark Tank.

The New Jersey couple went on ABC's Shark Tank seeking an investment of $1 million to build inventory to keep up with soaring demand for their premium beach chair company, Sunflow.

It's more than a beach chair — more than collapsible seating. "After lugging clunky, inconven-ient, unattractive gear to the beach for years, we finally had the epiphany to try and tackle the problem ourselves," says Hsu, a handbag designer and mom who came up with the design.

Sunflow is a beach bundle including a reclining chair that folds into a lightweight, compact backpack, opening and closing with a button much like a baby stroller. It integrates a suite of accessories: a UPF 50 sunshade that blocks 98% of the sun's rays; an expandable drink holder that can accommodate a thermos or White Claw; a dry bag for holding technology; and a Turkish towel that snaps in so it won't slump or fly away.

"Sunflow is a premium outdoor brand," Besner says. "We use the best materials, such as rust-resistant aluminum and marine-grade fabrics, and innovative technology to provide a truly unique beach experience."

The couple received multiple offers from sharks when the show was recorded in fall of 2021, ultimately going with an offer from Kevin O'Leary, aka Mr. Wonderful. But, according to a segment on a local ABC station, the investment has not come to fruition. The appearance on the show, which aired in March, did however raise more than awareness.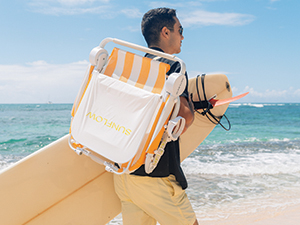 "Fortunately we had many other investors who learned about Sunflow's story and we ended up raising not just a million dollars but $3.5 million dollars," Besner told ABC.
During Sunflow's first year in the marketplace operating a store in The Hamptons and The Mall at Short Hill in Millburn, New Jersey, the company gathered consumer feedback to continue developing the brand. Sunflow started wholesaling the product at Surf Expo in 2021. "We are looking for those multi-location family-owned businesses — we are not a big-box retailer product because it is so different and a premium price," explains Felicia Geller, executive vice president, sales and marketing.

Sunflow's strongest presence is in New York, New Jersey and along the eastern seaboard, but with its wholesale initiative and Shark Tank exposure, the company expects this to expand. In the immediate aftermath of the show airing, business increased tenfold for the couple, according to the news segment on ABC.

Hsu says, "We already had great market feedback since we launched Sunflow almost two years before our Shark Tank experience, but the opportunity to be seen by millions of viewers was invaluable. I would say that their belief in our products and story and the public's response to our appearance on the show truly validated our brand."

The company continues to innovate based on consumers' feedback. A taller, 16-inch chair is in the works to give customers a choice. It will still recline but not as far back as the lower profile 9-inch chair. A sunglass case that attaches to the chair will be available this summer. And Sunflow is also developing an adjustable table to complement the chair.

Besner says, "We truly spent the time to design thoughtful products that we hope will make days by the seaside effortless."