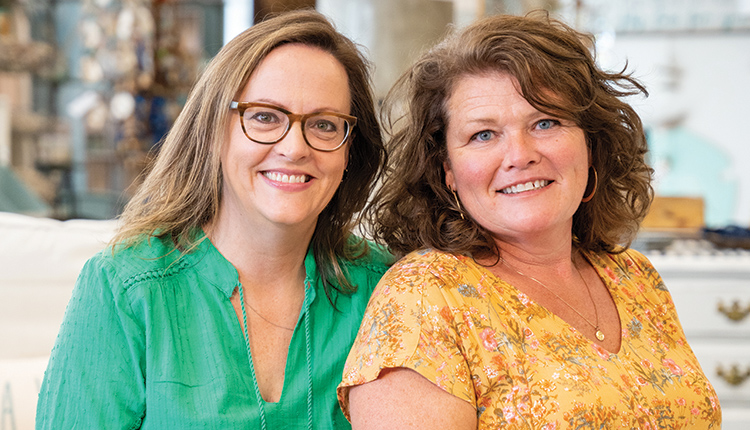 Running a coastal home decor store doesn't feel like work to Ember Roberts or Amy Fisher, who co-own High Tide Home Provisions in Wilmington, North Carolina. That's because they're not just selling products, they're creating art — following their shared passion for painting to design customized furnishings for customers' homes.

"It's definitely a creative outlet," Roberts says. "We both paint morning, noon and night, but it never feels like work because it's our passion. It's the best of both worlds, because we're not just closed off in a studio painting. We get to come into the store and chat with the customers who come through the door, so we get to see our friends and meet new people every day."

Before opening the store together in 2014, Roberts and Fisher each ran their own maker-based businesses, selling their art in separate shops. Fisher had been rehabbing, repainting and "reloving" furniture since about 2006, and Roberts started making picture frames and painting rustic wooden signs a few years later.
After several years of doing business solo, the two friends joined forces. "That's when we got together and decided that we could do this on our own without renting space from a vendor," Roberts says.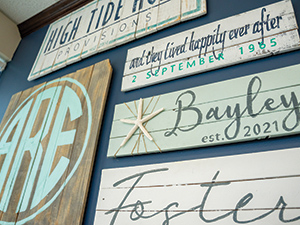 The original High Tide Home Provisions opened in a quaint, two-story cottage on Market Street. Built around Fisher's repurposed furniture and Roberts' hand-painted signs and accessories, the store began to showcase all sorts of coastal-inspired home decor products, including work from other artisans and vendors as well.

Changing tides
Change hit High Tide Home Provisions in 2020, when Roberts' and Fisher's landlord announced he was revamping the entire property and tearing down the cottage that housed their shop. Rather than waiting for a new structure to be built, Roberts and Fisher started looking for a different space.

They found the store's new home about a quarter mile down the street in a spacious building that nearly doubled its square footage. The massive 5,000-plus square foot showroom features 20-foot-tall ceilings and spacious windows that let in lots of natural light.

"It's a very different vibe from the quaint little cottage we came from," Roberts says. "The new space is very open, airy and bright."

The expansive showroom offers plenty of space to showcase various furniture vignettes with artwork hanging all the way up to the ceiling. Neutral palettes and natural materials are accented with calming hues of blues and greens in the form of charming decorations, lighting, pillows, vases, baskets, tableware, linens and more.
The timing of the move proved challenging. High Tide Home Provisions left the cottage in mid-February 2020 and reopened down the street in mid-March 2020 — just as COVID-19 cases began to spike. The new store was only open for two weeks before mandates shut it down again for about a month and a half.

Despite the setback, the new location re-reopened stronger than ever in May 2020. "We can't necessarily attribute it 100% to COVID or the new location, but since we've reopened, business has skyrocketed," Roberts told Seaside Retailer in May 2021. Growth has been steady since then, she says, as people continue relocating to the coast and redecorating their homes, which still serve as remote offices for many.
All this steady growth has led to High Tide Home Provisions expanding yet again.

"Two years after growing into this bigger building, we've already expanded even further," Fisher says of the move. "We rented the building behind us for our workspace and we've turned our storage in the back into more showroom space."
Attracting traffic
High Tide Home Provision's prime placement along Wilmington's busy Market Street has been a boon to the business.
"From the beginning, Market Street has been our best advertising," Fisher says. "Our location has been a large part of our success."
The four-lane roadway runs from downtown Wilmington north along the Carolina coast. High Tide Home Provisions is situated along a stretch of the street primarily occupied by car dealerships and similar furniture/furnishing stores, just a few miles inland from the beach.

"It's a very busy road," Roberts explains. "We get people in every day who have driven past us for years and never had the chance to stop."

The shop is easily identified by a big blue boat that sits out front. When they relocated, they hauled the boat down the street with them "so people who didn't follow us on social media or receive our emails were still able to locate us," Fisher says.

Throughout the year, High Tide Home Provisions holds quarterly sales with discounts and specials to draw in customers. The store relaunched its popular holiday open house last December after a two-year hiatus due to COVID, and the duo look forward to rebooting their big summer anniversary sale again this year.
Inspiring living spaces
Every day, new customers stop by the store for the first time and many of them make a similar comment when they enter.
"If we hear it once, we hear it 10 times a day: 'I just want to live here,'" Roberts says. "We've had a huge influx of people moving to the area, especially since COVID, and when they come to the store, they're like, 'Oh my gosh, I'm going to redecorate my whole house here.'"

High Tide Home Provisions also attracts tourists vacationing along North Carolina's beaches. Many of these visitors have second homes along the coast, so they frequent the store several times a year to update their beach house with the latest decor.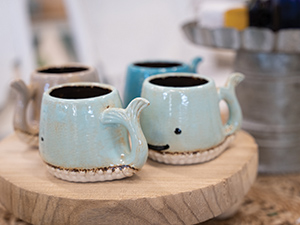 "A large part of our business is people who are coming to visit the coast," Fisher says. "But we also have a large base of local customers who support us consistently. Those are the ones who come in weekly because they know that we bring in new items all the time. Those are the ones who have become friends."

When new employees join the retail team, they quickly start to learn the names of High Tide Home Provision's regular shoppers. "We've hired a couple new employees recently and they've commented how we seem to know everybody that comes through the door," Roberts jokes. "We have gotten to know our repeat customers by name."

Fisher and Roberts estimate that approximately half of their business is comprised of returning customers, while the other half is made up of first-time visitors. This mix keeps the store consistently busy from spring through Christmas.

Fisher says, "I believe that's why our business has continued to flourish, because our customer base continues to grow."
Creatively curated
The merchandising goal at High Tide Home Provisions is to offer "something for everyone, regardless of what their style is," Fisher says. "We try to showcase our coastal goods in a way that customers can envision our pieces in their own homes."

Most of the furniture inside the store — between 70% to 90% — has been personally rehabbed, repainted or "reloved" by Roberts or Fisher. They work with local furniture builders who make custom tables and other wooden pieces. Through the years, they've also developed relationships with furniture resellers who supply them with secondhand finds from auctions and estate sales.

"That's truly a business in itself because of the time it takes to travel and find these pieces, so having relationships with those resources is really important to our success," Fisher says.
The store also offers custom furniture painting so people can bring in their own pieces for a fresh color or updated fixtures without replacing what they already have.
In addition to painting their own furnishings, Fisher and Roberts curate other one-of-a-kind accessories by partnering with local artists and makers who consign their coastal crafts through High Tide Home Provisions. For example, a local painter named Coco has been selling beach-inspired canvas paintings in the store since it first opened.

"She does a lot of seascapes, oysters, coastal birds and modern abstracts," Roberts says. "Last year, we made a calendar with her art that was really popular."
Another artist out of South Carolina makes laser-etched wooden maps of the regional shoreline. "We collaborated with him and made a custom map that goes from Topsail Island down to Bald Head Island, along the entire southeastern coast of North Carolina," Roberts says. "That's definitely been a top seller in all different sizes. We can barely keep those in stock."
They also partner with a metalworker who makes laser-cut aluminum pieces shaped like various sea life such as octopuses, starfish, seahorses and turtles. "They can be painted or unpainted, but they're all cut from aluminum so they're safe to hang outdoors," Roberts says.

"People love those outside on a porch because they don't rust," Fisher adds. "Those have been really popular for our sea life-loving friends."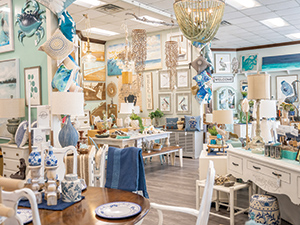 Sea life imagery like crabs and octopuses has also taken over Roberts' hand-painted wooden signs that adorn the store's walls. Additionally, personalized signs continue to be popular, especially as special gifts for weddings or baby showers.

"It's exciting for people to know that they can have their own unique custom piece," Fisher says. "Whenever Ember makes a custom sign for a wedding gift, you know inevitably that several people from that shower will end up coming in because they saw it. The personalized gifts always bring return business for more signs."
Creating a happy place
The personalized signs, hand-painted furniture and customizable pieces help differentiate High Tide Home Provisions from the similar decor stores in the area.
By bringing serene beach vibes into products through calming colors and charming accents, the store's diverse selection invites customers to take a piece of the coast home with them, whether they're vacationing or living nearby.

"We've created a space at High Tide Home Provision where each customer can experience a sense of peace and tranquility while shopping at our store for home furnishings or gifts," Fisher says. "Even if a customer comes in our showroom and doesn't purchase anything, we also want to instill a feeling of happiness. Our biggest goal is that everyone walks out with a smile — and I think that's part of our customer retention and success."

While sales are certainly an important measure of the store's growth, the owners realize that the relationships they're building with customers and vendors are the ultimate end goal. With that priority in mind, they continue to expand their business by making friends with the shoppers.

"One of the biggest compliments we get from our customers is, 'I feel so good when I leave here,'" Roberts says. "If you don't buy anything, that's fine, but we definitely want you to leave happier than you were when you came in."