Dune Jewelry & Co., an experiential jewelry company famous for using sand and earth elements from thousands of memorable and iconic locations around the world, has opened a retail boutique in Ketchikan, Alaska. Located at 122 Main Street, it will be the first-ever "experiential concept" store for the brand and the second retail location.
The store will feature classic Dune Jewelry designs handcrafted with Ketchikan sand, white quartz and gold flakes, and forget-me-not flower petals as a nod to the periwinkle-colored state flower of Alaska as well as exclusive Dune Ketchikan designs.
Holly Daniels Christensen, founder and CEO, says, "This is a very exciting partnership between Dune Jewelry and Rajesh Khemlani, a multifaceted entrepreneur who owns multiple jewelry stores throughout the U.S. and Caribbean. Raj expressed a keen understanding of the Dune brand, and his vision is aligned perfectly with my own. In January I traveled to Alaska and found so much beauty and inspiration in Ketchikan, that I knew it was the right move for my brand."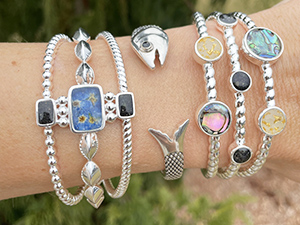 Khemlani states, "I believe we should all appreciate the beauty of nature and Dune Jewelry is a celebratory way to do so.Dune is not only about capturing experiences but also about evoking wanderlust in our clientele and within our team members."
Dune's executive assistant, Danielle Godjikian will be spearheading the store set-up and managing Dune Ketchikan throughout the entire 2022 season. Godjikian has taken a leap of faith and moved from Boston to Ketchikan.
"She's ready to introduce customers to Alaska's wild ways this summer, so they can immerse themselves in our Alaskan jewelry experience," he adds.
Unique to this location will be the Dune Jewelry Travel Treasures Charm Bar featuring Sterling silver and 14-karat Gold Vermeil Alaska-themed charms, plus sand charms from the top cruise ports in the world. Build your own charm necklace or bracelet with tangible reminders of your favorite cruise memories.