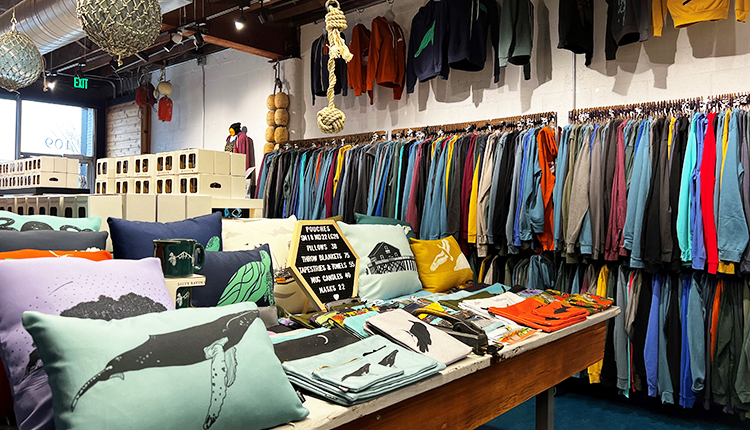 After 30 years of being a part owner of a retail space in Portland, Oregon, Seasons Kaz Sparks' decided it was time to make a change and launch a new brand. Her drawings inspired by nature coastal photography are the basis for Salty Raven, a fast-growing apparel and gift line that grew 300% last year and are now showcased in the wholesaler's new flagship store at 109 Main Ave., Tillamook, Oregon.
"Before, we were selling out of our warehouse and had created a 'studio store' that became so popular that we bought a building on Highway 101, and it's right on the corner in the center of downtown," says Sparks who is thrilled with the location's potential to draw traffic.
In fact, that's what her brand has been doing since she launched it in 2008 to fill a merchandise gap at a local gift shop she managed for 30 years. "There were certain themes I was aware were popular and no one was really making T-shirts with those images," she says.
Her debut design was an octopus, and the leggy sea animal is still a top seller. For eight years, she focused on graphic shirts, screen-printed on high-quality material so the products will last. Then, she introduced glassware — stemless wine glasses and mugs. "Our glassware is all dishwasher safe and our apparel is a premium brand so if you take care of the items, you should be able to use them forever," she says.
After all, Salty Raven is a nature brand, and Sparks assures that every aspect of her store and products are intentionally sustainable. Equally important, she wants the graphics on her clothing and gifts to deliver on her mission: Sharing the experience and joy of nature through my drawing on quality functional goods for everyday life.
"Products are inspired by nature, but especially the way nature makes you feel," Sparks says. "Witnessing a sea turtle in the wild or a bird in flight can be transformative. So I share those creatures because in seeing them on a T-shirt or glass, ideally you have the same experience."
In 2020, Sparks pivoted to focus on Salty Raven full-time. As for the shop, Sparks and her husband James converted a former tanning salon into a nautically inspired home for Salty Raven wares and some specially curated products from other brands. It opened doors Sept. 3, 2021, with a grand opening celebration on Dec. 4, just in time for a bustling holiday season.
Inside, the floor "feels like water," she says of the Vermeulen eco-friendly blue material by Ethos. Hangers are recyclable cardboard, and Sparks ties recycled T-shirt yarn to them using a color-coding system so customers can easily find sizes. "I use reusable packaging exclusively," she says. "I do not use any stickers or register tape. Everything is as paperless as possible and as free of waste as possible."
Expansive wood tables in the center of the store showcase glassware, the No. 1 item Salty Raven ships to stores in Europe. Popular rocks glasses, stemless wineglasses, juice glasses and taller Collins glasses bare Sparks' graphic designs in mix-and-match sets. "Most people collect them and they are designed based on vintage glassware," she says.
An entire side wall showcases hoodies — "the softest things of your whole life," Sparks says — and the other long wall houses T-shirts from newborn onesies to 4XL. A large television screen on the back wall plays a running video of Sparks' nature photos. "You get this imagery of the ocean and nature and it shows where the inspiration comes from," she says.
With the flagship store in a highly visible location, Sparks expects sales to continue soaring. "We are up 50% this year so far," she says. "Until we get through this year with the new location, full signage and post-pandemic, we have no concept of where our plateau might be."