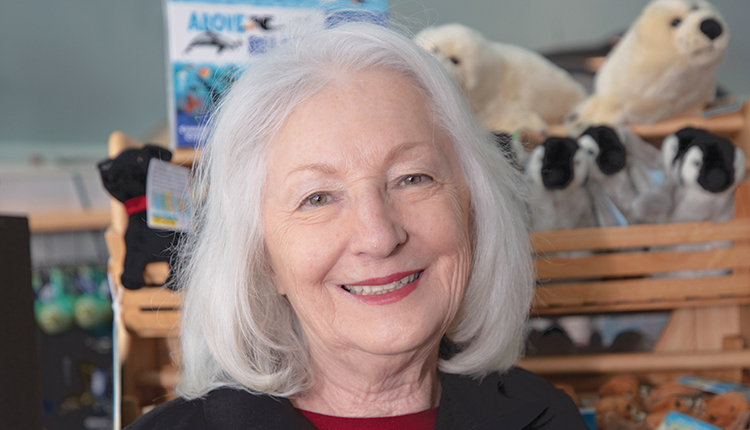 In March 1976, Bob Schoelkopf received a call about a pygmy sperm whale stranded on the beach in Atlantic City, New Jersey, that needed his help. He and his wife Sheila Dean were former dolphin trainers and had some experience with marine mammals.
This would lead to many more calls, resulting in the formation of the
Marine Mammal Stranding Center
in 1978. The type of care the animals needed didn't allow for visitors, however, so raising awareness proved challenging. A small, 1930s-era military dodecagon-shaped (12-sided) building in Brigantine, New Jersey, changed everything.
"It was in really rough shape, but we turned it into a museum and started slowly adding gifts for people to purchase to help support the efforts," says Dean, who serves as co-director.
"People really love our design with our namedrop and a seal on the front of the shirt and her tail on the back of the shirt. We've had that design forever and people still love it." — Sheila Dean
The museum and gift shop opened in 1983 and more than 5,000 rehabilitated animals later, Dean and Schoelkopf are still at it, only now they have expanded facilities and extra caregivers to help. In addition to the museum building, the center consists of an office building and three animal buildings located on a half-acre bay-front lot near the museum.
"Our primary goal is to rescue and rehabilitate marine mammals and sea turtles that wash up on shore that are sick, injured or have any other type of problem," Dean says. "Because they are wild animals and they're sick and afraid, we just isolate them from people and only do what is absolutely necessary, then release them back into the wild."
Visitors to the center can still witness the amazing work that the center is performing with cameras that are set up in the rehab areas and broadcast inside the museum.
"People like coming to the museum," Dean says. "Even if they can't see the animals live, they can see them on the cameras, and we explain that is how you are going to see them acting naturally. They are not pets, and you can't play with them like you would an animal at a petting zoo."
Displays, including some life-sized fiberglass replicas and taxidermized marine mammals and fish are also part of the museum experience. Visitors learn about each animal, including sea turtles, seals and dolphins, and the threats that they are facing from pollution and other potential hazards.
There's even a collection of marine mammal and sea turtle artifacts, including a fossilized walrus skull and tusk and whale baleen.
Because the museum only measures 30 feet across with its unique 12-sided configuration, there isn't room for a separate gift shop. Merchandise is strategically placed throughout the building — near the entrance, beside the various exhibits, in the center and behind the ticket counter.
"Everything is mixed in," says Dean of the gifts and souvenirs. "We have a lot of gift items in the middle. There are some toys, stuffed animals, cards, books for children and adults, some jewelry items and lots of shirts."
Children love the sea life plush from The Turtle Tracks Family, Living Nature and Petting Zoo. Sue Trew's Turtle Tracks Family series of books and the Good Night series related to sea life and the ocean are popular children's titles. Many other assorted sea-related books are purchased from the distributor Sunburst Books. The museum also carries posters and folding field guides.
Dean does all the retail buying for the museum and regularly attends the Ocean City Gift and Resort Expo to find merchandise.
Seal of approval
Seals are a popular item in plush, mugs and shirts. And fittingly so, since they make up the largest species that is rehabilitated at the center.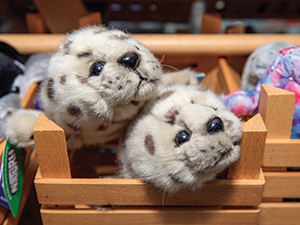 Photos: Connie Pyatt
The Marinelife Mammal Center can rehabilitate up to 23 seals at a time, and during seal season, it can be quite busy with seal pups. The center already received its first of many calls about a seal pup needing care in early February.
"We sell quite a bit of T-shirts and sweatshirts," Dean says. "People really love our design with our namedrop and a seal on the front of the shirt and her tail on the back of the shirt. We've had that design forever and people still love it."
While some shirts are displayed in the center of the store for visitors to see, the majority of the shirts are kept behind the counter — short-sleeved and long-sleeved T-shirts, hooded sweatshirts and children's T-shirts in a variety of colors, and white handmade baby onesies.
The center's original logo containing a red cross symbol and a dolphin, seal, whale and sea turtle in each corner also continues to sell. Non-logoed items also carry the store's website to advertise the center to potential visitors.
The center's seal adoptions are also popular gifts. The virtual adoption includes a photo and biography of the seal, along with a certificate with the adopter's name on it.
"It makes them feel really connected to the animal because there is a picture of it," Dean explains. "These are actual animals that are rescued, rehabilitated and released again. It is a feel-good kind of present, and it's good for those people that 'have everything' and you don't know what to get them, but you know they are an animal lover."
Maximizing costs
The center's merchandise capabilities are packed to the gills. "There's not a whole lot more I can fit into the museum," Dean admits. "I have a little shed I can pack a lot of my stuff in, but we are really limited on space. And now we are online, and that makes it even harder."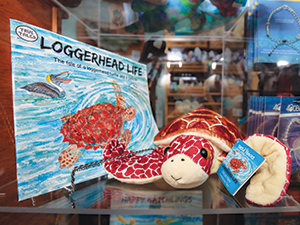 Dean tries to keep prices affordable for customers so they can take a piece of their experience home.
"I don't mark things up really high because we don't have a huge overhead," she says. "We don't pay rent and our museum is only heated when we are open. I like to pass that savings along to the customers."
Having a museum and retail space to promote the rescue center has been essential to the center's livelihood since revenues fund the center's efforts. Customers appreciate being able to support the Marine Mammal Rescue Center with their purchase.
"Before we opened the museum we would just see people on the beach and we wouldn't be able to provide them with all the information about the center," Dean says. "It helps people understand what actually happens here."