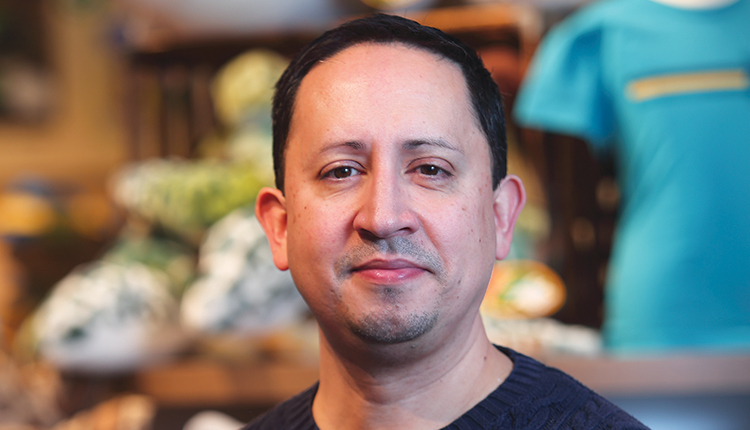 Mystic Aquarium Retail Director John Rios has found his dream job. He began his cultural attractions career with the aquarium in 1998, and after holding several other retail roles over the years is back at the place where it all started.

"This special place has played an important role in my life — I even married a beluga trainer at Mystic Aquarium!" he shares. "I am proud to call Mystic, Connecticut home, and I am extremely proud to represent the retail experience at the aquarium."
Representing the aquarium's retail operations is an important role, as a portion of all proceeds from purchases made at the gift shop go directly to support Mystic Aquarium's education and research initiatives. The aquarium's programs and exhibits, as well as its Sea Research Foundation, are committed to promoting understanding of science, advancing important initiatives in ocean conservation, animal rescue and care, and collecting and learning from data and research. The ultimate goal: to protect the animals and habitats for future generations.
"We want every guest to feel touched by the beauty and magnificence of the animals and appreciate the need to protect the habitats in order for the whole ecosystem to thrive." — John Rios
"With so much important work happening here, the aquarium store makes for a great shopping destination year-round that visitors can feel good about supporting," Rios says.


Making a lasting impression
Mystic Aquarium is arranged as a giant circle pavilion with branches leading to indoor and outdoor exhibits. The gift shop is positioned near the front entrance and serves as an anchor to one of the experience hubs. Because of its location, most guests choose to exit the aquarium through the gift shop.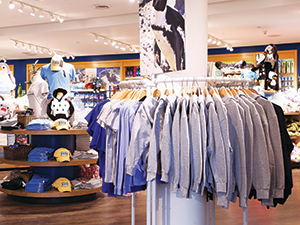 Photos: Larry St. Pierre
"We understand that the shop is oftentimes the very last experience that guests will have before they leave the aquarium, and we take this opportunity to create a lasting impression that they can remember for a long time," Rios says.
A large part of the Mystic Aquarium experience is centered on educating guests about the ocean, oceanic life and fostering a deeper connection to our planet and our place in it.
"We want every guest to feel touched by the beauty and magnificence of the animals and appreciate the need to protect the habitats in order for the whole ecosystem to thrive," Rios explains. "The gift shop is an extension of the aquarium experience. The shop helps reinforce those ideas by demonstrating our respect for the planet in practical ways, and inspiring guests to make sustainable changes in their own lives."
Throughout the exhibits and inside the shop, there's a significant sustainability initiative. The shop's assortment of sustainable offerings suggests ways everyone can make eco-friendlier swaps in their daily routines.
Reusable bags made from recycled plastic bottles, sustainable water bottles, green toys made from recycled milk jugs, and an eco-friendly line of apparel made from recycled bottles are just a few examples of the store's commitment to demonstrating sustainability in its product offering.
It also carries an eco-friendly plush line made entirely from recycled materials, including the tag and without plastic beads.
"We also carry a variety of offerings from brands who support specific environmental initiatives." Rios says. "Our well-researched vendors help support a variety of causes that align with the aquarium's values."


Crazy for belugas
What's the gift shop's biggest seller? "In one word, beluga," Rios says.
The gift shop offers an assortment of beluga-themed apparel and toys, and for good reason. Mystic Aquarium's resident beluga whales are a huge draw for guests. The beluga pod grew in June of 2021, officially making it the largest outdoor beluga habitat in the United States.
As a category, plush is a favorite among young guests. And it's not typical teddy bears. In addition to the beluga whale, children also can choose from other cuddly plush companions like African penguins, sea lions or sea turtles. "The fact that the adorable plush line is easy on the environment is just one more reason to love them," Rios says.
Topics like conservation and sustainability can sometimes seem distant or intangible, according to Rios, but the aquarium exhibits, animal encounters and gift shop connect those ideas and values with tangible ways guests can create impact.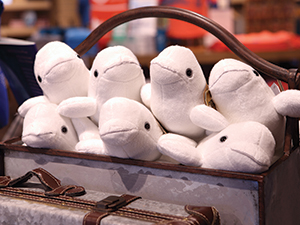 For example, at check out, team members will typically ask if a guest would like to round up "to help feed a beluga" or "to help rehabilitate a seal." According to Rios, adding that specific detail shows the cumulative impact that a few extra coins can create. This question often inspires guests to make an extra donation in addition to rounding up.
The store also helps customers discover and choose products that are better for the environment.
"The gift shop is where we help them get started with sustainable options. For example, we display a cora ball — a simple solution for your dryer that traps microplastics so they don't end up in the water system," Rios explains. "Guests feel good knowing that their purchases help support a very worthwhile mission."