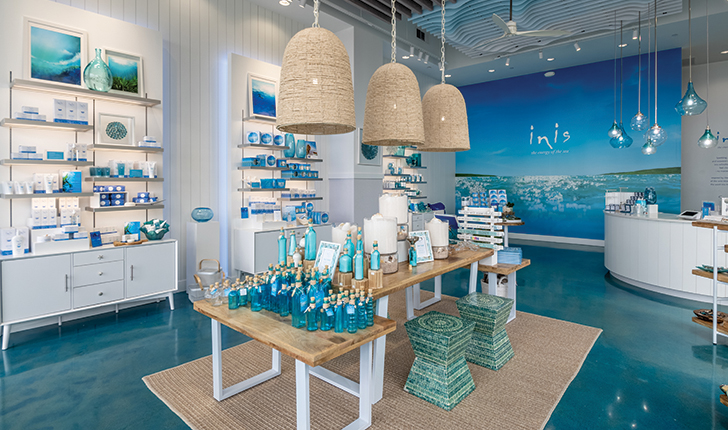 Inis Energy of the Sea, a fragrance by Fragrances of Ireland, has gained a strong following in shops along the East Coast over the past couple of decades, and now the brand is trying to make its mark on the West Coast with a flagship store in Huntington Beach California, known as Surf City USA.

A ribbon cutting on March 16 officially marked the opening of the new space in Pierside Pavilion, situated at the gateway of Huntington Beach's downtown shopping district and across from the Huntington Beach Pier. In addition to various products that feature the Inis signature sent, the new store also carries a curated collection of complementary home decor, jewelry and keepsakes.

"We've had a dream of opening our own store for quite some time and envisioned it as an exciting next step in the evolution of the Inis brand," said Karen Wilkinson, marketing director, Fragrances of Ireland (USA). "We consider it a showroom, really — a place where people can experience the sparkling, clean Inis fragrance firsthand."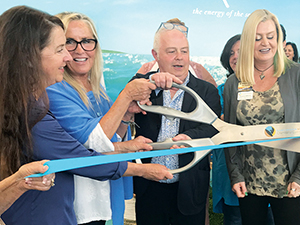 "I am personally incredibly thrilled," said David Cox, Fragrances of Ireland CEO, before the crowd of ribbon-cutting attendees. "It is only appropriate that we are from the west coast of one continent, Europe, [coming] to the west coast of another continent and in such a beautiful town. I'm only getting to know Huntington Beach, but you are so welcoming, and you are so keen to help business, which is not something we find everywhere."

Primarily, the goal of the store is to support Inis small shop partners across the United States, United Kingdom and Europe, according to Karen Wilkinson. After all, this is how the Inis brand has grown. "This [flagship store] is only happening because of all our wonderful customers around the world — both the shops we partner with and the people who have fallen in love with Inis and keep buying it — without whom we would have nothing."

Cox further explained the decision behind a West Coast store: "We sell a lot to smaller retailers in the U.S. and we've had tons of success on the East Coast. While it's been spreading across the country, we've never quite hit the jackpot here on the West Coast as we have on the East Coast.

He added, "We sell an awful lot in Florida and South Carolina, so there's no reason we can't sell in California, so we thought, since we haven't got a great presence, why not put in a flagship store so we can 'fly the flag' and get people to notice us? That will make the whole process happen a bit faster."

Michael Hale, founder of Los Angeles-based Retail Rehab and his team were tasked with designing the new retail space. "Inis initially reached out to me looking to create a flagship store and they really wanted something that exuded the fragrance, which is casual, beachy and all about the ocean."

Inis shared some inspiration images with Hale of beach cottages as well as expressed a desire for the floor to be turquoise "so my team ran with that. We knew we wanted it to feel polished, but not stuffy. The fixturing had to be right so that it shows off the product well without feeling ostentatious or overdone," Hale explained. His team hit the nail on the head literally and figuratively, with few revisions needed.

The Inis showroom immerses guests in the scents and sensations of the sea, with 1,200 square feet of space and floor-to-ceiling windows with views of palm trees and the Pacific Ocean. Decor like the blue floors, white walls, soft cloud and sky felt ceiling detail and signature sea graphics reinforce the Inis brand energy.

"The store is laid out in discovery sections for our fragrance, bath and shower, body care and home fragrance collections," Karen Wilkinson explained. The shop also includes selected items from ocean-inspired brands like artwork and glass sculptures. "We have selected items that we hope, just like Inis, make customers feel close to the sea no matter where they are."

Hale added, "We had a lot of fun with lighting around the cabinetry to create an ambiance that didn't take away from the product." The lights move with the cabinetry, explained Hale, making rearranging the fixtures easier since it does not require rewiring each time they move.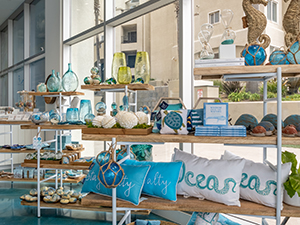 Unique to the Inis flagship store is a salt bar, where customers can select scented white crystal sea salts to scoop into ocean-themed glass decanters as gifts or for a personal indulgence. Bottles are available in aqua and clear in different sizes and styles. "They are finished off with a decorative seashell charm and cork stopper," Karen Wilkinson describes.
Cathy Wilkinson, a long-time retail veteran and the sister of Karen Wilkinson, is the retail manager for the new store. She was integral during the construction process and will be managing operations. The store currently has three employees and will be expanding to approximately six staff for the busy summer season. She expressed her gratitude for the new location. "We are so lucky it is such an amazing location, especially for the brand because you can see the ocean, you can see the palm trees. We can't ask for a better location."

The shop will support the Irish Whale & Dolphin Group — an organization Inis has supported as a core funder for more than 20 years. The group spreads awareness for ocean conservation via a blog seathebeauty.net. "We are very excited to start hosting special events such as beach cleanups from our flagship store and becoming part of the Huntington Beach community," Karen Wilkinson said.

Above all, Inis will continue forwarding its "shop local" mission. "While it has always been at the core of our ethos, the challenges over the past two years have only deepened our commitment to this," Karen Wilkinson said. "We are inspired and humbled by the determination, grit and creativity of our independent retailer partners who have navigated the past few years of the pandemic."