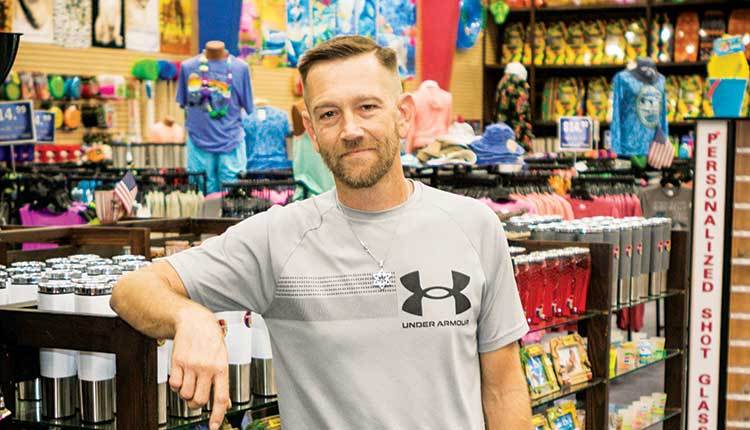 One mile from the Texas coast on Mustang Island, an aquamarine-colored storefront welcomes visitors to Palace. A 20-foot tall Poseidon beckons from a pillar on the left, matched in enormity by a rock-perched mermaid on the right. Swordfish, sea turtles and coral swirl on the vast oceanic mural around them.
There are dozens of souvenir shops in the tourist town of Port Aransas, Texas, but it's the vibrant facade of Palace that lures visitors off of South Alister Street.
"This new attraction has totally changed the whole face of the business. It actually brings a lot more people," says Gary O'Mary, Palace's general manager of operations.
"It's just another form of entertainment for these islands," adds his wife Liron O'Mary, also a general manager. "It's an attraction. People see it, and they want to see what's inside the store."
Picture perfect
Palace is one of several beach stores owned by Texas company Deep Splash Inc. Just across the street from Palace is Deep Splash's Destination Beach & Surf, which welcomes shoppers with a giant fiberglass shark sculpture — its mouth opens wide enough for people to stand inside. Near the Port Aransas Ferry Landing, Deep Splash's Bay Quest has a storefront statue of three dolphins splashing in a blue sculpted ocean wave. Inside the wave is a yellow, full-scale surfboard.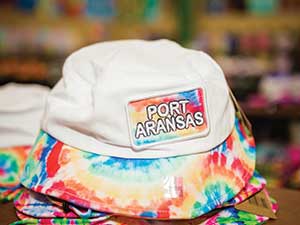 Photos: Tina Marquez
Like its sister stores, Palace attracts tourists searching for a spectacular spot to snap a selfie. Any photos shared on social media serve as viral marketing.
The store doesn't do a lot of social media marketing of its own. Palace instead relies on word-of-mouth and its attention-grabbing, Instagrammable storefront to generate business.
Poseidon's wrath
Despite his prominent station at the store's entryway, the Greek god Poseidon has not always been kind to Palace. Hurricane Harvey was a deadly Category 4 hurricane that tore through Texas and Louisiana in August 2017, decimating numerous homes and businesses, including Palace.
The previous commercial storefront was eye-catching for its peach-orange paint color and all-caps blue signage. Several years before Hurricane Harvey, store owners added a mural of orcas, a shark and a family at the beach. The hurricane was an opportunity to add new elements with texture and dimension.
Deep Splash Inc. hired professional artists from nearby Corpus Christi, Texas, to reimagine the facade to better portray the local beaches and waterways. Artist Kaleigh Glover painted the fish-filled mural that covers the entire front of the building. Artist Josh Garcia — whose portfolio includes prominent sculptures at zoos, theme parks and aquariums nationwide — designed and installed the fiberglass statues. The giant figures are affixed to solid concrete pillars with wire mesh inside.
Exterior lighting cast upward gives the briny scene a watery, ethereal glow at night.
Permits and paperwork
It wasn't a quick or easy process to rebuild Palace. The storefront was under construction for about three years thanks to insurance claims, city permits and construction delays.
Garcia had to work with the city's code of ordinances to determine the allowable size and scale of the three-dimensional elements of the facade.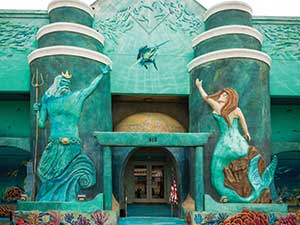 If other retailers are likewise considering a large-scale facelift, the O'Marys recommends they understand that it might take longer than expected. The storefront construction meant Palace couldn't invite customers in for those years, significantly impacting profits.
Gary says the makeover was ultimately worth it. The new storefront has made Palace a vacation destination for many Texas coastline tourists, who can buy goods including tee shirts, hats, swimwear and beach balls.
Naturally, mermaids and the occasional Poseidon figurine make it into the store's inventory, she says.
Palace typically cuts back its store hours during the winter months, but tourism has been busier than usual since the pandemic began. Liron says that if Palace has a seasonal closure this year, the storefront may undergo more improvements. Beyond a good exterior cleaning, the O'Marys are considering additional murals and paint color changes to update the look.
"We go with what the tourists want," Liron says.