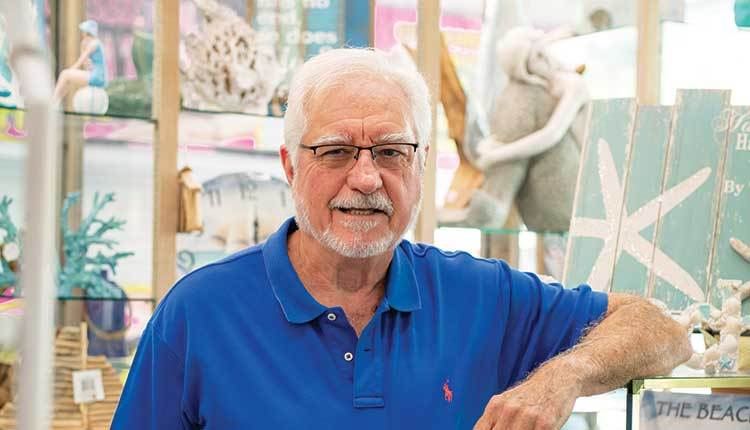 In the 1940s, Justin W. Plyler had a vision that Myrtle Beach, South Carolina, would become a destination, packed with so many fun attractions that families would return year after year. To bring this vision to life, he and his wife, Eloise, began building an entertainment business empire that spanned amusement parks, motels, and animal exhibits, including the area's first aquarium.
Nestled inside his oceanfront amusement park, next to the popular Wild Mouse rollercoaster, stood a small 10-by-20-foot retail shop that would eventually be known as the Gay Dolphin Gift Cove. Perhaps the most prominent icon of Plyler's contributions to Myrtle Beach, the Gay Dolphin has since grown into one of the largest gift shops and most visited attractions in the area — drawing 20,000 customers a day every summer.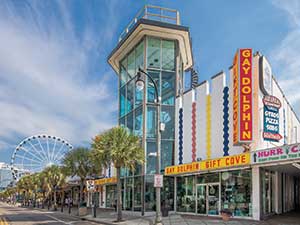 "The beach became very successful, very fast, and we [grew right] along with it," says their son, Justin "Buz" Plyler, who runs the Gay Dolphin today. "We continually got bigger and better at what we were doing, and we continue to be successful."
The Gay Dolphin celebrates its 75th year in business in 2021. Buz continues to carry on his father's legacy while adapting to the changing tides to stay successful as a retail destination.
A variety of merchandise
From the beginning, variety was key to the Gay Dolphin's merchandising strategy, as the Plyler family looked beyond South Carolina to supply the store. During World War II, Buz's father had been stationed in locations like Miami Beach, Chicago and Boston. "When dad got out of the war, he brought back all the retail things he saw in those towns and incorporated them into the store," Buz says. "It was very successful, and he continued to expand."
The small retail shop, which was originally called Shell Craft, grew tenfold over the first few years as it expanded from a 10-by-20-foot to a 50-by-40-foot space. Then, in 1954, Hurricane Hazel destroyed the entire building — but that didn't stop Justin Plyler. "Dad, being his own engineer/architect, went down the beach and gathered up the timbers for the start of the new store," Buz says.
His father rebuilt the store in three phases —starting on the beach, branching out toward Ocean Boulevard, and eventually ending with the iconic five-story glass tower that visitors see today. The store now spans 35,000 square feet across nine floors of eclectic souvenirs, gifts, toys, clothing, decor and collectibles. "His idea was to have separate little 'coves' where we sold themed merchandise," Buz explains, ranging from sharks' teeth to jewelry to nautical decor, with sections dedicated to Elvis and Bigfoot and other souvenir niches in between.
As the burgeoning beach town began to draw new demographics of visitors, Buz worked to understand each customer segment so he could ensure that the store carried something for everyone.
"I tried to learn more about our new markets [by subscribing to dozens of] magazines," he says. "I took out magazines for bikers, magazines for country clubs, magazines for people from the Northeast and the Southeast. In the backgrounds of the ads would be things that were cool to those particular markets. It turned out to be a tremendously successful part of what we were doing."
Today, Buz still strives for variety — covering an array of product categories and a full spectrum of price points. Whether customers are looking to spend a few dollars on a small souvenir or a few thousand on a large collectible statue, they can find it all at the Gay Dolphin.
"We try very hard to attract everyone that comes to Myrtle Beach by having things for every demographic group," Buz says. "That's one reason that the store is as large as it is — in order to merchandise well, you need to have some large merchandising pieces that will get their attention and put them in the mood [to shop]."
Buying bargains
Buz was born in 1949, just three years after his parents opened the Gay Dolphin. He grew up in a house next-door to the shop, and eventually moved into a penthouse apartment right above the rebuilt store, where he still lives today.
Naturally, Buz started working in the family business at a young age. By the time he was eight, he was accompanying his dad to all the retail trade shows and began helping him buy products for the store. He would hang out near the vendors' booths and listen for deals that were made with high-volume buyers, then he would approach the sales reps asking for the same low prices.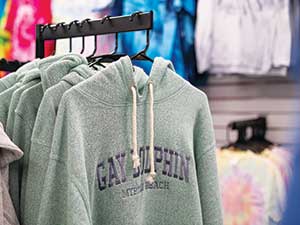 By age 12, Buz was buying most of the merchandise sold at the Gay Dolphin — with the exception of the large jewelry selection, which his mother managed. Back then, he explains, "Myrtle Beach was a resort that primarily focused on mill workers who made 25 cents an hour. You had to sell things cheap to compete for their money. It taught us to buy closeouts, overruns, show samples and every manner that we could to get things cheaper."
Buying discounted goods allows the store to pass the savings on to shoppers, building the Gay Dolphin's reputation for its huge assortment of affordable gifts. Although the majority of merchandise today is purchased through retail trade shows, Buz always looks for creative ways to procure good bargains.
"We are still buying a lot of closeouts in order to keep prices down," he says. "I just bought 90-some pallets [out of] bankruptcy. I think we had seven semi-trailer loads of this merchandise. It filled up our warehouse, and it's going to contribute to our bottom line for a long time."
Setting the store apart
In addition to its eclectically procured assortment of products, custom-made goods have been a mainstay throughout the Gay Dolphin's history.
At first, making certain items in-house was just a way to keep costs down while keeping employees busy during the off-season. But today, these unique personalized gifts are what differentiate the store from competing beach retailers.
"We understood the way to increase our margins was to manufacture a lot of our own merchandise," Buz says. "In order to carry employees through the winter, when we weren't making any money, we'd teach them how to make things out of seashells."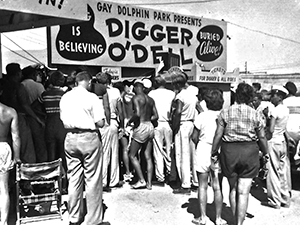 At one point, Buz says, the Gay Dolphin made as many as 8,000 products a year, from shell crafts to decoupaged sand dollars to nautical knots. Although that number is much smaller now — around 600 — the store continues to produce its own postcards, stickers, T-shirts and other personalized merchandise.
"Our profitability on the stuff we manufacture is much higher [than what we purchase from vendors]," Buz says. "That has allowed us to maintain [low] prices."
If Buz can't find a product at the right price, he sets out to make it himself. Several years ago he produced a seashell identification booklet to help visitors identify shells they found washed up on the beach.
"That has been a shocking success," he says. The store is also well-known for its extensive shell collection, making the book a bestselling add-on. In fact, teachers often bring students to the Gay Dolphin to give them a closer look at seashells and starfish.
This year, Buz says T-shirts have been the store's best-selling category. Although Simply Southern is one of the store's most popular clothing brands, the Gay Dolphin isn't the only retailer that sells it.
Buz hesitated to offer T-shirts at all, "because my competition is so heavily invested in it. There's too many of them selling the same thing," he says. But by offering custom logoed shirts and other unique merchandise — like the popular "I got lost in the Gay Dolphin" souvenirs — the store gives customers a reason to shop.
"We sell so much Gay Dolphin [branded] merchandise that it's probably our best-selling category," says Buz's wife, Michelle Kerscher Plyler. The store has a heat press to customize its own shirts. "We're trying to create products that you can't find anywhere else."
The Gay Dolphin has long been known for its approach to personalization, with a wall of miniature souvenir license plates boasting a wide assortment of unique names, with new options added regularly.
"A lot of stores quit carrying [personalized] items because they're a lot of work to keep in stock," Michelle says, "but name items are one of our top four largest [selling] categories."
Becoming a destination
True to Plyler's original vision for attracting visitors to Myrtle Beach, the Gay Dolphin's legacy isn't just about selling gifts. More than just a store, the Plyler family dreamed of building a destination.
"One thing that we realized and embraced early on is that we don't want to be just a gift shop, just a souvenir store, just somewhere to buy apparel or home decor," says Michelle. "We want to be a free attraction where people want to come spend their time."
For example, instead of forbidding photography in the store like many gift shops, Buz and Michelle encourage it. Large statues of figures like Bigfoot, a pirate, a llama, and an open-mouthed shark throughout the store provide designated "Selfie Spots" where visitors can snap photos to share on social media. "Not only is it free advertising for us, but they have a great time," Michelle says.
Besides the lure of its seemingly endless inventory and shareable photo opportunities throughout the store, Michelle jokes that many beachgoers end up in the store simply searching for facilities. "There are no public restrooms on our side of the street, except for our store," she says. "That's the number one question we get. But [Buz's] dad was smart; he put them in the basement, so you literally have to go through the store to get to them. People end up staying for a while."
Although the beach serves as a natural destination during peak vacation season, the Plylers have to get creative to keep customers shopping at the Gay Dolphin all year long. For example, e-commerce and live online sales have allowed the store to keep sell products, even when the pandemic prevented people from traveling.
As part of the Oceanfront Merchants Association in Myrtle Beach, the Plylers also coordinate events and free entertainment throughout the year to bring people to the boardwalk. Many of these events take place at Justin W. Plyler Boardwalk Park — which was dedicated in 2005, a few years after Buz's father died, to commemorate his contributions to the city.
This winter, the association is working with the city to launch a 40-day Winter Wonderland Festival featuring an ice skating rink, rides, and other attractions. The Gay Dolphin is sponsoring the event, which will take place about half a block from the gift shop. "We're constantly looking for something to make that off-season as small as possible," Michelle says, "trying to bring more people to the area."
Now, as the Gay Dolphin celebrates its 75th year in business, Buz continues his father's legacy by building a destination that keeps people coming back to Myrtle Beach — cementing the store's iconic role in the city's growth.
"From day one, his dad wanted an affordable family destination [that offered] so much to do that you wanted to come back year after year," Michelle says. "He was instrumental in building Myrtle Beach as a resort destination. He saw what we see today, before anybody else did."