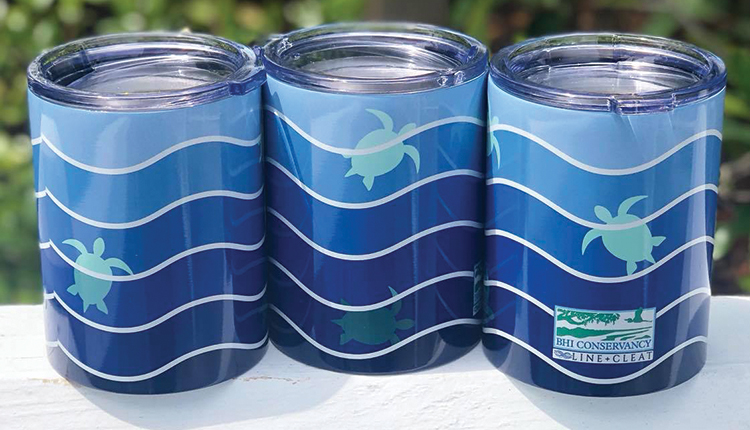 Turtle Central, the gift shop at North Carolina's Bald Head Island Conservancy, and Illinois-based wholesale company, Line + Cleat, have partnered on a drinkware design to benefit the nonprofit conservancy, which is renowned for its sea turtle protection program.
Pam Smith, retail director at Turtle Central, says she saw Line + Cleat's wave tumbler in Seaside Retailer magazine's March-April issue. She contacted the company and Line + Cleat co-owner Amanda Horan liked BHI's mission so much, she offered to create a custom sea turtle tumbler exclusively for the gift shop.
"We have been wanting to do something to give back with Line + Cleat for some time so when Pam reached out to us about carrying the waves tumbler I thought it would be a great idea to see if we could do something custom for them that would also act as a donation back to the conservancy," says Horan. "Pam loved the look of the ombre blue waves we had already created, and I suggested that instead of the fish we had on the tumbler that we change it to turtles and add the BHI logo to make the tumbler exclusive for the conservancy."
The tumblers have been sold by Turtle Central. Line + Cleat also sold them on its website donating 20% of the profits back to BHI.
"It was wonderful to get the opportunity to collaborate with the BHI Conservancy and help spread the word and support the North Carolina barrier island conservation. We look forward to continuing to work with them in the future," says Horan.
Smith says the collaboration is a "great partnership made possible via Seaside Retailer."
The tumbler is available online here.