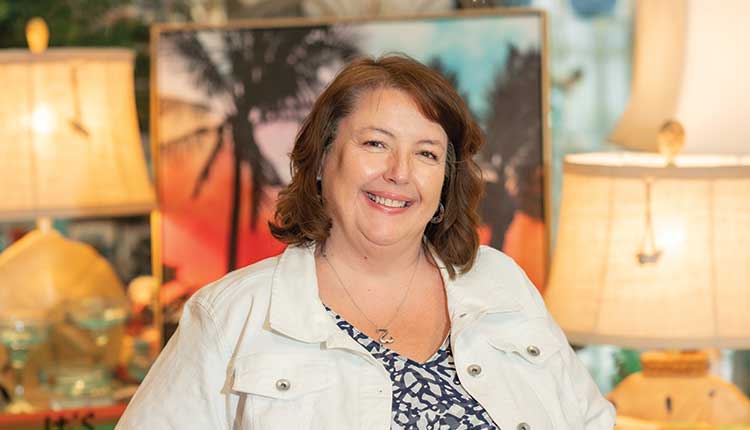 Ann Canney has a mind for business but a heart for cats. As the owner of Sanders Gifts & Home Accents on Savannah, Georgia's Wilmington Island, her open-door policy attracts both customers in search of unique treasures and cats looking for love and shelter.
Canney has two to three cats in the store at any given time. The current feline "greeting committee" includes a Maine Coon named Georgie Girl, a gray tabby cat named Biscuit and a golden tabby named Sybil. All were previously stray cats who wandered into the store over the years.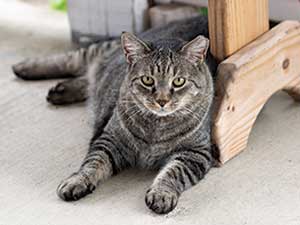 Photos: Rooney K. Gary
"We've been open since 1984 and have always had our cat buddies with us. They are the most popular part of the store," Canney says. "They come to us with their suitcase and say they are going to live with us now, and we are so happy to have them."
The cats like to lounge on the store's wide front porch, take naps among the product shelving and follow customers around as they shop.
"Cats are like people; they have different personalities. Thankfully, these cats are not interested in the merchandise," Canney says.
Store staff works diligently to keep the store free of cat hair, dust and litter box odors.
"This is their home. They're comfortable here. If someone comes in and tells me they don't like cats, I tell them they're in the wrong place," she says with a laugh.
Shop cats
The cats are a central part of the store's print advertising, visitor center brochures and social media posts. A blue silhouette of a cat is part of Sanders Gifts & Home Accents' website logo. A 30-second YouTube video promoting the store begins the tour with an opening shot of Biscuit sitting peacefully in a towel-lined basket at the cash register.
Deidre Combs can attest to the cats' popularity. The longtime buyer and store associate says, "The cats are the most popular thing in the store. We have people who come back year after year to see the cats."
The cats are a great conversation starter with patrons who walk into the store. Social media posts about the cats get plenty of clicks and likes. The store is open every day of the week, as the weather allows.
Sanders Gifts & Home Accents offers a wide array of coastal-inspired home decor; women's clothing, handbags and jewelry; pottery and glassware; locally sourced lotions, candles, preserves and fruit butter; souvenirs such as seashells and magnets; and keepsakes including Demdaco's Willow Tree collection and Department 56 Village collectibles.
Cat-themed merchandise appears in Sanders Gifts & Home Accents' inventory — like a throw pillow with brightly colored cartoon cat images, fluffy pink slippers embellished with a black cat eyeing an empty fishbowl and a ceramic kitten figurine wearing a Santa hat.
But you're just as likely to find lamps, pillows and jewelry adorned with other regional wildlife: herons, seahorses, sea turtles, crabs, dragonflies and pink flamingos.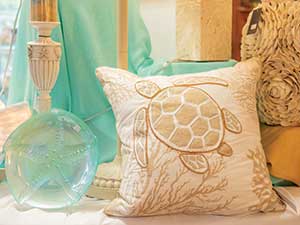 "I go with the times," says Canney, who explains she picks themes and imagery that appeal to her clientele of area residents and island tourists.
For instance, she used to sell more country-style decor but shifted to mostly coastal designs years ago. Women's fashion is increasingly popular, she says, so she stocks a selection of beachy chic dresses and jeggings.
Purr-fect fit
The store borrows its name from the old Victorian house that once stood on the same land: the Sanders Doll House. The Sanders family ran a small restaurant out of the house and hung homemade ragdolls from the oleander bushes along the old Tybee Road that still runs alongside the store.
"There's a lot of history out on the island," Canney says. The neighborhood can trace its origins to a rice plantation.
Canney got into the retail industry after working in administration for a government agency and an airline. Sanders Gifts & Home Accents has allowed her to be hands-on in a competitive business while enjoying pleasant conversations with customers and the company of her feline friends.
She doesn't characterize herself as a "cat person," per se, because she loves all animals. Canney feels especially fortunate to count cats among her store's many charms.
"Every shop should have a pet," she says.