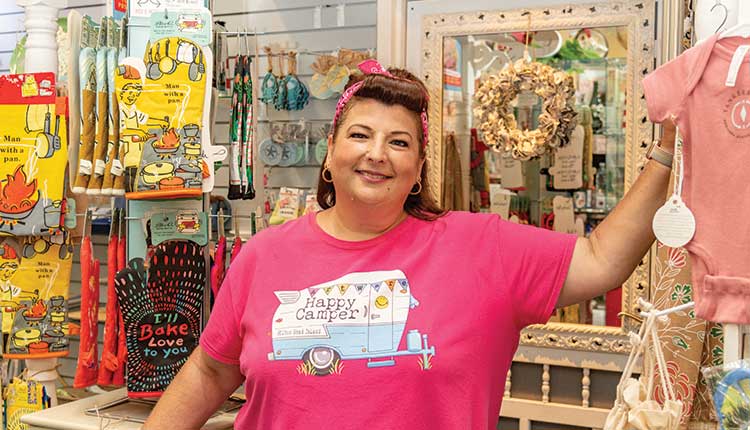 Maddie has been the canine greeter at ArtWare Designs on South Carolina's Hilton Head Island for the past 15 years. She can usually be found sprawled on the cool tile floor or in her custom doghouse built into the shop counter. Like a refined hostess, she's often dressed in pearls and ribbons.
The 30-pound Schnauzer-border terrier mix is as much of a customer draw as the store's collection of artsy gifts and souvenirs.
"It doesn't matter if we're here. The dog better be here," ArtWare Designs owner Jennifer Megliore says with a laugh. "She's definitely spoiled."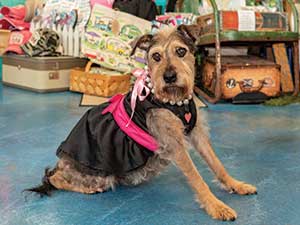 Photos: Ross Jones
Maddie was a rescue dog that Megliore discovered on a pet-finding website. Maddie is short for Maddigan, a name derived from the Gaelic word for little dog.
"She was found in a high school parking lot without a home or any manners," she says.
The scruffy pup has been known to chomp on flowers, drink out of puddles and chase moles and squirrels. But when she's on duty in the shop, Maddie knows it's her job to follow employees around and get pet by children and adults alike. Her image appears in advertising, social media posts and the store logo.
"We pay her in cheese," Megliore says.
When Maddie needs a rest from customer service, she can retreat to her hangout integrated into a lower cabinet. She enters the cabinet from behind the shop counter, but patrons can peak at her through a doggy door with her name over it. The facade features a white picket fence, painted flowers, and a cutout replica of Maddie, complete with pearls and bow.
"She's pretty hooked up," says Megliore.
Megliore took Maddie to canine obedience classes to make sure she would be comfortable around the range of customers who might come into the store. She's gained a following of regulars who bring her doggie treats, drawings and photos of their own dogs.
Paws cause
Maddie's in-store presence even encourages patrons to donate their spare change to eight different rescue groups in the Hilton Head area. A glass change bottle on the counter accumulates about $800 each year, according to Megliore.
"They drop change in. Those little gestures add up," she says.
ArtWare also sells small plush animals that look like Maddie. The puppy dolls wear the signature pearl-and-bow necklace and are displayed in a vintage suitcase. Proceeds from plush Maddie adoptions benefit local animal rescues.
For customers who want their own dogs to be dressed as well as Maddie, ArtWare has an in-store "pearl boutique" where strands of faux pearls can be sized to fit any breed.
Other in-stock pet goods include water bowls, placemats, collars and leashes. For the pet parent, ArtWare carries clocks, socks, keychains and hats with images of dogs and cats.
Of course, ArtWare is about more than pet gear. First opened in 2000, the shop is filled with colorful apparel, footwear, jewelry, home and garden decor, toys, hand creams and lotions just right for beach days and camping trips.
The inside of the store is bedecked like a beachfront esplanade, with displays made of corrugated metal, painted bike tires, market lights and artificial trees. The centerpiece of ArtWare's interior design is a large replica camper in teal and white.
Happy trails
When not in the store, Megliore and Maddie like to go camping in their 1969 Shasta camper pulled by a 1970 Chevy pickup truck named Mr. Fred. Maddie is good about staying within the campsite but still likes to hunt for wildlife.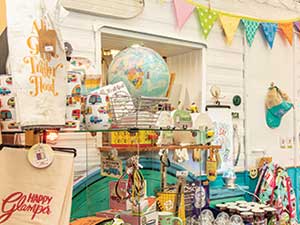 With all her years of service, Maddie hasn't got the hang of time off. She wakes up on weekends ready to go to the shop, Megliore says.
Feisty nature aside, Maddie is getting older. She has heart problems that require medication, and Megliore knows she won't be her shop dog forever.
The store will celebrate Maddie's sweet 16th birthday in September. Her birthday falls on Sept. 16.
"We'll celebrate all day with a matching 16% going to local humane groups. We'll have a pearl-fitting event, giveaways and special deals all day long to celebrate," says Megliore.
"Dogs' lives are finite. That's the reality," says Megliore, explaining that her next dog will likely be named Maddie, too. "Dogs are as important as anything."