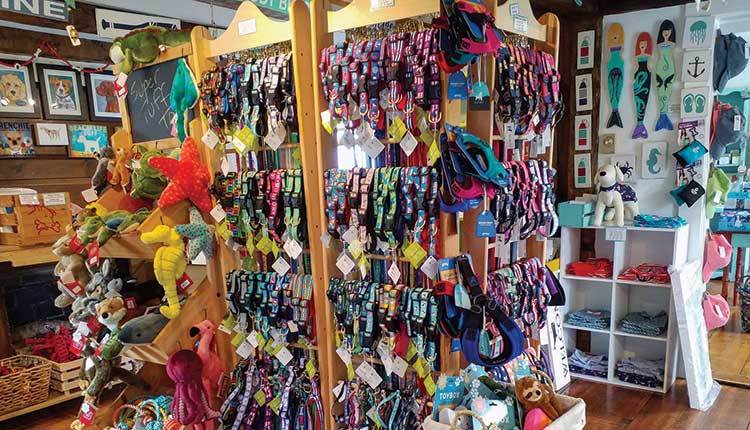 Pets hold a special place in the hearts of their owners, and they are often front of mind when a family is on vacation with or without Rover or Fluffy. They want to make sure their furry family members are lavished with gifts so they know how much they are loved.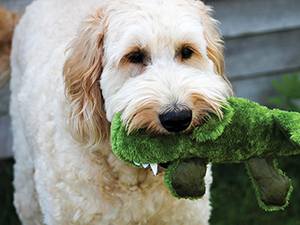 Pet Souvenirs' selection of dog and cat toys are designed for seaside destinations.
Beach enthusiasts especially look for specialty dog and cat toys and accessories that have a coastal theme to them. These are the kinds of items they simply can't find in a big store chain like Target or PetSmart. Your seaside store can be their source for a unique nautical gift for their pet that they won't be able to find anywhere else.
Cindy Burke, owner of Pet Souvenirs, a maker of specialty plush dog and cat toys, notes, "Many folks travel with their pets and enjoy buying them a souvenir from the places they visit. Tapping into this lucrative market is smart for almost any kind of business."
The Pet Souvenirs line is sold in gift boutiques and pet specialty stores, and the products are also known to do well at places you wouldn't always expect to find pet supplies, such as whale watches, specialty food stores and campgrounds.
The company's best seller is a large lobster with three squeakers — one in the body and one in each claw. The lobster measures 11 inches long. A smaller, mini lobster the company carries is 7 inches long. Other sea-themed plush toys include a turtle, orca whale, humpback whale, otter, gator and loon.
Retail customers appreciate that the toys are designed to align with the destination and that the line is not mass marketed, according to Burke. "We do not sell direct to consumers or sell to the big box store and will not saturate the market in any one location," she says.
Dog meets coast
Junebug's Beach House, a store with locations in Kennebunkport and Ogunquit, Maine, is known for its wide selection of unique, coastal-themed goods, including a wide selection of pet products.
The stores are a combination of the owners' two passions: the coast and dogs. Owners Elysa Cooper and Tricia Zerhusen take care of five rescue dogs together. One of them, June, is the stores' namesake.
The wide selection of pet products is a big draw for the stores, and pet products make up a large portion of sales in each store. About half the Ogunquit store revenues are from pet products, and they make up 35 to 40 percent of the sales at the Kennebunkport store.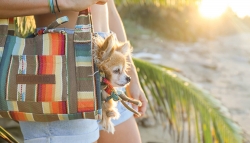 Related Article:
Read about a true beach product for pets that is "
A Pawsome Idea.
"
"Collars and leashes are our number one seller," says Cooper. "We really specialize in having a huge selection of coastal-inspired collars handcrafted in the United States."
The two main companies Junebug's orders its coastal-inspired collars and leashes from are Upcountry, based in Rhode Island, and Belted Cow, based in Maine. Collars bearing whales, lobsters and starfish are popular patterns.
Toys are probably the second most popular pet item for Junebug's with lobsters a fan favorite. "We probably sell eight different lobster toys," says Cooper. Octopus, starfish and sharks are also among the plush pet toys Junebug's carries. Fluff and Puff is its best-selling line of toys.
Pet treats are also a winner for Junebug's. The stores sell many Maine-made treats. There is even a bakery case with specially made dog treats, including a lobster treat with yogurt frosting.
"A really big seller, especially in the summer are Puppy Cake's cake and ice cream mixes for dogs," says Cooper.
The products are all natural and lactose-free since dogs are lactose intolerant. "They have flavors like maple bacon and peanut butter. They come in pint containers, and it almost looks like Ben & Jerry's."
Dogs themselves are welcome in the store and are always given a treat when they come in. They visit from all over, locally and out of town. All breeds are welcome no matter the size, from the smallest chihuahua to the largest sheep dog.
"I think people love that the majority of our items are handcrafted," notes Cooper. "People might come in for a dog collar, but then they'll see a piece of coastal art that they like or vice versa."
For those considering adding a pet selection to their merchandise, Cooper says, "The pet industry is a multi-billion-dollar industry and people really love dogs. Do your research and make sure you are bringing in good quality merchandise. Maybe start off with a line of collars or a line of toys and see where it goes from there."
Pampered pets
For retailers looking to pamper pooches with a tropical touch, Lanikai offers Poi Dog Island Mango shampoo, a hypo-allergenic, natural shampoo formula with organic botanical extracts to help maintain a shiny coat, relieve itchy, irritated skin, deodorize and leave your pooch smelling like a tropical paradise. Lanikai's retail store in Kailua, Hawaii, sells quite a bit of it.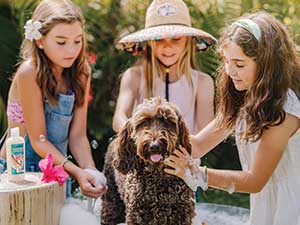 Giving a pooch a bath has never smelled so good with Lanikai's Poi Dog, a shampoo for dogs with a tropical flair.
"The coastal colors in the packaging is enticing for residents and customers who are vacationing," says company spokesperson, Brook Graham. "The product is also unusual enough to catch the eye of the customer and makes a great gift."
Lanikai is taking its pet pampering to the next level with a new Poi Dog cannabidiol (CBD) line it's launching soon.
Graham notes that customers shop for their pets just as they would themselves, friends or family. "Having an assortment of high-quality, in-demand products for pets contributes to a mix of interesting items for sale in stores."
Speaking of interesting items, retailers carrying The Paw Wag Company brand garner a lot of attention and repeat customers, according to owner Jennifer Pratt.
"We are the first and only brand with a collection of pet sunglasses for cats and dogs."
Pratt says the shades for pets make great gifts for birthdays, holidays and special occasions. "Our pet sunglasses are fashionable, fun and functional."
The company's videos of the pet sunglasses have gone viral multiple times on the social media platform TikTok.
The sunglasses come in four styles (round, cat eye, heart and clout), seven colors and three sizes. Each pair includes two straps that secure the glasses on the pet. They are also UV protective.
Smart decision
Madeleine Philipp, owner of Sea La Vie, a coastal-themed gift shop in Virginia Beach, Virginia, had no idea what potential pet products could have until she adopted her little corgi A.J., who doubles as the store's friendliest greeter and security dog.
"Once I got my dog, A.J., I realized there is a real market for pet products," she says. "I initially started off with a very small selection of pet products as I just wanted to see if they would sell. I also typically stick to nautical items at my store so I was very worried it would ruin the look of my store."
Turns out her worries were unfounded. "My pet section — yes, I now have an entire part of my store dedicated to pet items — is now one of my best sellers. Just like me, people love spoiling their pets and buying anything pet related."
The pet section comes as a bit of a surprise to customers who come through the doors of Sea La Vie. "No one that walks in my store walks in for pet items. They come in for souvenirs and nautical-themed gifts and furniture so it's always nice to see when they end up buying a lot of pet items."
Philipp carries everything from bandannas to dog bowls, treats, mugs and stickers. She has a great product tester too — A.J. tries out the treats and gives his seal of approval.
"I order treats from Treat Planet. So far he has approved of every single item/treat I have ordered from that company," Philipp says.
Sea La Vie also caters to pet lovers in the store by offering items with pets printed on them. Philipp says she carries just about every display that E&S Pets has to offer, including socks, Christmas ornaments and foldable shopping bags.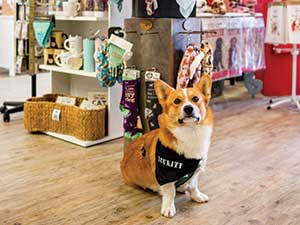 A.J., the fun-loving corgi greeter at Sea La Vie, tests out the gift store's pet products.
"I just started carrying Tall Tails. They have some really cute and durable dog toys which have also been very popular with customers," says Philipp. "Other than that I really just always try to see if any of my vendors offer any sort of pet products, and I tend to pick things with funny sayings on them such as pillows saying 'the dog sits here, move over' or door mats telling you to 'ring the doorbell because the dog needs a workout.'"
She adds that more and more vendors have begun to offer a great variety of pet items these days.
"There are so many pet lovers out there, it's a great pickup item. They are great impulse items at a very low cost. I honestly can't believe how hesitant I was to carry these products, and now they are one of the first things I look for in catalogs and during the ordering process."
You too can make pet products a part of your store offerings. With toys, treats, accessories, shampoos and gifts for pet lovers, the possibilities are doggone limitless.