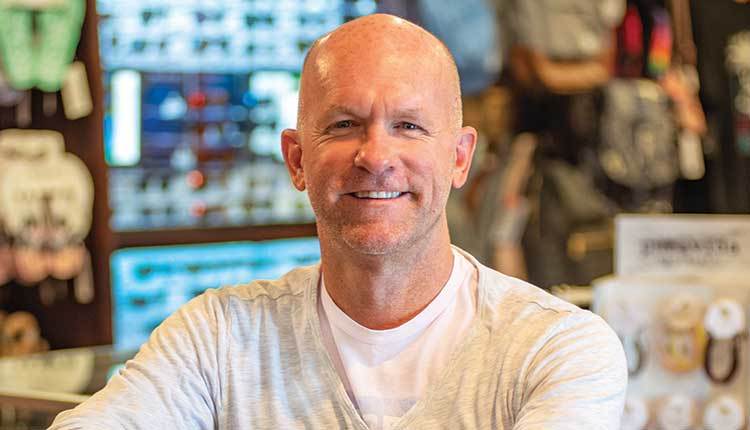 Ever since his family moved from Michigan to Florida in 1984, Toby Delbridge dreamed of owning a surf shop there one day. As a teenager, he'd walk to the beach every morning to skimboard for a while before heading to work or school.
His family-owned other retail stores in the area, but "they didn't have a lot of faith" in his business idea — at least, not until they met some friends who owned a beach store a bit further up the west coast of Florida.
"They basically showed my family how to be successful in the beach business," says Delbridge, who still maintains close ties with these friends as part of a growing network of coastal retailers in the region who mentor each other by sharing merchandising ideas.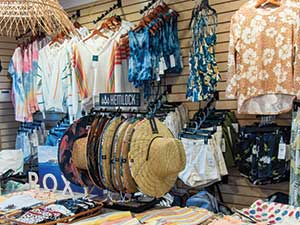 With their guidance, on Aug. 25, 1989, his mom and aunt opened Barefoot Trader Inc. right across from Englewood Beach, where Delbridge grew up skimming. "It wasn't easy in the beginning, but we all pitched in," says Delbridge, who worked at the store all throughout college, selling swimwear, beach apparel, souvenirs and accessories. "We were committed to making this store a success."
Back then, Englewood was "a quiet little beach town" on the Manasota Key peninsula. "It's somewhat isolated from larger cities, so there's no transient traffic; it's all locals," Delbridge explains. Because of that, it took several years for the store to build a following by maintaining a steady schedule and staying open from 9 a.m. until 9 p.m. seven days a week.
"When we first opened, back in the days of rabbit-ears television, we used to watch TV [in the store] because it was very slow. People said, 'You're never going to be able to make it, being open all those hours,'" he recalls. "But we slugged it out, and now we're busy all the time, 'til the minute we close at night."
According to Delbridge, it takes time to train people that "you're going to be consistent, that you're going to be available, that you're going to be here for them and have the things they want and need. That consistency and perseverance has been key to our success."
Growing the family business

In the 32 years since Barefoot Trader opened, Delbridge has slowly expanded his portfolio of retail shops in Englewood.
After finishing college, he partnered with his mom and aunt to create a shopping village of other stores until a developer made them an irresistible deal to buy the property a few years later. At that time, Delbridge says, "the real estate market was going crazy," so he became a residential real estate agent, leaving his mom and aunt to run the store.
Then, a chain of events catapulted Delbridge back into the family business. First, when his mother died, he inherited her half of the company as a silent partner. Then, around 2012, his aunt wanted to retire and move to the Bahamas.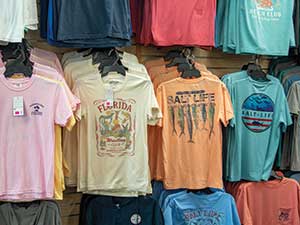 "That's when I decided to come back into the business and buy her out," Delbridge says. "My kids were in school, and it was nice to go back into retail because it offers a little more flexibility, and it's definitely more of a family environment. Real estate is very hustle-bustle and more demanding of your time."
About a year before buying the business, Delbridge opened a surf apparel shop called Beach Company in an adjacent family-owned property. Located "100 steps from each other," with just a restaurant between, the two stores offer a complementary assortment of merchandise, each with distinct atmospheres.
Barefoot Trader's 2,800-square-foot space supplies "everything you need for the beach," he explains, with essential items like swimwear, flip-flops, sunglasses and souvenir T-shirts topping his list of bestsellers. A wall of toys keeps children occupied while families shop for vacation keepsakes, contributing to the store's family-friendly feel.
A few doors down, Beach Company features more of a boutique approach with an "edgier surf" vibe. The 1,100-square foot space is filled with premium surf brand sportswear and hard goods like skimboards, leashes, wax and hammocks.
"Beach Company became an extension of our floorspace at Barefoot Trader," Delbridge says. "We started Beach Company because there were a lot of lines that we wanted to carry that we just didn't have room to do properly. It allows people to discover [both stores] because we have no overlap of merchandise."
The close proximity provides plenty of opportunity for cross-promotion between the two stores — enabling Delbridge to expand his retail reach without being redundant.
For example, Barefoot Trader carries men's OluKai sandals, but shoppers must visit Beach Company to find the women's line. Likewise, "at Beach Company, we don't have space for all the beach gear, so we don't have chairs, umbrellas, and things like that," he says.
Around 2016, Delbridge also purchased the Old Florida Gallery. The art consignment store is located in old downtown Englewood in the oldest historic building on Dearborn Street, which dead-ends into Lemon Bay on the backside of Manasota Key. With more than 60 artists on consignment, plus a variety of gifts and art classes, the gallery offers Delbridge another opportunity to point tourists toward a nearby shopping area.
Building a community

Over the past decade or so, Delbridge says the entire west coast of Florida has seen a surge as tourists seek less crowded alternatives to typical vacation spots. "It's being found because it's comparatively unpopulated — tons of beach and very few people," he says.
Although the Englewood area has grown considerably with the addition of fast food chains and a few big box stores, "it's still a very small town," he says — predominantly inhabited by retirees from the Midwest.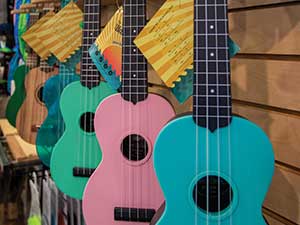 "What's unique about our area is that we don't have any big hotels," Delbridge says. "You either stay with your grandparents or you rent a condo for the week. Most of the families that come to our store have been coming here since they were kids and now they're bringing their kids down. It's multigenerational tourists from the Midwest; that's our typical customer."
Manasota Key also draws a lot of in-state tourists from central Florida who spend summers at the beach. This unique blend of local traffic and traveling families keeps Barefoot Trader busy all year long.
"Our high season typically goes from Valentine's Day to Easter," Delbridge says. "We used to be extremely seasonal, but now it goes all the way through summer. Our only slow time is the beginning of September until about October."
Delbridge advertises in some local publications and uses Facebook and Instagram to promote his companies, but his longstanding community relationships are what drive his business. He supports the local schools' athletic programs, theater groups and other types of fundraisers. He also gives a 15% discount to locals who work on the peninsula.
"Connecting with the locals is important to build that confidence," Delbridge says, "so when people see someone wearing a hat or a pair of flip-flips and ask, 'Hey, where'd you get that?' we want them to say, 'Barefoot Trader,' so we can get a positive referral from that."
It's not just locals who bring their repeat business to Barefoot Trader, though. "It's shocking how much return business we get from tourist customers year after year," Delbridge says, referring to families who have vacationed in Englewood through the generations. "It's great to have that kind of legacy."
Sharing his passion

Between all three of his stores, Delbridge employs 22 people. This includes a seven-person management team — five of whom manage Barefoot Trader and Beach Company while the other two are artists-in-residence at the Old Florida Gallery. "Most of my managers can open all the stores, just in case there's any issues," Delbridge says. "It allows us flexibility because managers can take vacations and we still have good coverage."
The remaining 15 employees rotate between Barefoot Trader (which typically staffs three to four employees at any given time) and Beach Company (which is staffed by a single person).
Instilling a professional work ethic in his staff is a top priority for Delbridge, who employs a fairly young team of employees and managers who are almost all under age 30.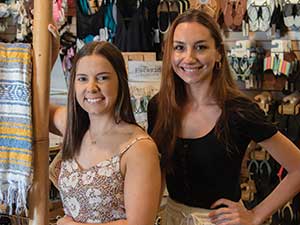 "Keeping employees motivated, educated, and moving toward the goal of great customer service is so important," Delbridge says. "A lot of people think that our industry is just a temporary stopover for a job, and I want them to understand that, yeah, it's just a beach store, but you're really building something for yourself. I always tell people, 'I don't think you're going to retire from Barefoot Trader, but I hope you take what you learn here as a benefit toward whatever it is you end up doing.'"
In addition to providing education about basic retail skills for his staff, Delbridge takes employees along to trade shows like Surf Expo after they've worked with him for at least six months. "That serves best to show people that this really is a profession, and it could be a career for you if you choose," he explains.
To reward his team for all their hard work, Delbridge also plans annual trips for employees who have worked there for at least a year. Past trips have included destinations such as the Bahamas, the Florida Keys and Disney World. This year, he's combining a trade show and team-building trip into one valuable experience for his entire staff.
"My employees voted to go to Halloween Horror Nights [at Universal Orlando], and it's the same weekend as Surf Expo," he says.
Although the times have changed and the styles have shifted since his family first opened Barefoot Trader, Delbridge says that the strength of his team and the success of his store are all thanks to the lessons he learned from his mom.
"The way I fashioned my business is that we have to have a servant mentality; we have to facilitate everybody's happiness, from the customers to the employees," he says. "My whole outlook is that if you take care of your employees and your customers, they're going to take care of you. That was my mom's best lesson for me, and that's the most important thing to practice."