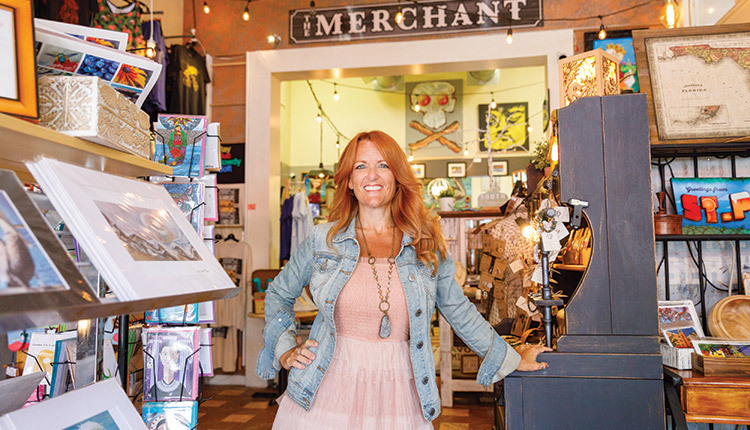 The Merchant - Purveyor of Local Goods has been on the same Central Arts District block in downtown St. Petersburg, Florida, for about three years. When a larger retail space became available just a little further down Central Avenue in the neighborhood's 1920s-era Crislip Arcade shopping corridor, shop owner Jennifer Schultz jumped at the chance to stretch The Merchant in new ways.
The Merchant began as a gift shop and art gallery with an emphasis on locally made soaps, jewelry, apparel, woodwork, ornaments, jams, chocolates, craft beers and cheeses. Colorful paintings, sculptures and murals decorate the walls. The new 1,600-square-foot space means the food now has a more prominent role with an in-store niche called Crislip Cafe.
Local appeal
Much like the artwork and retail goods in the store, the cafe keeps its vendors local to the Tampa Bay region. Coffee is made with beans from Tampa-based Joffrey's Coffee & Tea Co. Pastries are from local bakers, including Southern Bay Bakery, Pop Goes the Waffle and Bella's Bakes, Cakes and Bagels, all of St. Petersburg. And artisanal chocolates are from Viktoria Richards Chocolates of New Port Richey.
"It keeps people there, leisurely perusing the store," she says. "It gives it a homey feel that says, 'Come stay for a while.'" — Jennifer Schultz
The cafe's modest kitchen turns out bagel and croissant breakfast sandwiches, gourmet cheese and chocolate fondue and artfully arranged charcuterie boards, all of which can be enjoyed inside the store or at seats throughout the historic open-air Crispin Arcade.
"I think the most important thing to us is to find a way to have a business that's not just supporting us and our employees, but also our community," says Schultz, who owns the store with her husband Kevin. "How do local artists find a home for their work? We want this to be a place that will support an artist or a maker's lifestyle, who then will go and redistribute their income into the community."
Innovative marketing
As pandemic-related restrictions lift, The Merchant will host more social gatherings, such as live music, poetry readings, afternoon tea service and pairing events for chocolate, wine, beer and cheeses. Schultz hopes patrons will think of The Merchant for catering picnics and baby showers.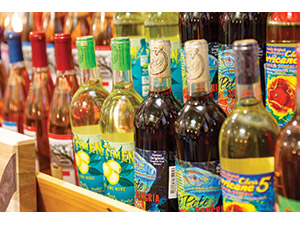 Photos: Aaron Lockwood
To get the word out about The Merchant's expanded offerings, Schultz is updating the store's website, increasing its social media presence, watching online reviews and investing in geofencing advertising near big waterfront hotels and residential high-rises. Geofencing uses location-based technology to trigger targeted ads when a mobile device user enters or leaves a predefined location.
The Crislip Arcade's unique orientation on the city block means The Merchant can be accessed from the Central Avenue storefront or a quaint tiled breezeway. The retail portion is visible from big windows to the street, while the cafe beckons with the smell of fresh coffee and baked goods wafting through the corridor.
The Merchant also has a kiosk on the nearby St. Pete Pier, a local landmark that extends into Tampa Bay from St. Petersburg. That smaller location sells souvenirs that appeal to waterfront tourists, like T-shirts and local soaps and honey. Shoppers who want more selection or something to eat or drink, are encouraged to visit the flagship store.
Attracting attention
The Merchant's food and beverages have drawn social media influencers searching for new, photograph-worthy treats to share with their followers.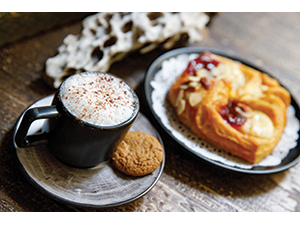 Menu items popular with the online crowd include the Light My Fire smoked marshmallow mocha, which features torched marshmallow cream and graham cracker crumbs; Purple Rain, a latte with honey, vanilla, lavender syrup and delicately placed lavender buds; and "jarcuteries" — all the sweet and salty snacks of a charcuterie board, arranged as individual servings in Mason jars.
Shultz says, "We're always thinking, 'How do people know we're here?'"
For other seaside retailers who might consider including food or drink into their inventory, Schultz suggests starting small to see how it goes. Even providing coffee, tea or wine enables a "sip and stroll" environment, she says.
"It keeps people there, leisurely perusing the store," she says. "It gives it a homey feel that says, 'Come stay for a while.'"