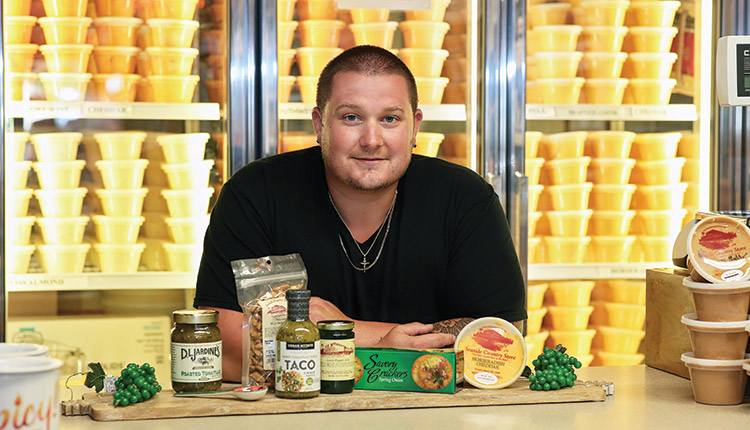 Seaside Country Store's homemade horseradish cheese spread, fudge, peanut butter, jellies and jams have lured coastal visitors off Fenwick Island, Delaware's Coastal Highway, and into the barn-red landmark since 1969.
Four generations of store owner Amy Vickers' family have worked there, from her grandparents, aunt and uncle to her own sons. The 10,000-square-foot space is stacked high with sundry souvenirs, beach gear, bath soaps, nautical homewares and holiday decor. But before visitors can explore the trove of seaside treasures, they can't miss the inviting scents of cheese and fudge.
"We get a lot of tourists since we're a block from the ocean. They're looking for entertainment, gifts, something to decorate the house," Vickers says. "They walk into the food room first and get to smell all those aromas."
Vicker's son and manager, John Cordeaux, says, "People come in for the cheese, fudge or jellies, and then once they get in the store, they see everything else we have."
Homestyle, locally made
Vickers is often behind the kettle making fudge to be sold by the piece or the pound. The store sells more than 30 flavors of fudge, including key lime, pumpkin and Creamsicle. Fudge add-ins can be walnuts, pecans, caramel, chocolate candy bar pieces and brownie or cookie bits.
The store's spreadable horseradish cheese is world famous, according Vickers and Cordeaux. Vickers says if she vacations anywhere else in the country and mentions where she's from, folks always mention the store's iconic cheese spread. The same thing happened to Cordeaux in Costa Rica.
"I think that's why people love the store because it is such a different experience than just walking through a clothing or decor store." — John Cordeax
"It's just the perfect combination. It's not too much. It's not overwhelming," Cordeaux says of the horseradish cheese spread.
The cheese is sourced from Wisconsin, and the store makes its own horseradish. Cordeaux creates the different flavors by mixing in the ingredients into the base cheese in-store. There's the horseradish, which is the store's best seller; jalapeno; Chesapeake Bay, which is similar to Old Bay seasoning; Southwest fiesta; Swiss almond; port wine; and sharp cheddar.
Vickers says the store's proprietary cheese has the consistency of pub cheese brands you might find in the grocery store but not the same taste. The cheese spreads are sold by the pound and packed by hand into plastic tubs with the store's logo printed on top. Homemade peanut and cashew butter are also for sale.
The store brings in popular regional food brands, including marinades, crab seasonings and flavored nuts from Virginia's Blue Crab Bay Co. Chocolate pretzels, malt balls and chocolate-covered potato chips are shipped weekly from Asher's Chocolate Co. in Pennsylvania. Seaside Country Store also stocks more than 80 different types of jams, jellies and preserves, including apple butter by McCutcheon's Apple Products Inc. of Maryland.
The food options at Seaside Country Store are an essential part of the shop's nostalgic atmosphere. One of the store's specialties is novelty candy from a bygone era, including candy necklaces, candy cigarettes, an array of licorice flavors, Necco Wafers and Turkish Taffy.
The shop's tagline is "The most unusual store on the shore!" The eclectic mix of collectibles, tchotchkes, antiques and tasty treats is part of the Seaside Country Store's history. It brings generations of visitors back each season to make their own memories. The food and beverage components of the business are inextricable from the retail goods aspect of the store.
"People are getting beach houses, they want to entertain and they want to bring gifts home. Let's say you get our cheese or you get one of our salsas. We have a platter to go with it or a charcuterie board and that draws customers around the entire store," says Cordeaux.
While there are plenty of retail stores that line the beaches of Delaware, you aren't likely to find anything like Seaside Country Store. "I think that's why people love the store because it is such a different experience than just walking through a clothing or a decor store," says Cordeaux.
Modern-day travails
The coronavirus pandemic posed a number of challenges for Seaside Country Store. Food sampling, for example, requires greater caution.
The supply chain for store products has been impeded by the pandemic, too. Food stock like preserves and sesame sticks have been on backorder, and suppliers have had their own issues, like not being able to source the glass jars in which the food is packaged. And then there's the issue of having enough staff to make, serve and ring up the store's goods.
"This is our 52nd year. We're a family-run business," says Vickers. "My family works here. Our friends work here. Without family and friends, I don't know what we'd do."