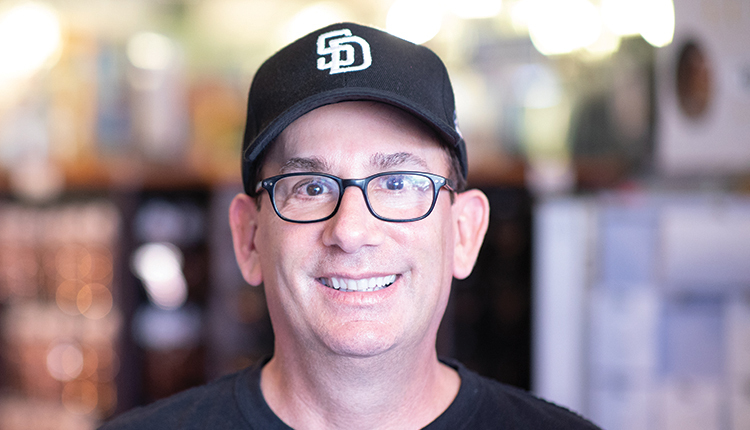 What started as a fun part-time summer job at La Camisa, a 1,245-square-foot oceanside gift and souvenir store in Coronado, California, soon turned into a full-time one for Rob Perales. Twenty years later, he officially became the owner in 2020, buying it from his old boss when he retired.
The location is ideal, right at the Ferry Landing Marketplace, a dockside stroll area full of shops and eateries. Every half-hour during the peak summer season, ferry boats full of tourists arrive. "The boats can hold up to 300 people, and they dump them all off right in front of my shop," says Perales. Pretty sweet!

Bracing for bracelets
Jewelry is a popular category for the store. It's best-selling brand is easily Pura Vida, the unisex corded bracelets created by fair trade artisans all over the world. The brand has expanded to include necklaces and earrings, and La Camisa carries them all.

"When the teens and the college kids come in and see the display, they say, 'Oh look, they have Pura Vida!'" says Perales.

They know that 10% of the proceeds will go towards environmental causes, which is part of the appeal, according to Perales.
"We sell them to 10-year-olds up to full-grown adults, both men and women," says Ruth Hengst, Perales' right-hand Jill-of-all-trades who is in charge of the jewelry ordering. "Their silver wave bracelets are really popular."

"I've seen other stores put jewelry inside cabinets, but they don't sell because customers want to be able to touch things." — Rob Perales

When Perales first got the line, he could barely keep it in stock. "We started with just one small display, then doubled and tripled it." And then COVID hit.

"Everything came to a standstill," says Perales. "We were closed for two and a half months and went back to just one spinner, but so far, we've had a really strong spring break."

This summer, he's planning on adding back that second and third Pura Vida display.
Lumiela name necklaces by Mulberry Designs are also in high demand. "The rep told me that it was her hottest new line," says Perales. "They're beautifully packaged, and feature girls' names and initials. We got them in on a Friday and sold 30 to 35 that weekend alone, which was incredible."

Another jewelry line that's been a strong seller for the store is rose-gold-filled jewelry by Wayne Carver, which retail for $9.99.


Something for everyone
Families on vacation make up a majority of La Camisa's customers, so anyone from young kid to older adult can be found checking out the jewelry selection.
The low price, ranging from $3.99 for the cowrie- and puka-shell anklets, necklaces and bracelets is favored by kids under eight. Up to $20, puts it within an allowance-getters budget, notes Perales.
"Puka-shell necklaces have always been tried-and-true for us over the years," he says. "Right now the kind with thin shells are selling well."

Hengst adds, "Cowrie shells and sea turtle earrings are big, too."
Teens and tweens love the shark-tooth necklaces, and so do the guys.
"We keep them around 365 days a year," says Perales.

The 1970's mood ring fad has not gone out of style inside La Camisa. Perales says today's kids are just as intrigued.

"They change colors when you put them on your fingers and come with a little chart that tells you what mood you're supposedly in, depending on the color," says Perales. "We have them in mermaid and unicorn designs, and they're strong sellers with the youngsters."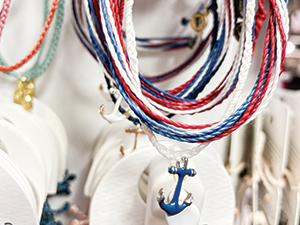 Photos: Amy Gray
The store also attracts a lot of military because of the large naval base nearby. These customers tend toward the more nautical styles.

"The anchor bracelets we have sell really well," says Hengst, "Especially because we've got a lot of military here. They're not specific toward any branch, but they are red, white and blue."

The compass motif is another Navy and Marine Corps fave. "We sell a lot of them, especially as charms," she says.


Displaying the bling
As for showing off the jewelry offerings, "the spinning racks are the most efficient and nice-looking," according to Hengst.

While many store owners keep easily pocketable items under glass to prevent theft, La Camisa keeps bracelets on top of a front counter. "I've seen other stores put jewelry inside cabinets," Perales says. "But they don't sell, because customers want to be able to touch things."

Pura Vida has come up with a compromise with displays that have bars that are locked at one end.
"It works well because customers can still touch and feel the product," says Perales. "When they're ready to buy one, we unlock it."
Perales shares this advice, "Listen to your customers. They're going to tell you about what's trending, especially the younger ones. A lot of the merchandise in my store is there because people came in and asked for it."