Denise Quinn wasn't quite ready to retire from the retail jewelry business when she and her husband decided to settle in Cape Cod.

They found a spot on Main Street in the historic seaside town of Falmouth, Massachusetts. Gilded Oyster has been well-received, and is heading into its third summer.


Precious metals and memories
The store is almost completely devoted to coastal and nautical-themed jewelry, the vast majority of it in 14-carat gold or sterling silver. There's a small section of jewelry from Ireland.
Quinn says that despite gold prices being at a record high, "if people like gold they're still treating themselves and buying it."
For gemstones, Quinn says, "We stick to the blues: stones in the colors of the sea, topaz and larimar and aquamarine. And diamonds of course! They look great in coastal jewelry."
"The feel is more like someone's living room as opposed to a sterile, traditional jewelry store."— Denise Quinn
While some people want what's on-trend, just as many want that one-of-a-kind piece that no one else has.
"We have a lot of pieces that are unique to us," says Quinn. "My son Corey (a goldsmith who trained in Florence, Italy) designs some of them as well as local artisans."

She's also designed a few herself.

A piece of the cape
Quinn says that her customers "want to take a piece of the Cape home with them," like the store's number-one best seller, the Cape Cod bracelet by Lestage. It's a sterling silver cuff with sterling or gold balls that screw on.

"People say the ball on it is like the beacon of the lighthouse or the cranberries that are grown here," she says. "We carry them in all sizes, as small as a baby or toddler all the way up."
The number-two seller is the Cape Cod Destination bracelet, with two C's for Cape Cod hooked together "to represent the hook that the Cape has on your heart," says Quinn.
Other big sellers are anything with a compass motif. "People like them because the compass is the thing that guides you in the right direction," says Quinn. "They buy them for graduations or for someone that's struggling."
Anchors are another customer favorite. "They symbolize stability and security," Quinn says. "We also sell a lot of starfish, whale tails, turtles and sand dollars."
Not all beachy symbols have proven equally popular but one previously dropped motif is making a comeback. "We used to carry a lot of mermaid things but they didn't sell so we retired them. Right now everybody wants mermaids, so we're bringing them back."


On a pedestal, but approachable
The offerings in the 1,000-square-foot showroom are housed in square glass showcases atop whitewashed oak podiums. The stands are vintage style, made of antique wood.

"The feel is more like someone's living room as opposed to a sterile, traditional jewelry store," Quinn describes.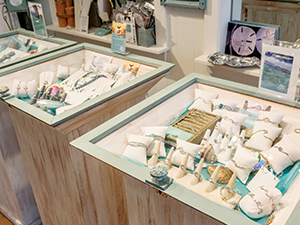 Photos: Brian Stearns
Each case has a theme. "If they want starfish, they can just go right to that specific display," she says. "There's also a story card to go with everything. My daughter wrote all the stories. Customers love having a story to go with their purchase."
A pair of hutches with big glass doors that Quinn found on Craigslist houses designer pieces. One of them is dedicated to local artist Tom Kruskal. "He makes wave-inspired pieces that people just love," says Quinn. The other hutch carries pieces from E.L. Designs, featuring all-woman silver and goldsmiths.
The cases are locked, so customers have to ask to see something. "But we try to be very approachable so the customers feel comfortable," says Quinn. "We walk the floor with them as they look around. We're always interacting with them."


Something for everyone
Quinn strives to have something in the store that everyone can afford. "We have a lot of things in the under $50 price point that appeal to the younger crowd," she says.

Some of those lower-priced items are on the big round table in the middle of the store, such as some beaded jewelry and those $20 sterling silver stud earrings. The table is the one area where customers can touch and handle items. It also holds Cape Cod map necklaces, bracelets, rings and earrings in sterling silver and gold plate from Capeology, a company owned by a local female designer and artisan.
The largest buyer group is women over 45. "They have disposable income and they buy for themselves, their daughters and granddaughters," says Quinn.
For men she has engraveable cufflinks and shark, anchor and compass bracelets.
When the quarantine was lifted, people started coming back to the Cape, says Quinn. "They wanted to treat themselves to feel better, so we had a fairly busy summer, and a great December because people wanted to shop locally and keep their stores open. So, pandemic and all, we're still here."