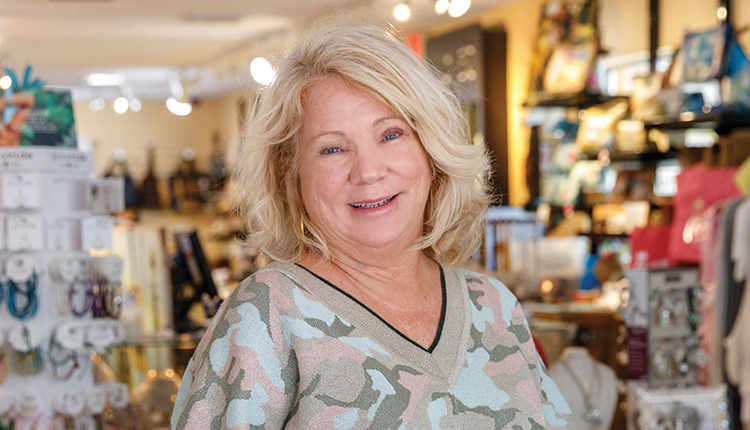 Opening BoTiki in Gulfport, Florida, has been a dream come true for Maddy Guenther. Twelve years later, she's still having fun "playing store" as she refers to it. The name is a play on what she wants the store to be, "boutique-y."

"I absolutely love it," she says, "and it's been very cool to watch it grow. It's like this was always meant to be."


Passion project
BoTiki's offerings include coastal-themed jewelry as well as home goods, clothing, bath and body items, candles and more.

"I have a lot of beachy jewelry, like the larimar stone items. Larimar is very coastal because it's got that lovely ocean-blue color," says Guenther.
Ocean creatures inhabit BoTiki in the form of turtle, seahorse, starfish and sand dollar jewelry with dolphins being a customer favorite. "We have a lot of dolphins in Florida, that's probably why they're so popular," says Guenther.

"I put things wherever they look best. If a piece of jewelry works well with other merchandise, that's where it'll go." — Maddy Guenther
For the most part, Guenther sticks to jewelry from quality brands such as UNO de 50, Spartina, Brighton, Alamea Hawaii, Ti Sento and John Medeira.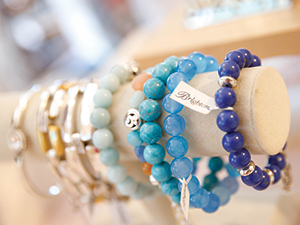 Photos: Aaron Lockwood
Her best-selling jewelry line is Brighton. "Customers just love it, it's got a tight-knit following," says Guenther. She describes the Brighton customer as a professional woman around 40 years old who has a conservative style.
BoTiki's jewelry customers gravitate toward silver more than gold, "although gold is definitely coming back," Guenther says. "We do have a little bit of gold in the Ti Sento line from Milan."


Mixing it up
While certain brands have their own dedicated sections, Guenther likes to "mix things up." So, she'll display jewelry all over the store, interspersing it with other goods.

"I put things wherever they look best," she says. "If a piece of jewelry works well with other merchandise, that's where it'll go. For instance, I'll show a Johnny Was top with a necklace that goes great with it."
As much as possible, Guenther likes to keep BoTiki's merchandise out in the open, including the jewelry.
"People like to touch, so it's important to keep things accessible, even if the items are kind of expensive." Security tags help prevent five-finger discounts.
A wide range of prices, from $20 up to $600, assures everyone can find a souvenir to take home, including men and kids.

"We have a men's section with jewelry and wallets and shirts and some odds and ends to keep them busy," she says. "And we always have complimentary beer and wine at the rear of the store."

For the teens, tweens and even younger patrons, there's items by Alex and Ani and bracelets from Pura Vida and 4Ocean.


Pandemic pivot
Like most retail stores, BoTiki had to close for a few weeks at the start of the COVID-19 pandemic. "I thought, 'I have all this merchandise — how am I going to sell it before it gets stagnant?'" recalls Guenther.

She didn't yet have an e-commerce website. "I realized that I had to get this stuff online, so I hired somebody full-time to help me with that and handle the social media."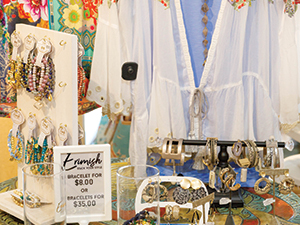 Still, Guenther missed her brick-and-mortar. "It was a depressing time," she says. And then she had a brainstorm. "I started holding private parties inside BoTiki with just a few people, catered with food and drink from O'Maddys (also owned by Guenther)."
At first they were very small, just two women, but then it grew. She also added home delivery and curbside pickup.

Even with all of Guenther's experience, owning a seaside store "has been a learning curve," she says. "But the store is my love."

Her passion is obvious when you take in the beautifully arranged, colorful emporium that BoTiki has become.
I guess you could say that "playing store" has worked out well for Maddy Guenther. The end of the pandemic will hopefully see her keep on playing to even greater success.