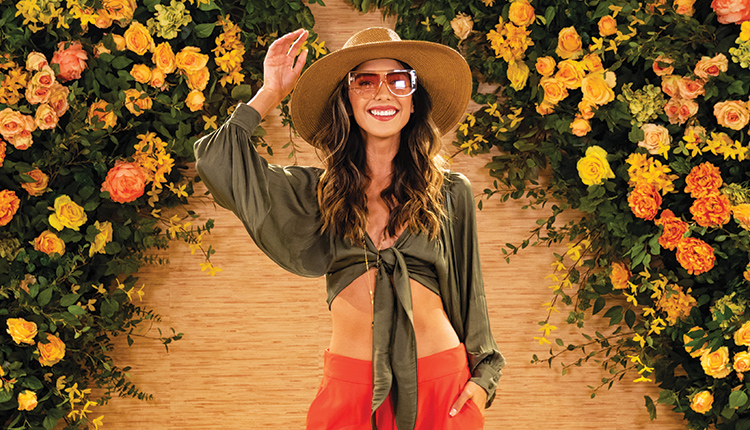 Your customers' preferences are ever evolving, from the styles they wear to the accessories they sport. As a store owner, staying up on these evolving trends keeps you relevant and makes your store a certain stop when it's time to find the perfect ensemble for a day out on the boardwalk or a lazy day by the pool. Atlanta Apparel helps provide insight into the latest fashions, through fashion shows, look books and other resources that correspond with its seasonal markets.

Morgan Ramage is fashion director for International Market Centers/Atlanta Apparel. Her trends reports for Spring/Summer and Fall/Winter are go-to guides for buyers who want to know what styles, colors, prints and textures will be prominent in the upcoming seasons.

She organizes 25 fashion shows per year, from large productions to smaller daily shows, during Atlanta Apparel. During the COVID-19 pandemic, those shows have gone virtual, consisting of look books, photo shoots and virtual fashion shows on social media platforms, including the Instagram video application IGTV. She also hosts a trend insight series where she speaks to buyers on what to look for, how to buy and other helpful tips before they arrive at the markets.

"I typically work to pull together the must have items: the key trends in apparel, footwear and accessories. We put that into an installation on-site that can be viewed in-person so buyers can touch it, see it and feel it," says Ramage. "We also create an email version and a look book they can take with them on-site to shop the show."
She shares more with Seaside Retailer on the trends that are emerging in 2021, including the looks you'll want to consider for the coming seasons.

Trend #1
A great escape
One key theme that has emerged during this period of staying at home is destination dressing. People are ready to dress up again and feel a little fun and a little escaping of our current situation.

We are seeing people starting to travel again. A lot a lot of these travelers are wearing really fun, saturated print sets, sarongs, bralette tops, two pieces and skirts.

People are dressing as if they are going to Cabo or coming down to the beach. They are dressing up to get away.


Trend #2
A breath of fresh air
The key colors we are seeing are sunset hues. Think yellows, reds and oranges that are very vibrant and bright. With all these months spent in lockdown, people are ready for a little breath of fresh air, so we are seeing these very saturated colors.

Trend #3
Comfy clothes
Another key theme is comfort. Everything is oversized. We obviously want to stay comfortable.
We are still very much working at home and being in this home life that we've created. We are seeing a lot of boxy shoulders and very oversized silhouettes and dresses.
Trend #4
Boho oh yes
Boho artisanal is another theme. Being at home, we reverted back to that original, handcrafted homemade looking feel. We are seeing a lot of boho come back in full form dresses and maxi skirts, macrame and crochet, something that looks handmade.

We're also seeing the artisanal rope and tie detail. It is very niche, but we are seeing a lot of tops and bottoms having that accented piece of rope ties and similar details. Embroidery is also part of the boho trend and it can be seen in everything from clothing to footwear and accessories.
Trend #5
Taking the plunge
In swimwear, asymmetrical straps is a big trend, still high-wasted and one pieces are trending. Plunging necklines is another swimwear trend we are seeing.

Trend #6
More for the money
As far as coverups, people are wanting to get more for their money, so beach shirts are huge — the big oversized, retro, resort-y coverups like your boyfriend's oversized pocket shirt. It can be worn as a coverup. Tied and worn as a top or worn as a dress.
People are interested in getting more for their money. It is coined as a beach shirt and it can be sold in a set with a bathing suit in the same print.
Women are wearing very feminine, long, oversized and exaggerated kaftans that can almost be worn over an outfit and belted. It's about maximizing the dollar.


Trend #7
Ocean oriented
Accessories are taking a lot of direction from the ocean. The wellbeing of the ocean is a key conversation across a lot of categories but it really affected accessories.

Cord and rope are huge as are netting, macrame and crocheted items. Seashells are huge accents on bags and jewelry as are pearls.

Daisy motifs are also huge across footwear and accessories. Slides and flats are key right now. These may be in a woven material.


Trend #8
Going to the extreme
There are two extremes when it comes to prints. You have the saturated colors in the destination dressing and then you have those earthy, mellow tones of the boho look, so it's kind of like two directions: intense infused colors and earthy, natural muted tones.


Trend #9
Versatile and adaptable
The overall arching theme for fall is that there is still a need to keep all our styles that we are purchasing really versatile and adaptable because people want to create longevity in their wardrobe.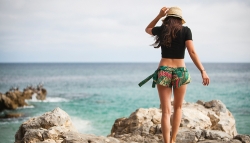 It's no longer about buying tons of frivolous trend pieces. People are really investing in what they are wearing and being conscious about what they are buying.
Across the trends people are getting more for their money.


Trend #10
Safe colors
Strategic color choices are essential for cost-conscious consumers. Look for rich neutrals, berry/plum accents, steel and bright blues and dark greens.

We are not seeing a ton of surprising colors for fall, we're seeing a lot of safe colors that are transseasonal like rich caramels, khakis, tans, taupes and whites — very safe colors. Certainly The Colors of the Year, Illuminating (yellow) and Ultimate Gray, will be big for fall.

Expect to see mustard yellows and emerald green. Neutral gray, taupe, tan, cream and buttery colors are trending. Specifically, the Autumn/Winter 2021 Trend Report shares these colors: Green Sheen, Rose Tan, Ultramarine Green, Magenta Purple, Classic Blue, Almond Oil and Sleet.



Trend #11
Making a statement
People do want to start dressing up again so we are seeing little glimmers of that in statement sweaters and blouses. They are taking you from day to night.

These sweaters and blouses are perfect for Zoom calls that focus on the waist up, but then they can also be dressed up to get out and about at night.

Statement sweaters with pleats, ruffles, embellishments that can be dressed up or dressed down or blouses with beautiful necklines and collars pop in a Zoom screen and are popular.

These statement pieces can be dressed up or down with denim, dress pants or a skirt.


Trend #12
The knitty gritty
Knits are huge across the board because of that call to comfort, but designers are making a premium knit.
Think really beautiful cashmere sets, lounge sets that can be a skirt and a sweater or a pant sweater option. There's a plethora of ways people are doing this. They're even doing shorts and a sweater set, but it is that premium, elevated knit option.


Trend #13
In touch with nature
We are also seeing a ton of what we are coining blanket dressing, so long layers over layers, very comfortable, things with long lines and fringe that almost look like you are wearing a blanket as a piece of outerwear.

Huge weather-proof, quilted coats are big as people are getting back into nature.


Trend #14
Make it easy
The lounge or "slounge" dress is a huge trend for fall. It's something that is comfortable, A-line and easy to throw on and go. Everyone can wear it and you can dress it up or dress it down.

Dresses themselves are trending for their easy appeal, and every body type can wear them. There is a need to keep styles versatile and adaptable to create longevity in our wardrobes as well as the need for comfort to satisfy our stay-at-home style.



Trend #15
Adding flare
The boho trend from spring is also carrying into fall. We are seeing a lot of '60s and '70s inspiration. Flared pants are coming back: cropped flares, denim flares. The folk embroidery is also inspired by the '60s and '70s.


Trend #16
Shoe essentials
Shoe styles are taking direction from our growing interest in the great outdoors and the "home hub" life we are leading. We are seeing a lot of stylish sneakers come out, cozy slippers, clogs and the Chelsea style boot for fall. They can be dressed up to be trendy but they are also great for going out and playing with your kids.


Trend #17
Playing it safe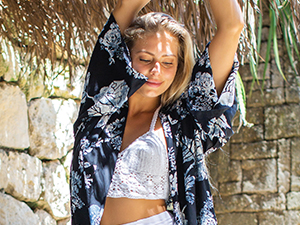 With accessories, people are playing it safe. They're really investing in classic accessories right now that can be multifunctional. You can use them during the day, they can be layered and be worn at night.
We are seeing a lot of fun face masks and chains. Classic, gold, chunky jewelry can be seen in a virtual world. Keep accessories classic, seasonless and multifunctional.
Trend #18
Making a comeback
The silk scarf is also coming back because as people are investing in very neutral color palette clothing, the way to make that feel fun and fresh is to throw a big silk scarf over it.


Trend #19
Patterns to follow
Dark background florals or water colors that can take you through the seasons are trending as are geometric patterns or anything that is American, hand-painted, handcrafted and natural.