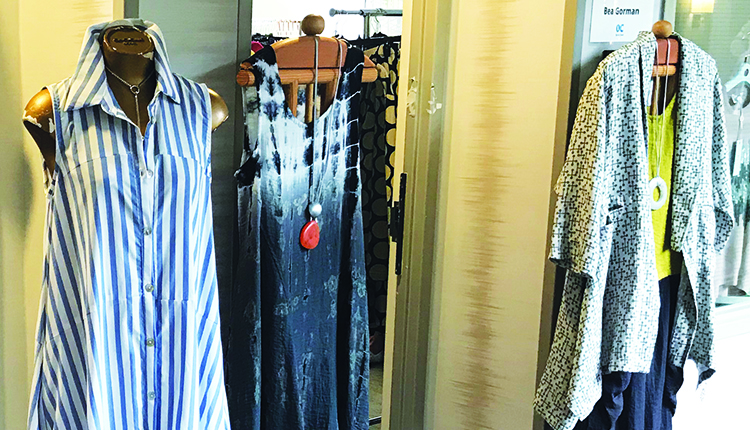 The OC Apparel Show debuted at the Embassy Suites in Irvine, California, May 15-18, 2021. The regional show brought together some 75 brands who converted suites into showrooms, and over 200 pre-registered buyers from major markets in California. Buyers had three floors of showrooms and a ballroom to explore during the event. The show is billed as an Apparel Show that has an Orange County Twist and "a cool and casual vibe with the vendors that you want to see."
The purpose of the show was to bring physical touch back to the buying process, something that has been lacking for more than a year due to the COVID-19 pandemic, according to show organizer Jim Iwasaki, a marketer and longtime retail buyer and wholesaler industry veteran.
"A couple of my reps called me one day and said I think you need to look into doing a show," says Iwasaki. Two days later, he was scouting locations and 20 hours after that, he built and launched the show's website.
Because Iwasaki's background was in men's apparel, the original idea was for the show to focus on men's apparel only, but he says, "I stepped back after I lined up a handful of reps and saw that their lines were very resort-driven: Maui Jim, Reyn Spooner, Olukai and American Needle. The list goes on. At that point I knew that was going to be my pivot. I made a new logo. I bought a new URL and it became the OC Apparel Show. Once we did that, everything fell into place."
An article in the men's apparel magazine MR also helped put the show on the map, according to Iwasaki. A large segment of buyers came from San Diego and popular beach spots in Orange County, including Laguna Beach and Dana Point. Buyers in Redondo Beach, Santa Monica and Santa Barbara also were in attendance, according to Iwasaki. "They're coming from as far north as Lake Tahoe," he says. "It's cool because usually these regional shows stay within their markets."
Iwasaki says the timing of the show led to its success. "I knew having a show in January, February and March was going to be a bust. There was too much uncertainty. We didn't know what was going on with COVID like if there was going to be a spike. We knew there was a vaccine, but we didn't know when that was going to happen."
As a result of the pandemic, retailers were left without all the sizes they needed and apparel presentations that were lacking, according to Iwasaki. Styles had also changed as a result of the pandemic so old stock wouldn't work. He says he figured consumer confidence would return and travel would resume again once the vaccine was distributed.
"I knew spending would pick up and I knew May would be great because buyers need at-once goods," He says.
The next show is slated for Aug. 3-6 at the same location, the Embassy Suites in Irvine, California. Iwasaki says he chose the Embassy Suites because the hotel chain was allowing in-person shows in other locations, "and I knew people were tired of buying their lines on the phone. I knew they were tired of not touching products."
More information about the OC Apparel Show is available online at www.ocapparelshow.com.