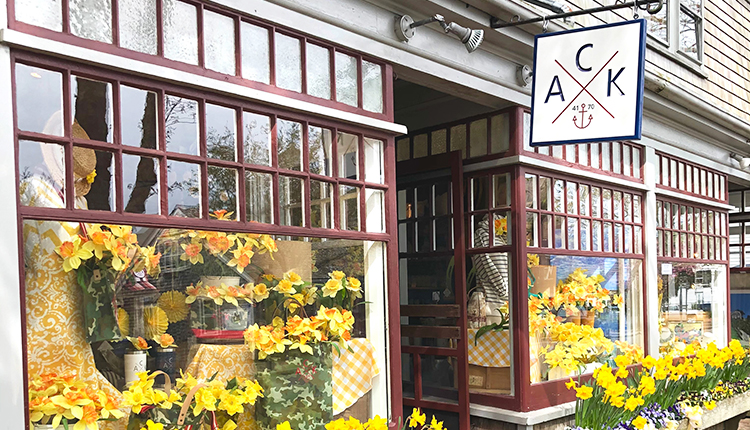 Nantucket, Massachusetts, gift store ACK 4170 is attracting more customers with a new location at 18B Federal St. Owner Susan Fairgrieve opened the gift store on the first floor of a historic home on Easy Street three years ago when she moved to Nantucket from New Jersey. She lived above the store on the second floor.
"Initially, it was a great introduction to Nantucket and an easy move from being out of state, but I had outgrown the space and no longer wanted to live with the store," says Fairgrieve.
The new location, which she moved to January, has provided her with the separation she was seeking and has given a boost to her business.
ACK 4170 usually opens at the end of April when the island has its annual Daffodil Festival, though it has been cancelled the last two years. It stays open until Christmas Eve. This year, however, Fairgrieve decided to open a few weeks early on April 3 because the store was ready. An official grand opening was held April 26, which included a ribbon cutting.
The new store is already showing how busy it can be even in the off season. Many items have sold out more than once.
"Who knew that moving two blocks would be so amazing. It truly is location, location, location," Fairgrieve says.
Federal Street is the only two-way street in Nantucket and on each end of the street are coffee shops, meaning people are constantly walking down the street, explains Fairgrieve. The coffee shops are open year-round while much of the rest of the island's businesses are closed for the winter. Other shops and restaurants also located on Federal Street and open in spring.
Nantucket's tourist season is short, according to Fairgrieve, with the peak of the season being at the end of June and running through July. Things start to slow down in August and then visitors mostly come for the weekends in September and October. A big Christmas event during the first week of December also draws crowds.
The new store is approximately the same square footage as the Easy Street location but it is laid out differently. The former location received People's Choice awards from the local Chamber of Commerce for its window and storefront displays. Now Fairgrieve has even more storefront to work with.
"I have a lot more storefront facing the street so I have a lot more windows. I have two large front windows to display in as opposed to my other store which had one smaller window, so it is great storefront exposure," said Fairgrieve.
She's also featuring new products inside the new store. All the gifts featured are made by small makers and artists "so my store has a different feel from every other store on the island. People like it because it is more local and more handmade."
Fairgrieve features her own photograph in frames, canvas prints and calendars. She also features pictures from two watercolorists. Another artist does colored pencil illustrations of lighthouses. Handmade baskets, soaps and candles with the names of local beaches are also among the assortment of items sold in the store. Embroidered bags, cheese boards, jewelry, apparel and a lot of Christmas ornaments are sold year-round, featured on a Christmas tree.
Many of the items feature the stores' signature logo with letters ACK in a criss cross, which comes from Nantucket's airport abbreviation, and the 4170, which is a shortened version of the island's latitude and longitude coordinates, with a tiny anchor in between.
"The move in store location has inspired me to create a different shopping experience for my clientele," says Fairgrieve. "From incorporating new fixtures, painting previous ones and brightening up the space, it is fresh and welcoming to new and repeat shoppers."
Fairgrieve says the upcoming summer will teach her a lot about location and the move. "Will our clientele change? Some say yes. What we do know is that summer will be very busy with visitors not wanting to miss 'their Nantucket' for a second year in a row."