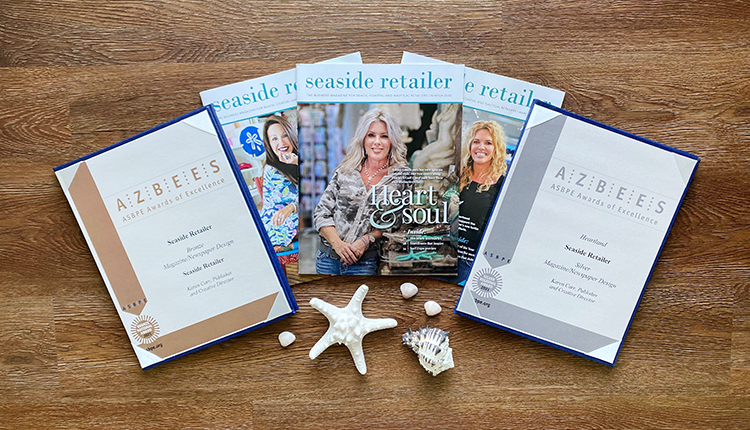 Seaside Retailer magazine has been recognized by the American Society of Business Publication Editors with two AZBEE Awards of Excellence. ASBPE is the professional association for full-time and freelance editors, writers, art directors and designers employed in business, trade, and specialty press.
Seaside Retailer, based in Medina, Ohio, was awarded a Bronze national award and a regional Silver award from the Heartland Chapter both in the Newspaper/Magazine Design category.
Winners of AZBEE awards represent the best of B2B publishing. Seaside Retailer was among dozens of magazines in various industry sectors recognized by these awards.
The Newspaper/Magazine Design AZBEE award category is judged for clear visual hierarchy and design that serves the content and presents it clearly. How well the design quickly conveys important news is also factored into the judging. Judges also consider effective use of white space, color, photography, illustration, typography, visual storytelling and infographics.
"We are thrilled that our design was recognized by our industry peers with two AZBEE Awards of Excellence," says Karen Carr, Seaside Retailer publisher and creative director. "Beach, coastal and nautical retailers place a lot of importance on visual presentation in their stores, so it is important for them to have a magazine that delivers quality design. Seaside Retailer is a reflection of the retail niche we represent."
Seaside Retailer is published bimonthly by Breakwall Publishing, based in Medina, Ohio. A dedicated website, www.seasideretailer.com, and two monthly e-newsletters, Seaside Update and Seaside Spotlight are also part of Seaside Retailer's portfolio of media products. Follow us on Instagram @seasideretailermag.