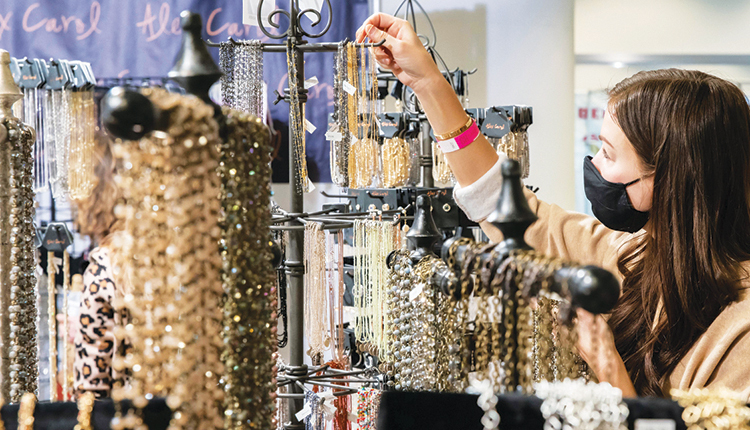 Significant gains in gift showroom leasing for Atlanta Market are indicating a continued rebound for both the semi-annual buying event and the greater gift and lifestyle industry, reports International Market Centers. Some 33 debuts, relocations and expansions in the general gift; gourmet, housewares and tabletop; outdoor living and seasonal categories are set to open among Atlanta Market's 700+ gift showrooms for the July 13-19, 2021 market.
"Upticks in new leases and expansions in the nation's largest gift collection at Atlanta Market are a bellwether for the gift industry as a whole," says Scott Eckman, IMC chief revenue officer. "This growth in general gift — as well as the specialty gourmet/tabletop and outdoor living/seasonal categories, which have been experiencing high levels of consumer demand during the pandemic — indicates an industry confidence that we have been eagerly anticipating."
Fifteen updates in the general gift category are found throughout Building 2. Three new showrooms include Art Studio, Jen & Co. and a combined showroom for Warm Glow and Raggedy Junction. India Handicrafts adds a second location in addition to its existing showroom. Some 11 expansions are Abby & CA Gift , Amanda Blu & Co., Direct International, DNS Designs, Enchanted Moments, JanMichael's Art & Home, Kendrick, Inc., Pavilion Gift Company, The Round Top Collection, The Simblist Group Young's.
Pandemic-driven demand for gourmet food, housewares and tabletop product has accelerated growth in those categories yielding 13 showroom updates for Summer 2021. In the gourmet and housewares collection in Building 2, Floor 8, three new showrooms are Becky Yehia & Associates, Ravens Nest and True Honey Teas; and four expansions are Core Home, Mills Gourmet, Spokandy and Sweet Shop Candies. Six new tabletop showrooms in Building 2 are Be Home, Hot Skwash, Mode Living, Pickard China, Salisbury and Southern Tribute.
Additional movement is in outdoor living and seasonal, reflecting a surge of consumer interest in these categories. MPG Planters takes a new showroom in Building 2. Four updates in the seasonal category in Building 1 are Tremont Floral Supplies adding an additional location, NAPCO expanding, K&K Interiors significantly expanding and Jascontina relocating.
In addition to the new, expanded and relocated showrooms, 10 brands have renewed their commitments to Atlanta Market: Adams & Co, Anamese Garden Pots, Echo Valley, Esschert Design USA, Fiesta Dinnerware, Innova Hearth & Home, Kasperzak & Associates, Kitchen 2 Table, Quotable Cardsand Swan Creek.
Atlanta Market features more than 700 gift showrooms located on 19 floors across all three AmericasMart Buildings. General gift product is augmented by specialty categories including a new lifestyle collection plus children's, gourmet food and housewares, outdoor living and tabletop. Thousands of additional gift lines in verticals including artisan products, apparel, children's, gourmet, jewelry, outdoor living, stationery, spa products, tabletop and more are on display in the 27 temporary categories, which run on 9 floors July 14-18, 2021. The full list of showrooms is searchable at AtlantaMarket.com.